Former student with gun trespasses on RM campus
Shortly before dismissal on Tuesday, Jan. 24, RM's security staff identified a 15-year-old former student trespassing in the school building. As the staff escorted the student off campus, they suspected that he possessed a weapon. 
The school immediately notified RM's Community Engagement Officer, who then alerted the Rockville City Police. Upon search, the police found that the individual possessed a gun and arrested him. He will be charged accordingly.
Students were not immediately notified of the situation and no emergency procedures were implemented. "In this case, this situation was so quick that there wasn't the need for the lockdown in the way that we went into [on Friday, Jan. 13]," RM principal Alicia Deeny said in an interview. "[The police] were doing the right thing by getting the person out of the building. Then, the police responded immediately to isolating who that individual was."
This is the second gun-related incident to affect RM within two weeks.
However, according to the community email that Ms. Deeny sent out at 6 p.m. later that day, the incident is unrelated to the schoolwide lockdown on Jan. 13. "They are not related at all. It just happened to be an unfortunate situation where we were hit in a short period of time," RM security assistant Matt Schwartzback said.
Many students were shocked to learn of the incident afterwards. "It's really alarming knowing we were in school at the same time as someone with a gun," sophomore Lilliana Katz-Hollander said. "I was really shocked, because the email said it happened during the school day, but we weren't told anything about that while it was happening. We didn't walk out. We didn't go into shelter-in-place."
According to Ms. Deeny, security was with the student the entire time they were in the building, and the seemingly delayed response was a result of a chain of commands (from the police to MCPS) that must be followed prior to issuing a statement to the community. 
Following the incident, the RM administration emphasized that students must not let non-RM students inside the building. "Any student who facilitated this breach in our security will be held accountable in accordance with the MCPS Code of Conduct," Ms. Deeny wrote in the community email.
At a meeting on the morning of Jan. 25, staff were concerned that security had to leave their posts during class instruction to address the trespasser. "I think staff understandably see certain MCPS policies creating an environment where there isn't much control over student behavior," Ms. Deeny said. "For example, the attendance policy really has no academic consequence… students not taking being in class seriously pulls our security staff from securing doors."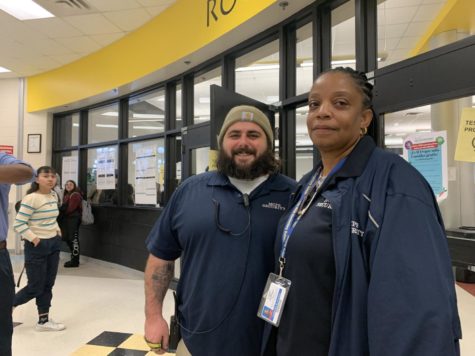 For temporary protection, additional police units and security officers have been positioned around the school building. Long-term measures to prevent trespassing, that include students wearing IDs and tailoring the open lunch policy, are still under discussion. "We might put alarms on doors, which could really help our cause if students are coming in and out of the building," Schwartzback said. "In all my years of security, this year has been a little bit different with the vape pens, the fights, all of that."
To get student voice in the conversation surrounding security, Ms. Deeny is planning on assembling a student group that will meet to talk about safety and security at RM and has already requested from MCPS that certain doors be alarmed.
Changes in security could affect students' daily experience. "Personally,I tend to feel pretty safe at school," Katz-Hollander said. "I don't want [administration] to turn school into something heavily monitored, where we don't feel free to learn but also have fun."
Many believe that this incident reflects wider issues with gun legislation. "[Our society has] a larger access to guns and we also have mental health concerns we are grappling with," Ms. Deeny said. "I think those are the forces that are at play that are coming into our school that I see as a microcosm of our society."
Haylie Blumenthal and Michaela Boeder contributed to this report.
This story was originally published on The Tide on January 25, 2023.