A political playground: The deterioration of America's education
By Leila Assadi, Pleasant Valley High School - IA
February 2, 2023
The College Board recently introduced a new Advanced Placement course on African American studies, addressing history, civil rights, politics, literature, art and geography. It is to become the first AP course in African American studies for high school students. 
But a few months after this announcement, Gov. Ron DeSantis's administration banned the AP African American Studies classes from being taught in Florida schools. 
Florida's Department of Education wrote to the College Board to explain this ban, saying the content of AP African American Studies is contrary to Florida law, indoctrinates students to a political agenda and lacks educational value. It is important to note that the College Board has not released the official syllabus for the class yet; Florida objected to possible curriculum topics like the Black Lives Matter movement, Black feminism and reparations. 
Senior Tejus Kanathur has taken numerous AP social studies classes that furthered his education about race and America's institutions—an education that he said is now being denied to Florida students by their government. "The influence of powerful political leaders and interest groups has increasingly extended into the classroom, allowing them to pick-and-choose what they want to be taught," he said. "This political involvement in schools is a product of political divisiveness, where people with opposing views aggressively push against each other instead of holding civil discourse."
"
Political involvement in schools is a product of political divisiveness, where people with opposing views aggressively push against each other instead of holding civil discourse."
— Senior Tejus Kanathur
Though the banning of AP African American Studies is the most recent educational controversy, it isn't the first executive action made at students' expense.
House Bill 7, formally known as the "Individual Freedom" measure, was signed into law by DeSantis in 2022. This law drastically limited racial education in school and banned Florida educators from teaching critical race theory. Critical race theory examines how laws, social and political movements and media are shaped by conceptions of race while examining slavery's impacts on American society—a topic that is a flashpoint for conservatives.       
DeSantis also signed the controversial "Parental Rights in Education" bill, known by opponents as the "Don't Say Gay" bill. Public school teachers in Florida are banned from having discussions about sexual orientation and gender identity. The law also gave parents the power to sue a school district if they violated the policy.                                                                                                                          
Though Florida's bans represent an undermining of America's democracy, these actions are far from surprising. Republicans have long been furthering their agendas by turning schools into their own political playgrounds. 
Much like DeSantis, Iowa's own Gov. Kim Reynolds targeted the teaching of critical race theory and diversity in classrooms by signing House File 802 in June 2021. "Critical race theory is about labels and stereotypes," Reynolds said in a statement. "I am proud to have worked with the legislature to promote learning, not discriminatory indoctrination."
However, there is little to no evidence of critical race theory being taught in public schools—and certainly not to the extent that some politicians claim it is. 
Kanathur is a strong critic of House File 802, believing that it limits the country's potential to change for the better. "House File 802 is highly problematic because of its prevention on critiquing the government. Banning the acknowledgment of racism in America's institutions causes students to miss out on an essential part of America and its history," he said. "Our government and legislation must be allowed to be critiqued, especially regarding racism, in order to be fixed."
Beyond critical race theory, House File 802 also banned teachers from having discussions that suggest that the U.S. and Iowa is fundamentally/systematically racist or that an individual race is inherently racist or oppressive.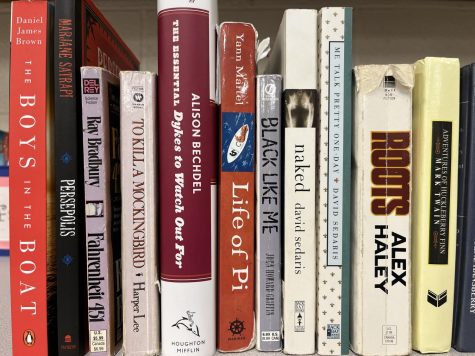 AP Literature and Composition teacher Robyn Samuelson has felt the reverberations of House File 802 in her classroom's environment. "Because Public Speaking is a Scott Community College course, House File 802 does not impact the curriculum in any way," she said. "However, in the most recent semesters, I do sense a bit more resistance to diversity messaging, especially concepts like white privilege."
Iowa and Florida do not stand alone. More than a dozen states have considered or passed legislation that bans discussions about race, critical race theory, gender and sexuality. Republicans have capitalized on these issues, not only affecting legislation, but the integrity of the American education system. 
The United States is one of the most diverse nations in the world due to the many ethnic groups that live in the United States and its large immigrant population. Understanding the origins of inequality and racism helps students understand the foundations of America, equipping them with the skills needed to productively contribute and function to society. 
"Learning about race, systemic racism and the origins of various institutions can help people understand and recognize how discrimination and inequality have been built into societal systems and structures," Kanathur concluded. "Understanding the history of these issues can inform people and allow them to work towards creating more inclusive and equitable communities."
Samuelson echoed these sentiments, explaining her plans to broaden the scope of AP Literature and Composition's curriculum. "I plan to introduce a text next year by Toni Morrison which deals with racism in America, not to thwart the law, but to make the curriculum broader and relevant to today's students," she said. 
These are sentiments from teachers and students that politicians need to learn from, and quickly. But the current reality is casting a dark shadow over education nationwide.  
Right-wing politicians currently threaten to defund the Department of Education to prevent the "brainwashing" of American students and states continue to place bans on classroom subjects and discussion topics, plummeting the integrity of a public American education.
What once was an institution that taught students a holistic education to prepare them to enter society has become a political playground that changes by the whim of politicians.
Until the public school system in the United States changes for the better, the quality of an American student's education will always fall below the agenda of politicians who have no regard for the longstanding impact of their actions.
This story was originally published on Spartan Shield on January 30, 2023.