College critters: What pet-owners must consider after high school graduation
With May rapidly approaching, many high school seniors are gearing up for graduation. Between committing to a college, finding roommates, and finishing high school, seniors have a lot on their minds. On top of these end-of-year stressors, for some seniors who are planning to leave home for college, there's an even bigger consideration weighing them down: what to do with their pets.
For many seniors with pets, their furry friends have been with them most of their lives. Pets have a special way of wiggling into their owners' hearts, making it all the more difficult to say goodbye when it's time to explore a new phase of life. And graduating high school comes with many life changes, so naturally, many seniors want to cling to their pets for security and comfort.
Some seniors are looking to bring their pets to college with them next year. But with school policies and dorm rules, is this really a feasible option?
According to James Anthony's article "47 Essential Student Housing Statistics You Must Learn: 2023 Data & Demographics," only 23% of university students in the US live in off-campus housing. So clearly, many students rely on the on-campus or school-affiliated housing options given by the schools for their living accommodations.
While having a secure living situation already arranged before school starts can be a huge relief for both students and parents, using these school-sanctioned living arrangements often comes with more rules and regulations, which most likely doesn't bode well for the pets, given the heavy regulations on pets in dorms.
A recent survey showed that of 1,000 US universities, only 4% allowed cats and dogs to live in dorms. Since the implementation of the Fair Housing Act of 1988, colleges have been required to allow medical alert animals or service animals to live on campus with their owners. But animals as pets are not protected by housing accommodation laws.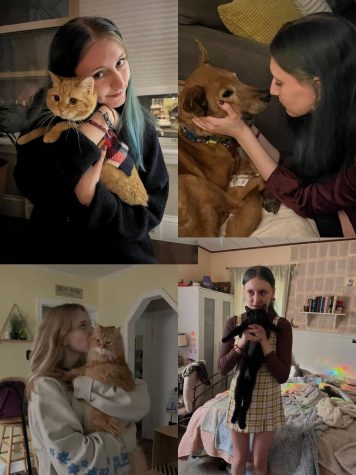 Lilly Lancaster, a Brentwood senior and owner of three cats and a dog, is having to leave her pets behind next year. Lancaster is planning to attend Kalamazoo College, a school that does not allow pets to live on campus (with the exception of fish). Lancaster has been coping with the fact that she will have to live life without her four-legged friends.
"I'm very stressed because my dog and one of my cats are really old and there is a 98% chance they will die while I am away at college and that will be really traumatizing," said Lancaster. "Also, cats are really good at holding grudges, and I visited Kalamazoo for one night and my cat, Binx, wouldn't even look me in the eye. He was so mad at me. I've raised him since he was a baby so he'll probably think I died when I leave."
With these restrictions in place, bringing pets to college can be a difficult task for many students. However, some students are finding ways to get around these pet restrictions, so they don't have to part ways with their beloved critters while at school.
Jazzy Herrera, a senior at Brentwood High School, is getting ready to move to Springfield to attend Missouri State University next year. Herrera has four pets: two dogs and two fish. She dreads leaving her pets at home but has found an interesting way to mitigate this issue.
Herrera has two dogs who she will be saying goodbye to come August. But she also has two fish, Finn, and Sushi, who will be attending Missouri State with her.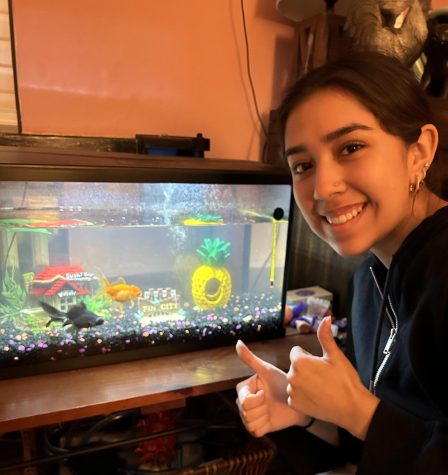 "They (the fish) bring me so much joy; I think now I have a special attachment to them and it makes me happy seeing them," said Herrera. Finn and Sushi will be living in the dorm with Herrera to continue to bring her joy for the next few years.
Like Lancaster, some students aren't as fortunate as Herrera and can't transfer their pets as easily. So what are the options for students who have to leave their pets behind?
Amelia Ayotte, a sophomore at Millikin University in Decatur, Illinois, had to leave behind her two dogs when she moved to college. After living in a pet-less dorm for a year, Ayotte moved into an apartment during her second year of school. Three semesters without a dog made Ayotte realize how much she missed having a furry friend around. While she was home on winter break this past year, Ayotte decided to adopt a Pit Bull puppy, Juno, to take to school and fill the dog-shaped hole in her heart.
"I decided to adopt Juno because it had been something I'd thought about for a while, and it just felt right. There was a lot to consider and it wasn't a decision I made overnight. But having Juno has helped me stay on track," said Ayotte.
Although Ayotte loves Juno dearly, she does admit that having a puppy at school has been a big shift. She explained, "The hardest part is time management. Sometimes I want to sleep in, but Juno needs and deserves to go out."
This leads to the question many college students have to consider: is it reasonable and smart to have a pet in college?
On the one hand, pets can relieve stress and provide much-needed companionship to students transitioning to college. It is common knowledge that pets can be incredibly beneficial to their owners' mental health, in college or not. According to The Post's Katie Trott, "In a survey of students who own pets in college, 90% of respondents said that their pets helped them feel less stressed and anxious."
These benefits of pets could be incredibly helpful to new college students who are navigating higher levels of school-related stress, homesickness, or increased anxiety.
On the other hand, though, owning a pet is not all sunshine and rainbows. Taking care of an animal takes time, energy, space, and money. People who own pets have to be prepared to take care of their everyday needs, including feedings, exercise, cleanings, etc.
College students are already busy with classes and social networking. Owning a pet could monopolize time that students are already low on. Additionally, college is a big financial strain on many people, and owning a pet would only add to the financial burden. Furthermore, pets require space, which is limited to many students living in shared dorms.
There are many things to consider when thinking about taking your critters to college. The benefits and drawbacks of owning a pet in school are plentiful, so it can be a very emotional decision. 
Regardless of what students choose to do, anyone with a pet can attest to the fact that tails will wag whenever college kids come home for a visit. So even if you have to leave your furry friend behind, take comfort in knowing that they'll be eagerly waiting for your glorious return home.
This story was originally published on The Eagle on March 29, 2023.