McCallum Quinceañera celebrates comeback
After COVID-induced, four-year hiatus, one-of-a-kind event returns to honor Hispanic tradition, build community
By Kate Boyle, Tristen Diaz, Chloe Lewcock, Gergő Major, Lanie Sepehri, Ingrid Smith, Priya Thoppil, Camilla Vandegrift, Grace Vitale, Francie Wilhelm, and Dave Winter
April 18, 2023
With extravagant dresses, a smiling crowd and a music-filled dance floor, the fourth-ever McCallum Quinceañera brought students together this past Saturday after years of COVID-induced shutdowns. The event, organized by the Spanish teachers led by Juana Gun and aided by student and parent volunteers, provided an authentic quinceañera experience to those who never got to experience it by themselves. Traditionally, a quinceañera is a celebration in Latin American culture celebrating a girl's 15th birthday as she transitions from girlhood to womanhood, but the McCallum Quinceañera was unique. After weeks of dance practices and event planning, almost 20 students across each grade level celebrated their quinceañeras on Saturday with a crowd of Knights to cheer them on.
We are proud to present some of our favorite McCallum Quinceañera photos as this week's Tuesday Top 10.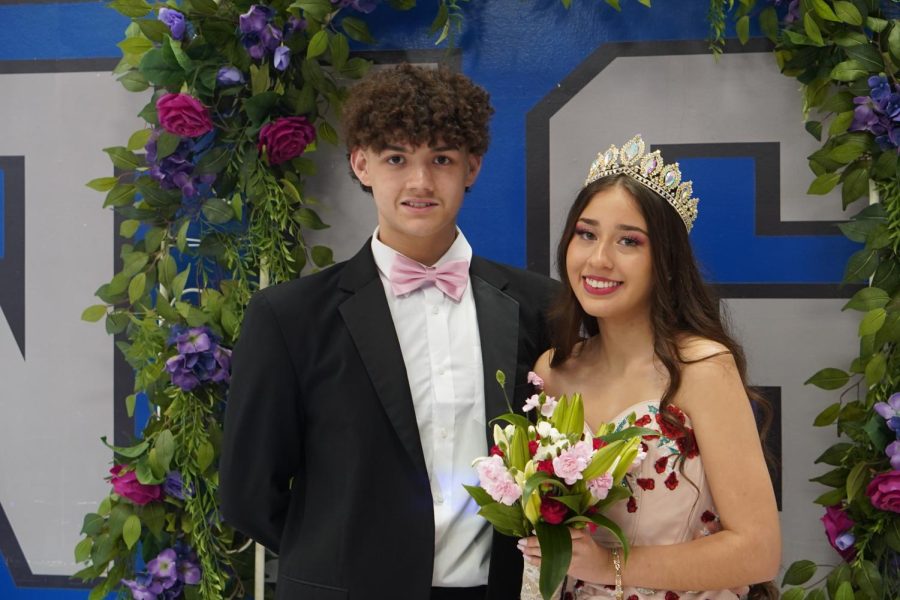 FINDING COMMUNITY: Sophomore Yaratizel Hernandez and her boyfriend pose for the camera in front of one of the McCallum Quinceañera's many background decorations. Hernandez and her boyfriend, who attends another school and was her chambelán (or escort) at the quinceañera, had just finished their waltz and were walking around to all of the backgrounds and taking photos.
"Everybody came together as a community," Hernandez said. "Everybody brought a lot of food, a bunch of music and everyone was having fun."
Hernandez thought having a quinceañera was great and recommended that other people have them too.
"I made a lot of new friends out of it and the hard work really pays off," she said. "The pictures and the memories are a lot of fun."
Caption by Camilla Vandegrift. Photo by Chloe Lewcock.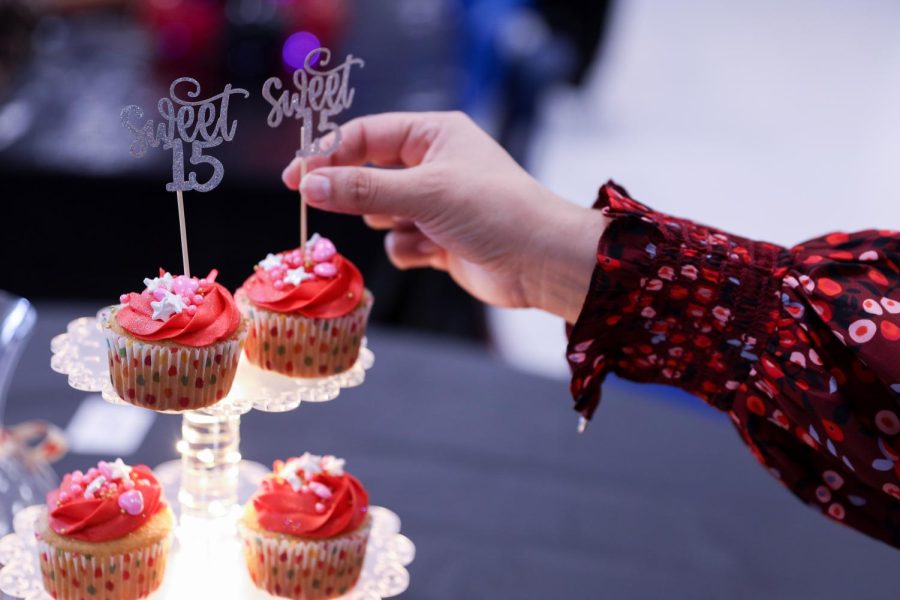 A NIGHT TO REMEMBER: Since the annual quince had been put on pause for several years due to COVID, Spanish teacher Juana Gun was ecstatic to resume the celebration this year.
Because the event include the traditional ceremony, a father-daughter dance and then an open dance floor, organizing the event and preparing for it was a large task.
"Making kids attend practice to learn a dance is stressful," Gun said. "Gathering everything together: the food, the dresses, the supplies—it's all hard. Is it stressful? Yes. But in the end, it's worth it."
The food was displayed on tables stretched out from the middle of the cafeteria out to the end, packed with food and drinks, most of which were donated by families or local businesses.
"HEB gave us the cake, La Mancha provided tea and lemonade, El Mercado always provides our chips and hot sauce and Roller Rink provided the limo," Gun said.
Caption by Priya Thoppil. Photo by Gergő Major.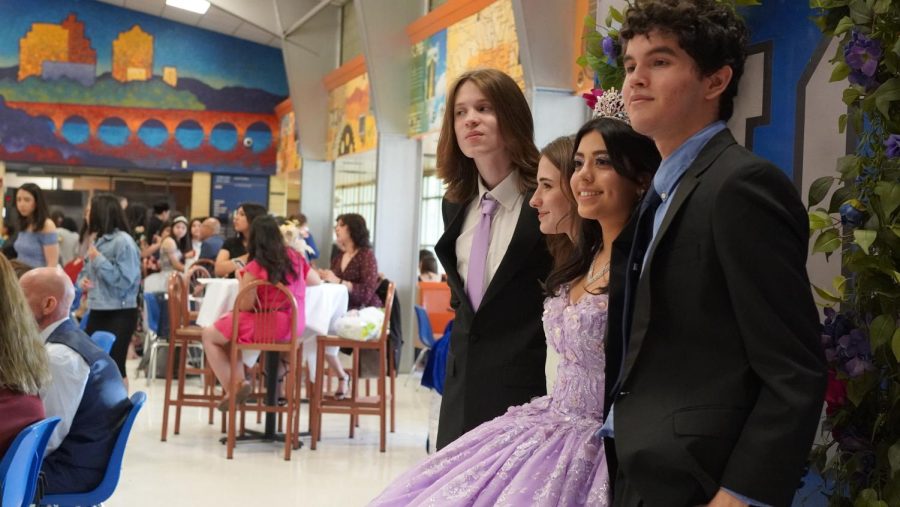 DRESSED TO IMPRESS: After not getting to experience her own quinceañera, sophomore Amy Love thought that participating in the McCallum Quinceañera was an opportunity she couldn't pass up.
"My favorite part was seeing everyone's reactions to all the girls in their dresses, and when we performed our dance and waltz," Love said. "A lot of us learned separate dances together, and it was super fun being able to have fun together."
Love knew all the hard work was worth it when she saw all her family at the event to support her.
"My friends and family's reactions to my dress and dancing that day were the most memorable for me personally," Love said. "We took a lot of amazing pictures that I really do love."
Caption by Chloe Lewcock. Photo by Estefani Televan.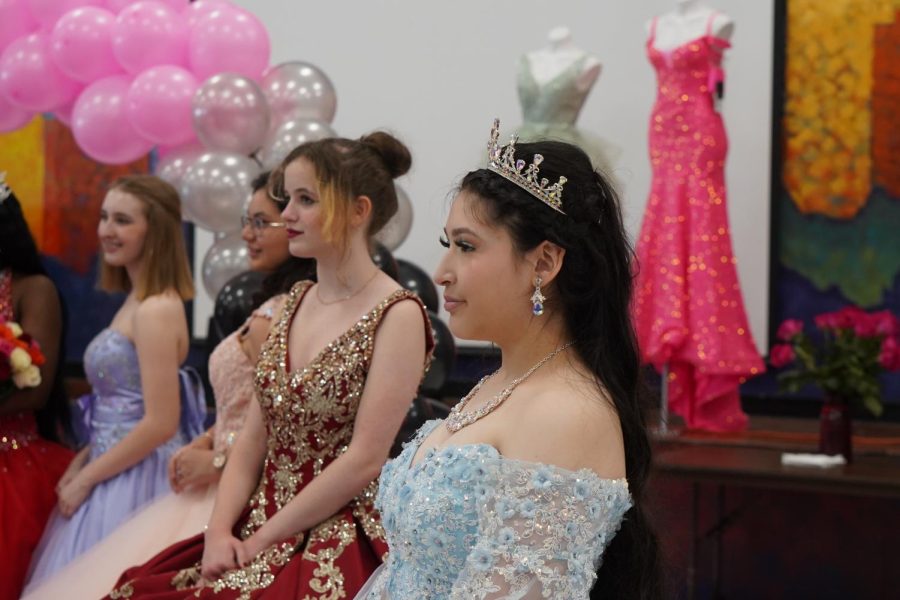 EMBRACING ADULTHOOD: Sophomores Mac Lopez and Daira Benitez join the other quinceañeras getting into position at the front of the cafeteria at the McCallum Quinceañera on Saturday. Aside from wanting to get the opportunity to embrace her culture, Benitez also wanted to share the experience of coming of age and entering adulthood with the other quinceañeras.
Especially because this year's quinceañera was the first to be held since the start of COVID-19, Benitez was extremely grateful for all the time and dedication that the volunteers, families and quinceañeras put into making the event happen.
"I think my favorite part was when we first appeared for the waltz," Benitez said. "I loved seeing the audience's excitement in seeing these beautiful princesses and their chambelánes."
Caption by Grace Vitale. Photo by Chloe Lewcock.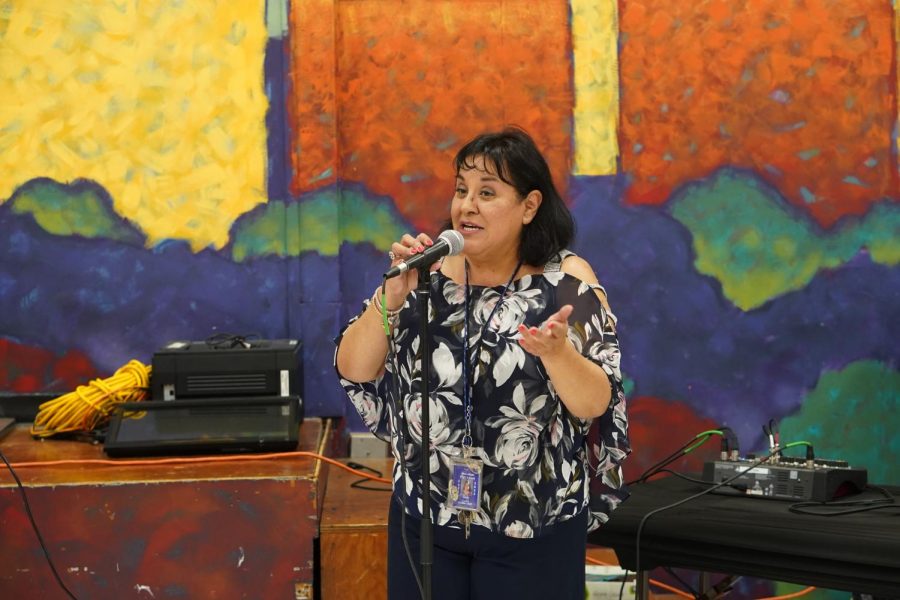 GUN CAN'T BE OUTDONE: Spanish teacher Juana Gun addresses a crowd of over 400 at Saturday's quinceañera. This quinceañera was the first since the COVID-19 pandemic hit. Gun, who has planned all quinceañeras put on by McCallum, recalled the palpable emotion of the quinceñeras and their families after being unable to take part in the tradition for four years.
"There were two sisters, and one of them was supposed to have their quinceañera during COVID, but then the world shut down," Gun said, "so us giving them an opportunity to do it — and share it with 17 other girls — meant a lot."
The group quinceañera allows many to take part in a significant rite of passage that otherwise may not be possible for them due to the ceremony's cost. According to Gun, the cost of quinceañeras can range from $20,000 to $30,000. But the importance of the event makes the expense worth it.
"Everybody's like, 'That's a wedding,'" Gun said. "People are very judgemental about 'Why you would do that?' Well, the same reason you do bat mitzvahs. It's a fundraiser for the child. It is a coming-of-age ceremony."
While the tradition itself goes back centuries, Gun feels that it can be modified to fit modern times.
"Back then, it was to get [a girl] ready for marriage," Gun said. "We don't want to do that at all. We want to present her as she's making the transition into womanhood. To me, the crown [she wears] might have meant 'princess' before, but now, it means brilliance and intelligence."
Gun, who was unable to have a quinceañera of her own, cherished the chance to be able to give girls and their families their special moment. She also felt it brought the McCallum community together: not only the quinceañeras themselves but also the various students and staff who helped her put it on.
"Community, teachers, kids, families—we tie it all together," Gun said. "I think it's beautiful. In the whole city, we're the only ones doing this. I think we're very unique."
Reporting by Lanie Sepehri. Photo by Chloe Lewcock.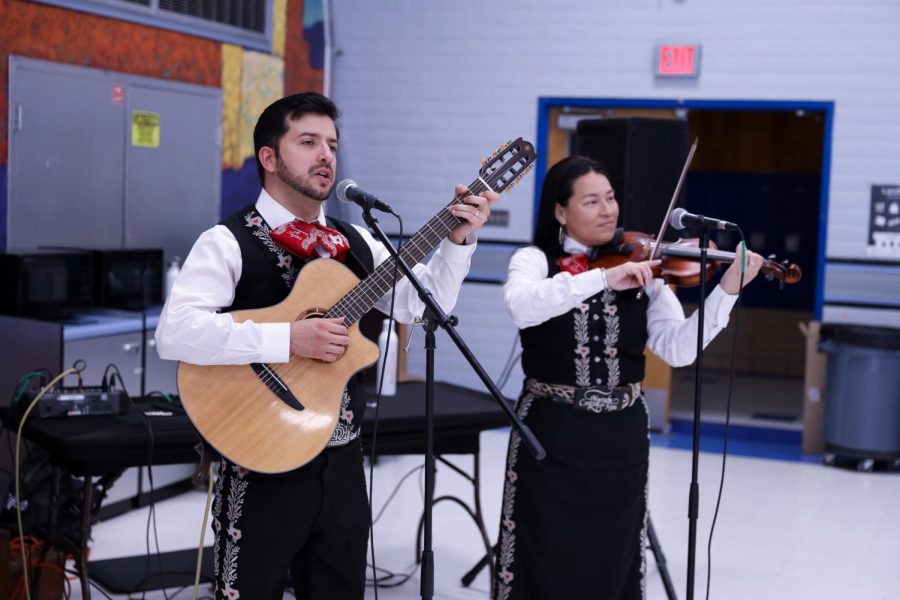 AUTHENTIC MARIACHI: Guitarist Juan Diaz and violinist Raquel Delgado of the group Mariachi Corazon de Tejas perform in the cafeteria, the site of Saturday's Fourth Annual McCallum Quinceañera. Diaz has been a fixture at the event, having performed at the most recent quinceañeras in 2019 and in 2018. According to his website, Diaz has pursued a variety of musical projects since graduating from the Fine Arts Academy. While a music and international relations student at St. Edward's University, he founded the college mariachi band, Alas de Oro. In addition to performing currently with  Mariachi Corazon de Tejas, he plays in the Mariachi metal group Tequila Rock Revolution and in the St. Mary Magdalene's worship group. He is also a songwriter and a music instructor and has toured throughout the United States, Mexico and Venezuela.
Caption by Dave Winter. Photo by Gergő Major.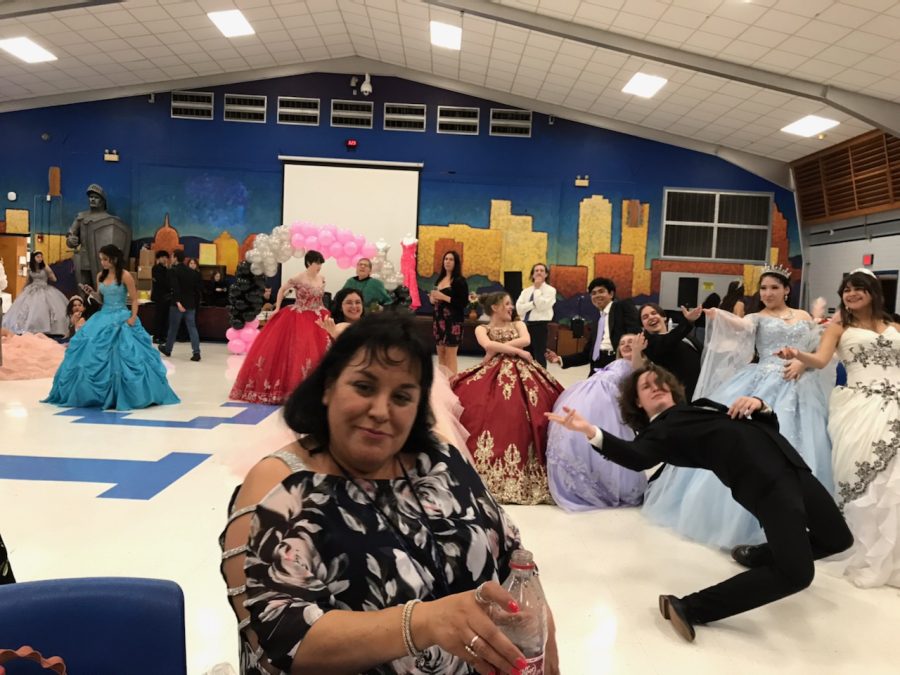 IT'S PARTY TIME: As quinceañera attendees dance the night away, sophomore Maverick Palacios leads the limbo. For Palacios, a Ballet Folklorico member, the highlight of the quinceañera was the party, where loud music filled the cafeteria, fancy food filled his stomach and excitement filled his heart. The stressful dances were over and the fun had only just begun.
"It's a different experience for everyone involved because a lot of the people there were participating not because that was their actual birthday or quince but because it was something they could do for the community," Palacios said.
While Palacios had attended quinceañeras before, this one felt unique. Lots of students being celebrated meant a lot more work … and a lot more fun. He was pleasantly surprised by the students' participation in dance practices and the school's enthusiasm about the event.
"It shows that people do want to be involved, and they do want to try, and everybody wants to volunteer," Palacios said. "People are looking to help out every once in a while."
For Palacios, the quinceañera felt like a return to normalcy after a pandemic-caused hiatus. There were tears, laughs and everything in between. He is excited about participating in future McCallum quinceañeras.
"Everyone was really happy, and also really sad," Palacios said. "At least in the traditional sense, a quince is about becoming an adult. A lot of the parents were very emotional because their children were adults now. And a lot of the children were emotional because they weren't children anymore."
Caption by Ingrid Smith. Photo by Mary Vargas.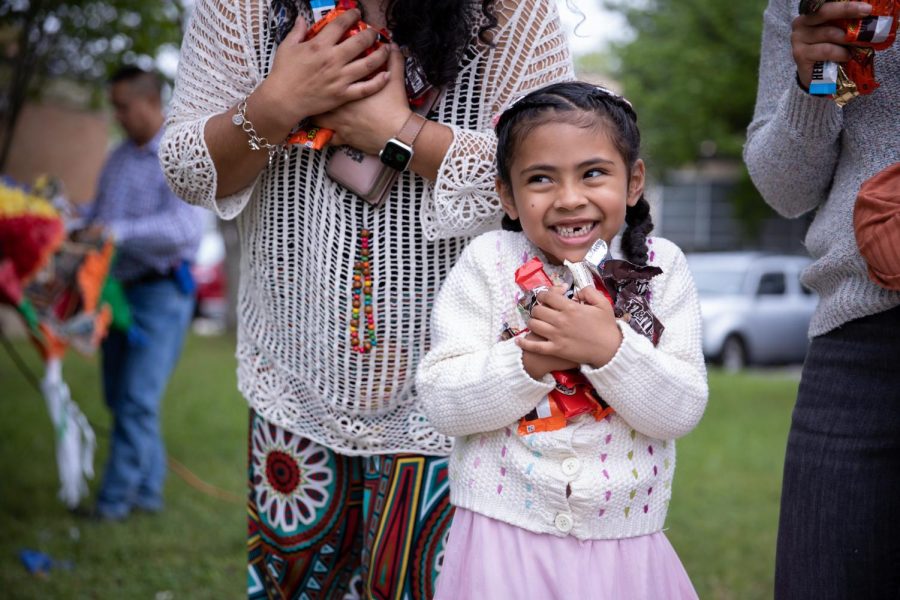 A SWEET DAY: Valentina Altamirano Cancino, a young quinceañera attendee, was in awe of the marvelous dresses, exciting culture and most importantly, the delicious candy. At the last strike of the piñata, Valentina's eyes were on the prize. Piñatas are a birthday tradition, so it was only fitting to have one at the celebration of a girl's 15th year. Spanish teacher Telvi Altamirano Cancino was thrilled to have her daughter attend the event.
"It made her so excited to see all the dresses, and I was happy to watch her embrace the culture," she said.
This is the second quinceañera Señora A has taken part in, and she hopes to someday see Valentina in a gorgeous dress, dancing with her father. An equally excited Valentina looks forward to her own piñata someday.
Caption by Maggie Mass. Photo by Gergő Major.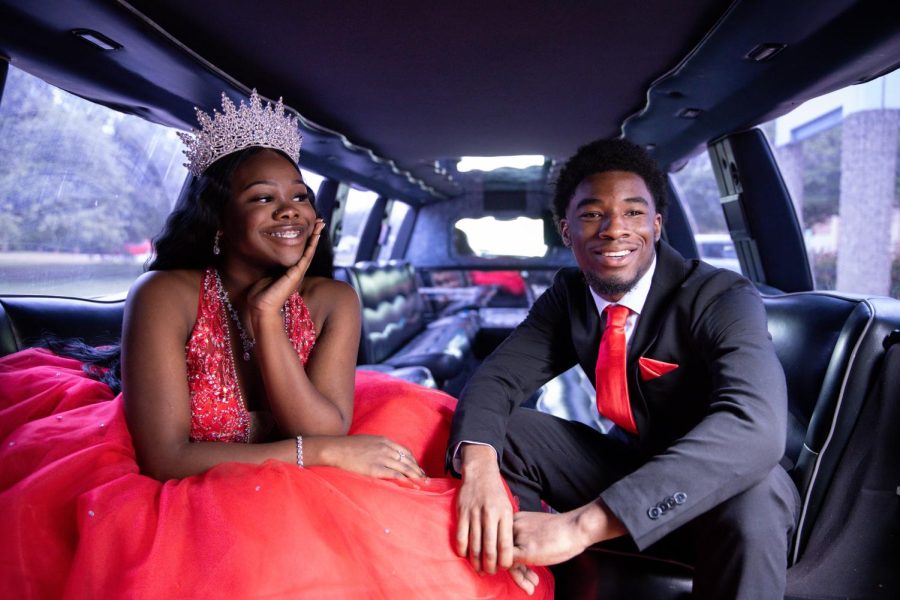 WHAT FRIENDS ARE FOR: Juniors Kyranise Hose and Johnathan Jones arrived at the fourth McCallum Quinceañera in color-coordinating outfits ready to tear up the dance floor. The two have been friends since elementary school, and when Hose realized she didn't have a partner for the event, she asked Jones to step in.
Jones not only appreciated the opportunity to help out a friend but also to experience the Hispanic culture and festivities of a quinceañera.
"The music made me feel more into the dance, and I had a good time," Jones said.
Caption by Francie Wilhelm. Photo by Gergő Major.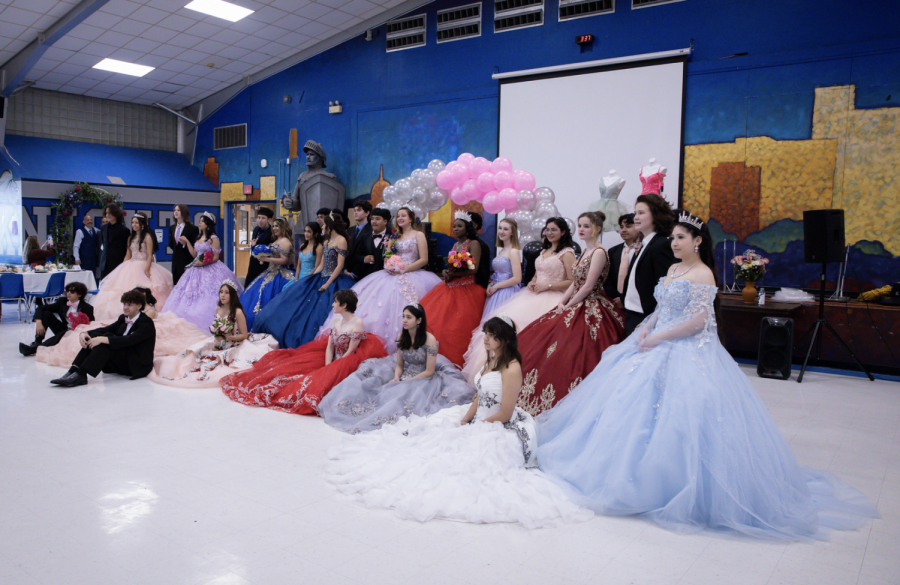 THE TRADITION CARRIES ON: After years of having to put off the McCallum Quinceañera, the tradition is finally back. The dance floor located in the cafeteria was once again filled with intricate dance moves, delicate dresses and all-around smiling faces. Over the few weeks before the event, Spanish teacher and coordinator of the event Juana Gun gathered a group of girls yearning to experience an authentic quinceñera. Both the girls and their escorts had to learn a set of dances, as well as become proficient in the act of dancing in their dresses.
For sophomore Mac Lopez, the experience gave her the quinceañera she never thought she would get to have.
"It's always been an event I've been interested in since I was a little girl," Lopez said. "I was always hearing about it from others and wanted to experience it for myself."
While the event was a major time commitment with practices at lunch, FIT and even after school, Lopez found the overall experience to be worth it
"I've always wanted to participate in something like this, especially after having an absolute blast at my friends' [quinceañeras]," Lopez said. "Just getting to get on the dance floor and dance, and having Ms. Gun come out and dance with us. It was very lovely overall."
The prep certainly was not for the faint of heart. The girls would have to be laced up into their intricate dresses and crinolinas, the big hoop giving the traditional dress its volume.
"We got to choose between the dresses those who had donated had given us, and then Ms. Gun took those who hadn't gotten to borrow dresses to a quinceañera store in the Domain," Lopez said. "We went and tried them on and rented them for the day."
Caption by Chloe Lewcock. Photo by Gergő Major.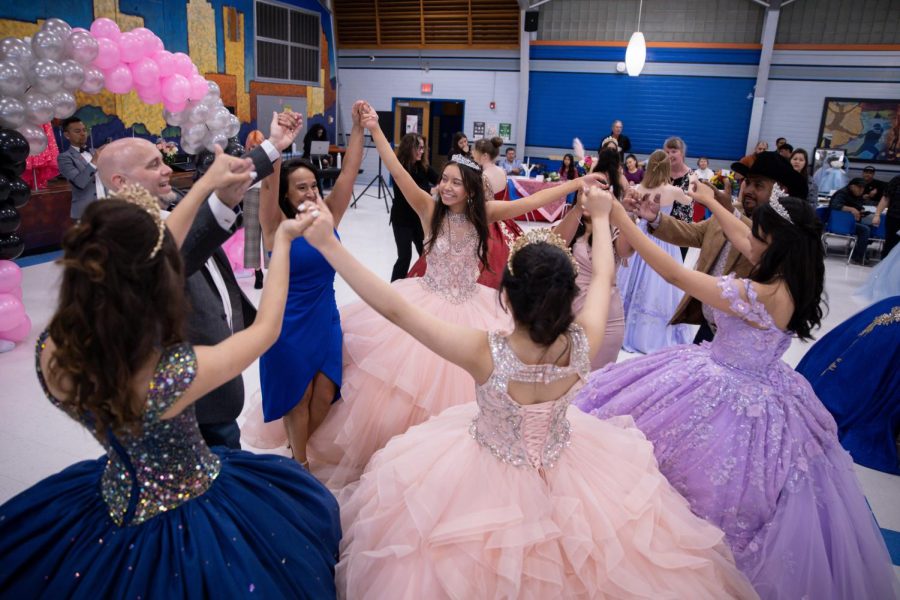 SCOTTS FREE: At the Fourth Annual McCallum Quinceañera on Saturday in the cafeteria, freshman Adrina Scott dances with her family and friends.
"At quinceañeras they have a dance for you with your dad, and then a dance for you and your mom," Scott said.
With two daughters participating, Scott's parents had to figure out how to split their time between their daughters.
"My friend's parents also have two girls," Scott said. "Obviously you can't dance with your dad at the same time as your sister. So, we all kind of just got together and all danced together."
For Scott, the quinceañera was a result of lots of preparation at hard work.
"There was a lot of practice that we had to do during lunches and during fit," Scott said. "Sometimes that would get a little stressful because you know, it's lunch. You kind of want to hand with friends, but I think it all worked out really well."
Part of the preparations that Scott loved was getting to try on the dresses.
"Basically all the dresses that we had were rentals," Scott said. "We had to go try on the dresses, and it was fun to have that experience to go get the dress and try it on. You just felt so special."
The McCallum Quinceañera is an important memory of Scott's life. "I think it's just such a fun tradition in the Hispanic culture," Scott said. "I got to dance with my family which was special."
Caption by Kate Boyle. Photo by Gergő Major.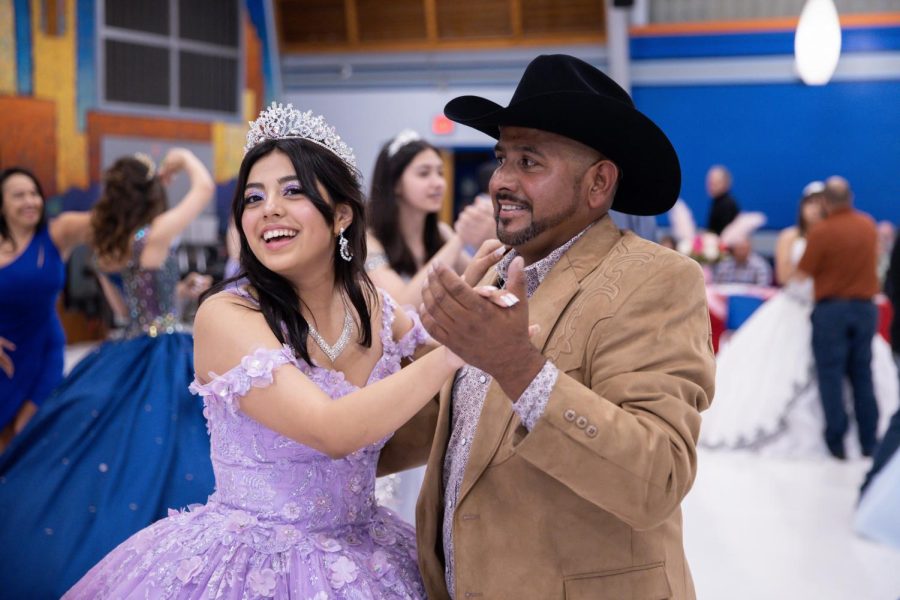 LOVE AND JOY: As she dances in her beautiful dress, sophomore Amy Love reflects on the joy it brings to see her father so happy during the McCallum Quinceañera.
"I think that this event was really beautiful and fun to experience especially for my dad, seeing him so happy and having my family experience this," Love said. "My family isn't big on doing huge celebrations so me and my sister weren't able to have a quinceañera, but we loved being able to share this day with all the other quinceañeras and their families."
Despite the stress of daily meetings and practices leading up to the event, Love found it all worth it for the fun and memories made on the quinceañera day.
"It was really stressful doing the whole entire meetings and practice because it was every single day, but whenever it was the actual day of it, it was actually really fun," Love said.
Overall, Love found the quinceañera event to be a very meaningful experience, which could not have happened without the hard work of Spanish teacher Juana Gun.
"I want to give a huge thank you to Ms. Gun for making it all possible and being such a sweet person to all of us," Love said.
Caption and photo by Gergő Major.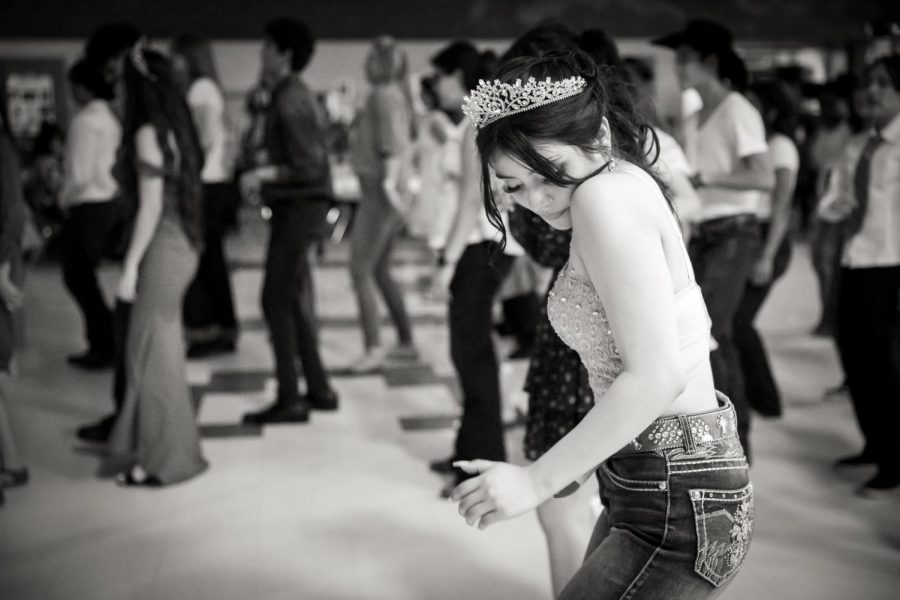 DANCE THE DAY AWAY: For some time, freshman Marveyah Muñoz Tavera had been looking forward to Saturday's quinceañera—especially the dancing
For Muñoz Tavera, the day was full of really special moments. but one of her favorites occurred before the event even started.
"I really enjoyed getting ready with my best friend in the morning," she said. "It made the day so much more special."
The morning preparation was just the first of many magical moments.
"It was really special and beautiful," Muñoz Tavera said. "My favorite part of the day was honestly the dancing. I really enjoyed the father-daughter dance and having this special moment with some of my friends right by my side."
After she and her partner Santiago Mollgon finished the waltz with the whole court, Muñoz Tavera had a choice to make: eat or keep dancing.
"I had so much fun and wanted to continue dancing [so much] that I literally didn't eat," she said. "I just kept dancing. [It's] definitely a day I will never forget."
Caption by Tristen Diaz. Photo by Gergő Major.
This story was originally published on The Shield Online on April 11, 2023.