Childhood aspirations gradually wither and fade as one develops. You would expect a toddler making songs and tapping away at an impromptu drum set consisting of pots and pans to be just a phase, but for Coppell High School junior Daniel Guzman, that was just the beginning.
Guzman is a professional disc jockey, recording artist, music producer and engineer under his brand, Forreal. In the summer of 2013, 8-year-old Guzman was first introduced to Skrillex, an electronic dance music (EDM) artist, which ignited his passion for music, a path he was set on. 
"When I first listened to 'Scary Monster and Nice Sprites' by Skrillex, it was revolutionary for me," Guzman said. "It had so many crazy sounds together yet still sounded harmonic. It changed everything and made me realize I wanted to pursue music as a career."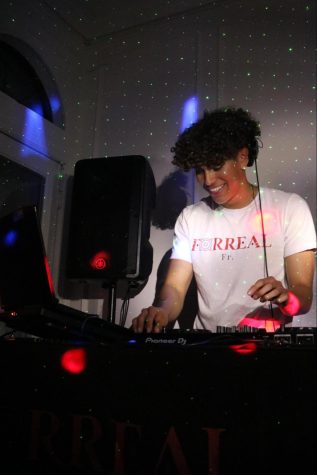 Guzman's foray into the world of DJing began in 2014, when Guzman's mother and now manager, Brenda Coloma, heard about her son's budding passion for music.
Story continues below advertisement
Coloma we​nt on to purchase her son his first controller, which he still uses today. Then, she quickly enrolled him in OontzKids DJ Academy, a music camp conveniently located in their community – a rarity in a field where most musical camps are typically found in far-flung places like Los Angeles or New York – just opening its doors.
"I went into the camp, and I just fell in love with everything about DJing," Guzman said. "Mixing music, transitioning it and just making it your own."
Guzman's innate musical abilities were immediately evident to his instructor, owner of OontzKids and professional DJ Dan Quinn. Despite his young age, Guzman was not only confident, but also approached his studies with a level of maturity and dedication that demonstrates a hunger for knowledge, setting him apart from his peers.
"Daniel would ask questions like 'what was the origin of future-bass? Like, how did that get started' and I didn't even know how to answer that question," Quinn said. "I would teach him a concept, and he'd be able to not only demonstrate that concept quickly but would ask questions on how he could take that concept to the next level." 
In 2016, when Quinn was inundated with gig requests that he couldn't accommodate, he turned to Guzman. What started as a casual hobby such as DJing at his own 10th birthday party and fourth grade school talent show transformed into a real-world career opportunity that allowed him to share his passion and skills beyond the confines of his home.
Seven years later, he has experienced working for a wide range of events, from birthday parties and dances to grand events, including galas and the State Fair of Texas in 2022. Guzman's passion has remained unwavering throughout the years while constantly pushing the boundaries of his abilities in music and beyond. 
"There's a drive that keeps him going," said Rowan Cameron, a close friend. "He's always talking to me about something new like 'this happened, what move should we do next,' it's honestly his biggest strength." 
Throughout the years, he has continuously dedicated himself to improving his craft, constantly looking for ways to take his career to the next level with equipment, music or expand his horizons to other fields such as cryptocurrency.
"When the gigs started rolling in, he did not spend a dime on himself," Coloma said. "He would be like 'I have to reinvest and buy my own speakers' because he was still borrowing speakers from the house. It was the speakers then the lights that he purchased from his own money."
Behind the DJ booth, he exudes a sense of control and awareness that comes from his ability to read the crowd and gauge their reactions to his music. With a trained eye, he surveys the audience, anticipating their desires and ensuring that they are thoroughly engaged and entertained. With his intuitive sense of timing and melody, he crafts transitions seamlessly between tracks while adjusting to his audience's needs.
"We had a Paris-themed dance and he created a playlist that included French music as well as current hits," said Marla Anderson, a past client. "We didn't even ask him to do that, it was something he created on his own. Our only stipulation was playing clean versions for the kids. He nailed it."
Guzman's trajectory towards his career did not happen by chance. While his commitment and diligence undoubtedly played a significant role, he was further aided by the guidance of his mentor, King Shyru Justice, a fellow recording artist and entrepreneur of Day2nite, a website that allows artists to have a platform to share their music. Justice has taught him the ropes of the music industry and set the foundation upon which Guzman built his identity.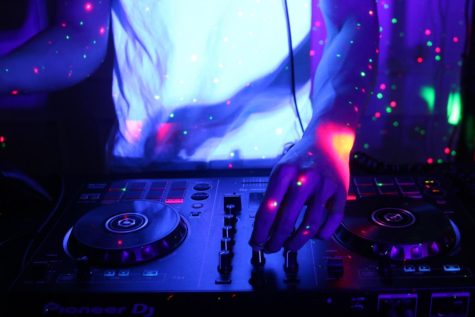 "When a song is playing, he's already thinking about what to play next," Shyru said. "He's a creative person, but his complex ideas don't go well with his impulsiveness. I help him make sure to do ABC without skipping B and also help him develop his own sound in music."
Guzman's passion for music has been a driving force throughout his life. Despite the challenges that come with pursuing it, he remains steadfast and unwavering.
"His passion has set him apart and it drives everything in him," Coloma said. "Since fourth grade, he's told me he wanted to do something in music. It's been seven years since." 
Follow @CHSCampusNews on Twitter.
This story was originally published on Coppell Student Media on April 19, 2023.