Uemura In Antalya
Junior goes to gymnastics Junior World Championship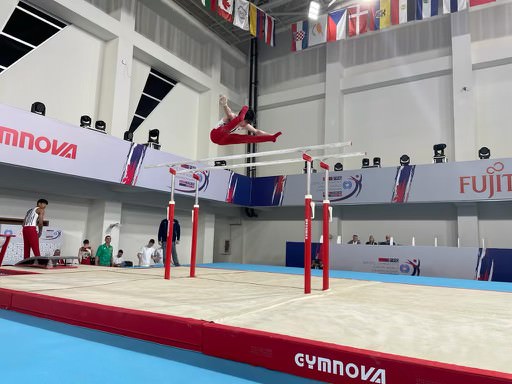 On Friday, March 24, junior Kai Uemura boarded a flight at O'Hare International Airport, bound for Antalya, Turkey. Uemura was heading off to Turkey to represent Team USA in the Federation International de Gymnastique (FIG) Junior World Championships. The World Championship is an event attended by athletes from more than 60 nations. This elite championship is slated to occur once every two years.
Uemura participated in the second iteration of the World Championships. The first championship was held in 2019, and the contest scheduled for 2021 was canceled due to COVID-19 restrictions. To be eligible to compete in the event, male athletes must be ages 16 to 17, and female athletes must be ages 14 to 15. The event comprises eight different activities for men: team, all-around, floor exercise, pommel horse, rings, vault, parallel bars, and horizontal bar.
Through this international event, Uemura had the opportunity to meet and forge friendships with many athletes from within the US, and from around the world. He was accompanied by gymnasts from Cypress, Texas and Rock Hill, New York, also representing the USA men's team.
"I know these guys pretty well," he said. "I've been to many camps with them and all sorts of things, so we know each other pretty well, and I'm sure we'll bond even more when we're in Turkey competing together."
In addition to being selected by USA Gymnastics to travel to this extremely competitive event, Uemura was selected by USA Gymnastics to have the additional honor of leading the men's delegation, due to his past success in a variety of national competitions. Uemura was honored to be appointed to this role, but cautioned that, "there's a pressure with being the team leader, and I'm just going to try to do my best gymnastics and help my teammates."
According to Uemura, the road to Turkey is not a particularly easy one. To start, he trains 24 hours a week at Lakeshore Academy of Gymnastics in Mt. Prospect. Every day he leaves school and drives an hour to his suburban gym. He practices every night until 9 p.m., and then has to commute back to his home in Lakeview and complete his homework.
To qualify for the Junior World Championships, Uemura's first step was to make the US National team, which he has done for the past four years. He secured his place on the US national team by winning the "US Champs" tournament this past summer in Des Moines, Iowa.
Uemura's experience with the US National Team has been positive. "I love being on the National Team because you get these international assignments like this and that's really why I'm doing gymnastics, for these international competitions," he said.
Uemura's next step was participating in numerous US National Team camps during the fall. According to him, the camps are partially for training, but they're also a time when national team staff members evaluate the gymnasts. After this, national team members interested in representing the US in Turkey had to submit a video highlighting their skills.
The final step of the determination process was the "Winter Cup" event in Louisville, Kentucky, where athletes were given one final opportunity to showcase their talent. Uemura finished first place in this contest. All of the aforementioned activities were used by Team USA officials to compile the best team. After this long journey to get a spot in Turkey, Uemura was, "really happy that I got selected for that."
Despite Uemura's significant accomplishments which led him to Turkey, the Junior World Championships were the largest scale he has ever competed on. "Junior Worlds is the best competition that juniors could ever go to, it's the biggest," Uemura said. "I have gone international before, I went international last year but this is going to blow it out of the water."
In addition to Uemura's success on the gymnastics floor, he has continued to be an actively engaged student at Parker. Junior Sam Forst has known Uemura since junior kindergarten and is a close friend. "Kai is definitely someone I look up to due to his hard work and dedication to his sport," Forst said. "He shows up everyday to school with a smile on his face. The way he is able to handle pressure is incredible. He is one of the most cool and calm people I know."
Mike Mahany is Kai's American Literature teacher, and has been supportive of Uemura throughout his endeavors. "I'm so incredibly proud of Kai. Not only is he a great gymnast and determined to succeed and excel, but he's an amazing student as well," Mahany said.
Uemura remarked that even though he is incredibly skilled, "I'm not only a gymnast. I also really care about school work and I want people to know about my actual character. I want people to know me as someone who's kind, and who is supportive."
After all of his years of hard work in gymnastics, Uemura's end goal is to represent The United States in the Olympics. He aims to participate in the 2028 Summer Olympics in Los Angeles. Uemura has been participating in gymnastics since he was 3 years old and making the Olympics has, "been my goal since childhood."
Aside from the incredible athletic abilities Uemura has gained from his training over the years, he has also learned many life lessons from his pursuit of greatness. "Gymnastics has taught me so much…It has taught me how to be resilient, it has taught me how to deal with hardship and struggle. Gymnastics has also taught me how to have fun and it's taught me about being on a team."
To reach the high level of gymnastics where Uemura currently competes, he has had to work very hard. His advice to younger athletes that want to reach his level is, "You have to be ready to make sacrifices. For me, I don't get that much time to spend with my friends and I don't have that much free time to do whatever I want."
On a more positive note, Uemura said, "Do something you love, and remember why you love it. Remember why you're doing it every single day because if you're doing something that doesn't make you happy, you will never be able to be successful."
This story was originally published on The Weekly on April 21, 2023.