"Love Is Blind" is a typical reality dating show. Singles are sent on dates to test their compatibility over the season, ending with weddings where they decide if they want to spend the rest of their lives with someone they met a few weeks ago. The catch? Couples don't see each other until after they get engaged. The hit Netflix show forces contestants to fall in love with each other's personalities to answer the question: is love really blind?
The first season was practically the perfect climate: the Covid-19 quarantine. People were stuck at home, bored out of their minds and looking for some good drama to spice up their life during a stressful time. Potentially finding love hidden in alien-looking pods seemed appealing to those in an era where dating apps were useless. In 2020, contestants shuffled into the room with wide-eyed wonder, unsure what to expect. Now, after more than 30 million viewers, 13.1 billion minutes watched and four seasons — with a reported fifth season on the way — it's safe to say that "Love is Blind" has experienced some changes. 
The fourth season of "Love is Blind" premiered March 24, with the reunion airing on April 17 — and yes, we have some feelings about it. 
Story continues below advertisement
Previous Seasons
A "Love is Blind" review would be meaningless without first looking at the previous seasons. Each season differs massively, and all producer decisions in the prior seasons led up to the spectacle of production in season four.
Season 1 
No other season compares to the authenticity of season one. It's impossible to recreate the atmosphere of the first season: the cast was genuine yet bold and gutsy with reasonable drama. All castmates came into the experiment, unknowing of what was to come, including the fame they would receive. Plus, we were gifted with the relationship between Lauren Speed and Cameron Hamilton, the couple that now every "Love is Blind" fan inevitably compares all the new couples to. We also received Giannina Gibelli, who was practically made for good television. What reality TV show watcher wouldn't want to watch a runaway bride?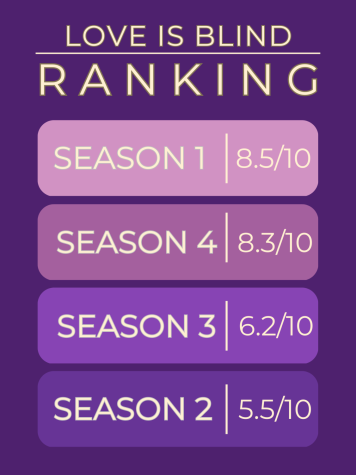 Season 2
Statistically, this season is the biggest failure purely because of the number of relationships still standing between its contestants, which is zero. During this season, the couples just didn't seem very likable and lacked depth, and we suppose it showed with their subsequent divorces. In addition, many of the cast members in season two either felt way too bland or too over the top, like Abhishek "Shake" Chatterjee. There's a difference between a villain we love to hate and one we genuinely dislike — Chatterjee is the latter. There's also Shayne Jansen, who, in fairness, is more likable but was not a great casting choice for a show where the goal is marriage. It was extremely disappointing to see such a great debut season be followed by an underwhelming season full of unlikable characters and superficial relationships.
This season proves that "Love is Blind" is arguably better at creating friendships than relationships. To this day, the women from this season make their love for each other apparent on social media. For example, the friendship between Natalie Lee and Iyanna McNeely clearly remains strong. After a season full of underwhelming contestants in general, it's good to see most of the women have each other's backs. 
Season 3 
With a cast full of big personalities, season three was an interesting one. Within this season, none of the couples were forgettable, and all of the previous seasons had at least one. Even Brennon Lemieux and Alexa Alfia, the couple with no drama in their relationship, were interesting. Season three's reunion was also the most interesting to watch, with an abundance of drama to cover and loads of previously unseen footage. This season also gave us the scene of cast member Andrew Liu faking tears with eyedrops, which is a moment that will go down in "Love is Blind" history. 
Season three arguably had the most contestants with clout-chasing agendas. Some of their occupations included pilates instructor, realtor and ballet dancer — all professions that can depend on a big following, so obviously, it wouldn't hurt to get their name out. That aside, many of the cast's personalities just seemed more superficial in general. This season also follows season two's unfortunate trend of couples that seem shallow and tedious, which added to the already-insufferable season.
Current Season
After two back-to-back seasons of obvious clout-chasers, the show redeemed itself with the latest season. The fourth season of "Love is Blind" settled in Seattle, and within this bustling city, we were introduced to five main couples: Tiffany Pennywell and Brett Brown, Micah Lussier and Paul Peden, Jackelina "Jackie" Bonds and Marshall Glaze, Chelsea Griffin and Kwame Appiah, and Zack Goytowski and Irina Solomonova. 
Every season, we're introduced to a couple that the fans deem the strongest, who most predict will get married by the end of the season. Though fans have practically declared season one's Speed and Hamilton as owners of this title, this season's Brown and Pennywell may be able to hold a candle to them. Other "winners" of the perfect couple are season two's Danielle Ruhl and Nick Thompson (who, in fact, got divorced a little after their season aired) and season three's Alexa Alfia and Brennan Lemieux. However, Brown and Pennywell bring back the spark that Speed and Hamilton had to the screen. They brought back what the last two season's couples lacked: two genuine people who came onto the show for the right reasons, manifesting themselves in minimal unnecessary drama. Apart from Pennywell falling asleep in the pods while talking to Brown or Brown's "groomzilla" moment about incorrectly tailored pants, their only drama was the stress of wedding planning getting to Pennywell, which was completely understandable. 
On the other hand, every season is filled with drama inducers and petty instigators, and this season is no exception. Solomonova, Lussier and Bonds were some of the most horrendous offenders, introducing toxicity to both their romantic and platonic relationships. Both their mannerisms and the way they cattily handled situations reeked of immature high schooler drama — and we're actually in high school.
One of the most disappointing aspects of this specific drama is that in previous seasons, we've seen the women form friendships where they all have each other's backs, but in season four, a lot of the women — particularly Solomonova and Lussier — instead liked to sharpen the knives for a nice stabbing in the back. They could both be spotted laughing at other women crying or making suggestive comments to other women's fiances, just a few examples of their backbiting. 
Though only four couples made it to the altar this season, three said "I do," which is more than any other season. Most of the couples this season had chemistry, so it wasn't a surprise that 75% of them could reach the finish line and marry each other.  
The producers did a much better job in screening contestants this season since everyone seemed like they were there to actually search for love. Even the drama this season didn't feel concocted or planned — even though it was irritating at times because of the sheer pettiness of especially Solomonova and Lussier, the drama felt as real as the cattiness of soccer moms on the PTO board. The relationships felt completely realistic, and Brown and Pennywell make up one of the most genuine, authentic couples on any season of the show.  
A big flaw of the season includes "Love is Blind's" disastrous "live" reunion that was originally set to air on April 16. The fiasco drew criticism from fans and critics alike and even had New York representative Alexandria Ocasio-Cortez chiming in with a reference on Twitter. We waited over three hours for the finale to air, preparing popcorn and soda just for the finale to be canceled at the last minute. Even more, like every reunion, Vanessa Lachey stole the show with her somewhat inappropriate questions toward the wrong cast members — instead of Glaze and Peden being grilled for reacting to their somewhat toxic partners, it would have been much more useful to target the people who consistently screwed up over the season. 
Overall, season four was extremely refreshing after the flaming dumpster fires that were seasons two and three. Though the reunion was quite literally one of the worst television moments of all time, the actual season itself was authentic, and the cast had their charms. This season combined drama and romance perfectly, with the people who seemed to be on the show for "clout" seemingly weeding themselves out by the very end. It seemed like every couple that made it to the altar at least had a chance of both people saying, "I do." 
As teenagers, we don't have much in common with the 20 and 30-somethings that star in this show, but "Love is Blind" is charmingly authentic and scratches the itch of melodrama that suits the screen better than our own lives.
The Pathfinder rates season 4 of "Love is Blind" an 8.3/10.
This story was originally published on Pathfinder on April 26, 2023.