Students shine like stars 'Under the Knight Sky'
Prom returns to 800 Congress with celestial celebration
By Kate Boyle, Morgan Eye, Meredith Grotevant, Chloe Lewcock, Sophie Kessler, Gergő Major, Helen Martin, Caroline Owen, Alice Scott, Ingrid Smith, Grace Vitale, J. Frank Webster, Francie Wilhelm, and Dave Winter
May 17, 2023
After four years of classes, COVID and all kinds of change, the class of 2023 kicked of its graduation festivities with the "Under the Knight Sky" prom last Saturday. Prom, which welcomed seniors and their dates, was planned by senior student council members and faculty sponsors. Downtown event space 800 Congress became the "Knight Sky" with celestial decorations hung all around.
As students arrived red carpet ready, they were greeted by a positive atmosphere, snacks and a photo booth. In typical McCallum fashion, students showed up in a wide variety of outfits, modeling everything from glittery ball gowns to neon pink suits and traditional Indian clothes. It didn't take long for many to be pulled to the dance floor, dancing the night away, surrounded by friends and screaming along to timeless dance-pop tracks. Later that night, seniors Ellie Collard and Ron Wolleben were crowned prom royalty.
We are pleased to present some of our favorite photos of Saturday night "Under the Knight Sky."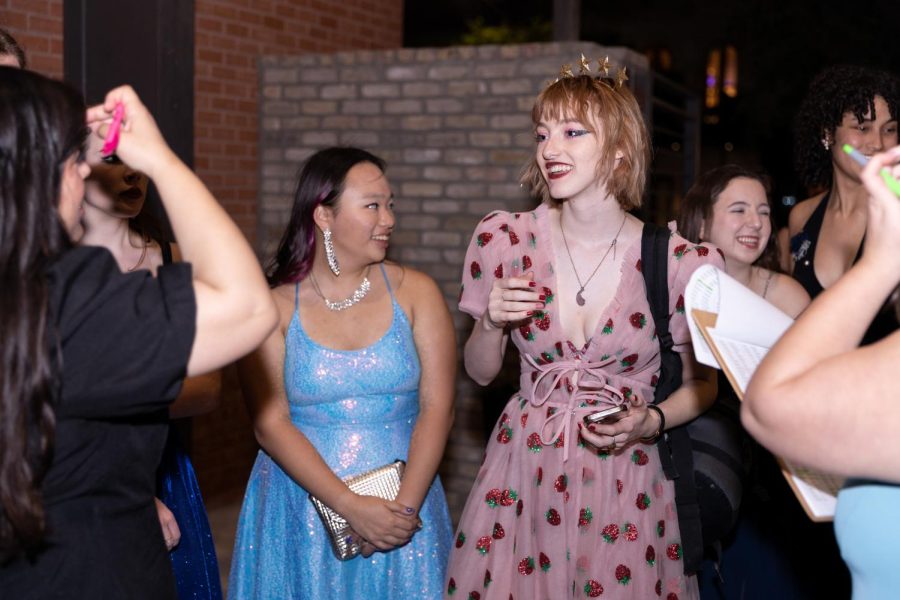 GRAND ENTRANCE: Senior Cara Fong enters prom with friend and junior Millicent Ramsey.
"My friends and I had just arrived at the venue and we were admiring the patio that had the check in area," Fong said.
Fong welcomed coming into prom after having dinner with her friends beforehand.
"We were greeted by many friends as well as the teachers who checked us in," Fong said. "I felt overwhelmed as the feeling had hit me that prom was happening before my eyes as I had been anticipating for prom."
Her entrance reminded her of when she first came to McCallum.
"Being able to meet welcoming people when I first arrived at McCallum and meeting so many people from different backgrounds is a special memory," Fong said.
Reflecting on her prom experience, it was the people that made the dance so special for Fong.
"I was so happy and excited because I was also surrounded by the people who I loved," she said.
She added that dancing was probably her favorite part of the night.
"Dancing with my friends felt very freeing, and I was able to forget about the stress and problems that have been happening in my life," Fong said. "Screaming at the top of my lungs and dancing with my friends was also really fun as I don't usually see everyone so dressed up and enjoying each other's company."
Caption by Kate Boyle. Photo by Gergő Major.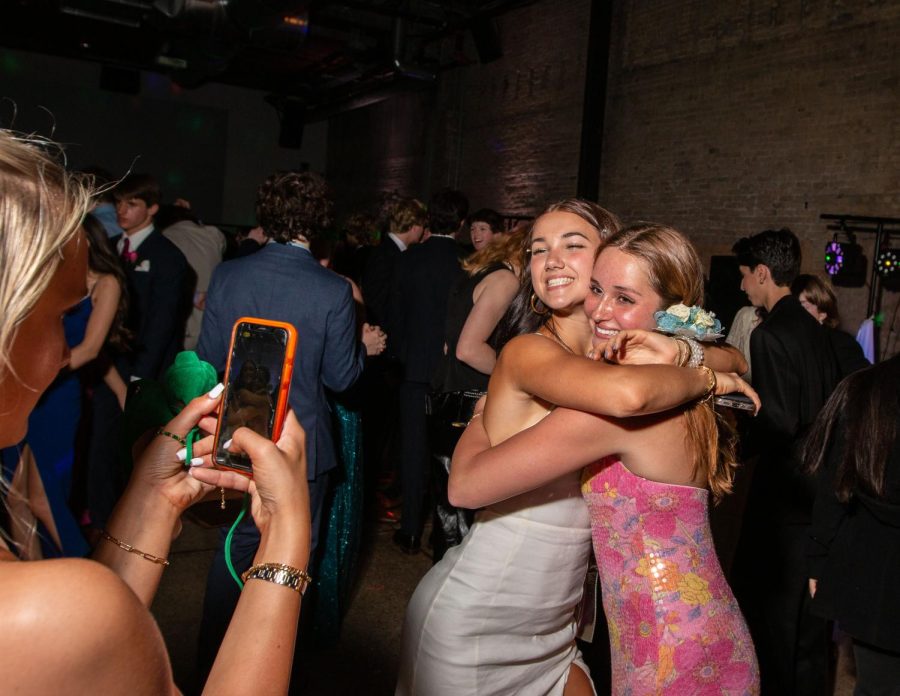 INTER-CLASS COMMUNITY: Junior Gabi Alfarache and senior Ella Stovall embrace while getting their photo taken. Like Afarache this year, Stovall attended prom last year as a junior, but the past experience was nothing compared to celebrating as a senior.
"Last year, going as a junior, I knew fewer people and even though I had a fantastic time, I felt more comfortable this year," Stovall said.
It wasn't the dresses, the music or the decoration that made this year's prom better than the last, but the Class of '23 community.
"Being surrounded by all the people I love being around and everyone being together made the night so special," Stovall said.
Even before the party started, Stovall found the most joy in living out this high school milestone with friends.
"Getting ready together and taking a million pictures was fun," Stovall said. "But my absolute favorite memory was the dancing and singing-filled ride on our party bus to and from prom."
Caption by Francie Wilhelm. Photo by J. Frank Webster.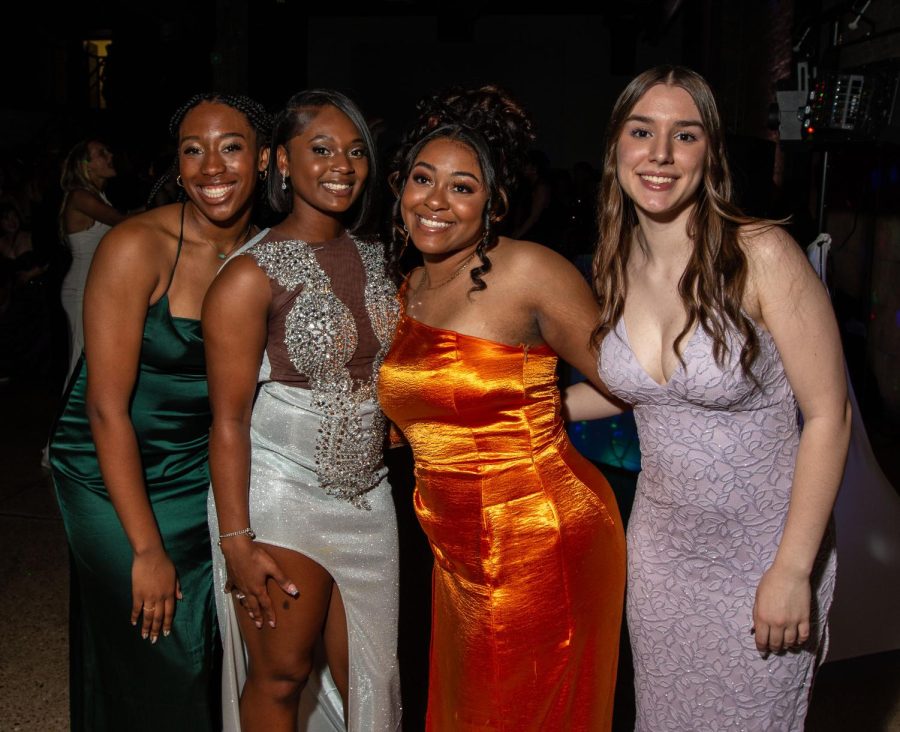 DANCING THE KNIGHT AWAY: While some got to attend prom both junior and senior year, for most seniors the night was first. The 800 Congress venue was lit up with decorations, smiling faces and ready-to-dance crowds. While the location of the event remained the same as last year, the room was filled with the 2023 senior class instead.
For senior Teasia Cooks, her first prom lived up to expectations.
"I did everything the day of," Cooks said. "My hair, makeup and nails, then I took pictures."
The preparation, selection of dresses, makeup looks and poses for pictures proved to be Cooks' favorite part.
"It was so exciting," Cooks said. "The most memorable part was getting dressed up, taking pictures and dancing with my friends."
While prom is one of McCallum's cherished annual traditions, it is an ever-changing event, each year forming to the graduating class.
Caption by Chloe Lewcock. Photo by J. Frank Webster.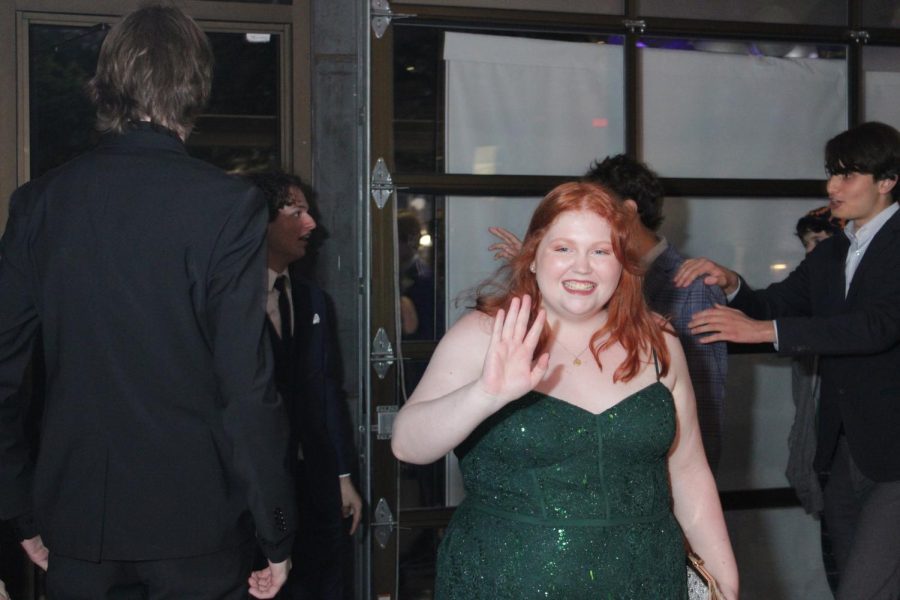 21ST CENTURY FOX: Senior Anna Fox arrives to prom in an understated yet elegant shimmery dark green dress with a radiant smile to match. Fox loved getting to see everyone's outfits and enjoyed the event's fun energy.
"Seeing everyone absolutely dressed to the nines was so fun after four years," she said.
The absolute highlight of her night though was when everyone attempted to do the Cupid Shuffle in sync.
"I thought it was really sweet that everyone was so together and in the moment for that," Fox said.
Caption by Grace Vitale. Photo by Meredith Grotevant.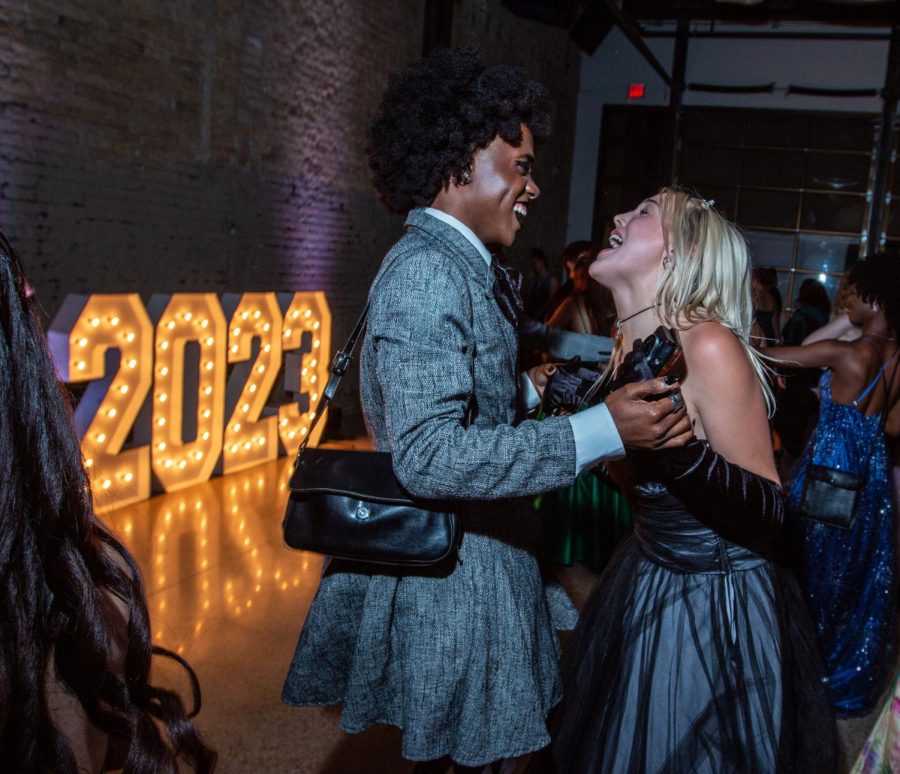 MATCHING! (BY ACCIDENT): Seniors Khi Washington and Zada Cook share a laugh in their similarly colored outfits beside the "2023" sign at their senior prom. Despite the similarity in their attire, the reflection was sheer coincidence, and the two had not attended prom as each other's dates.
"We had pulled up to our friend Scarlett's house to take pictures and had not planned what we were wearing," Washington said. "The fact that we looked like we were going as a pair just goes to show how similar we are in our taste in things."
Furthering the coincidence, Washington had customized his prom outfit himself.
"I had bought the piece as a white skirt with gold accents and I changed it to be the complete opposite," Washington said. "I had dyed it, replaced the buttons and brought it in more [at the waist]. I added my own components like the socks with the bows, and the shoes were my favorite thing about it."
Washington and Cook attended prom with a larger group, but they shared a deeper connection. Originally meeting briefly in middle school, the two rekindled their friendship in their freshman year math class. Now, over three years later, they are twinning at prom.
"We have always had this almost brother and sister relationship, very 'Cloak and Dagger,'" Washington said.
Washington attended last year's prom with a senior date but felt that attending prom as a senior was much more significant.
"Prom this year felt totally different, and I felt more involved than I did as a junior going to prom," Washington said. "Everything was much more meaningful, and I felt that the group I went with was very inviting."
Nearing the end of their high school career, Washington dubbed prom as the "party before the goodbye."
"I feel like there are so many events [before graduation] where I will see these people again like Powderpuff and all of those other out-of-school events," Washington said. "I feel like graduation is going to be the big goodbye. Prom was basically the preview of the goodbye. Graduation is going to be a party in itself."
For Washington, the illuminated "2023" sign displayed at prom signified the shared experiences of his class.
"I felt like [Prom 2023] represents everything we have been through as a class and how we have gotten to this point in our high school careers. This represents our moment, something that is so meaningful to us at this point in our lives that we will look back on when we are older and say 'that was our prom."
Caption by Morgan Eye. Photo by J. Frank Webster.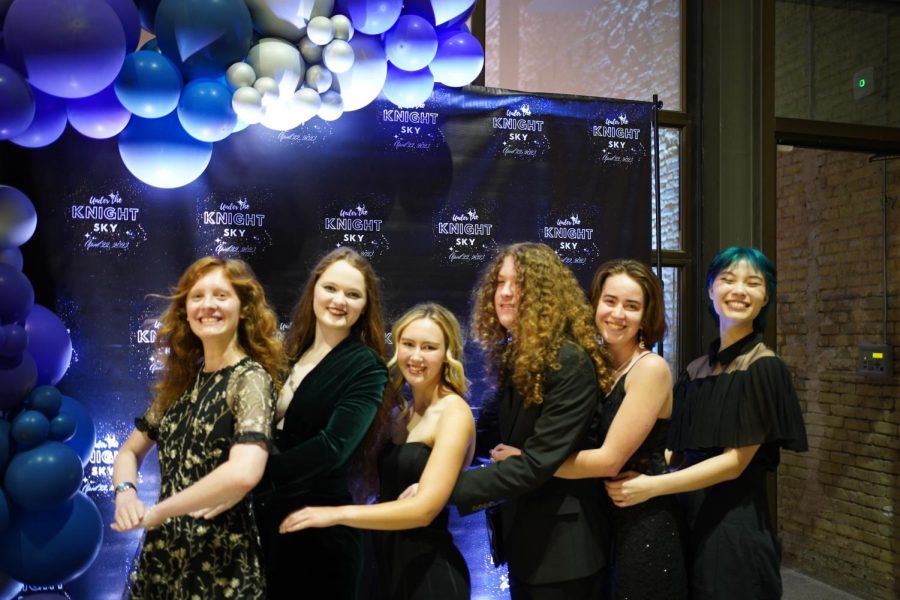 A 'KNIGHT' OF FRIENDSHIP: Seniors Marielle Musick, Teagan Boyd, Griffin School student Ava Rollins, junior Dylan Gernert and seniors Kate Boyle and Thea Krische arrive at prom and smile for a group photo. As Musick entered the venue, she was impressed by the decor and atmosphere.
"It was really cool," Musick said. "The location was fantastic, and I really liked the celestial theme. But it was quite loud and hot."
Musick enjoyed spending the evening surrounded by her classmates, but there was an inevitable feeling of finality in the air.
"It was a lot of fun being able to see people dressed up [and] looking fabulous," Musick said. "But it was also bittersweet to see everyone knowing that we're going to graduate soon."
Caption by Francie Wilhelm. Photo by Helen Martin.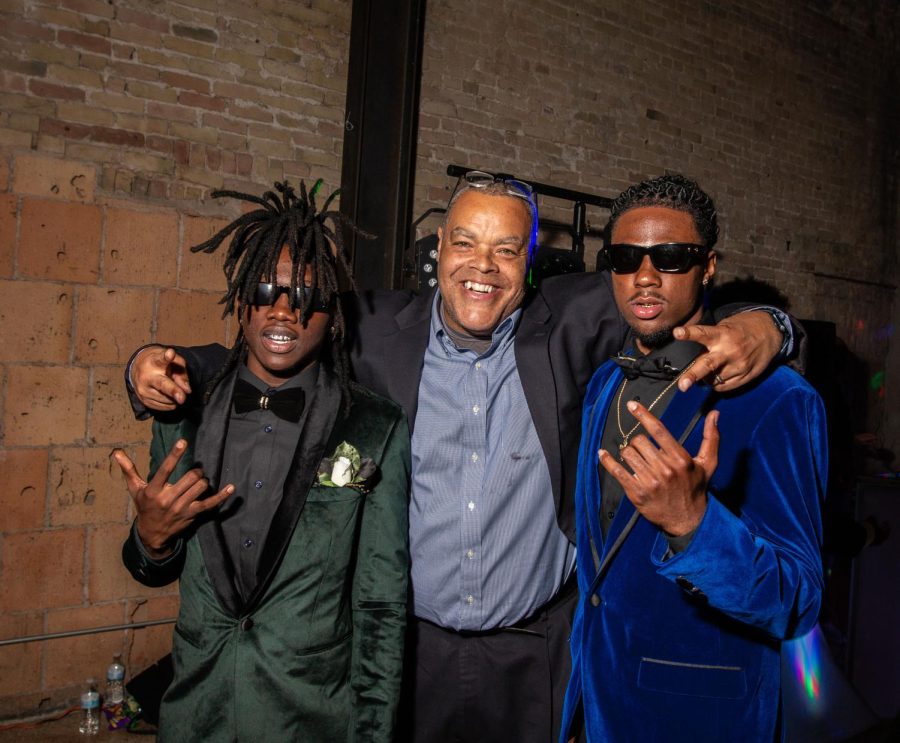 FAMILY KNIGHTS: Seniors Shamar Hose and David Houston flank assistant principal Larry Featherstone as the trio poses for a picture. The seniors asked Featherstone to take the picture and then summoned a MacJ photographer to capture the moment. Why did Hose and Houston want a prom picture with Featherstone?
"He's like family," Houston said. "I know I can go to him about any and everything and he's going to do what he can to help."
Houston said that during his four years at Mac he and Featherstone have built a strong bond.
"On days I'm not in the best mood, I know I can go to his office for good words of encouragement."
He added that Featherstone had a huge impact during football season.
"Just seeing him on the sidelines cheering gave me the courage to be the best I could while on the field."
For his part, Featherstone said that he was immensely proud of the two young men in this picture.
"They both have amazing stories," Featherstone said. "They have defied the odds and still persevered. … I am humbled to have witnessed their dedication to perseverance over the last four years. They both have made me a better man."
Not to mention the fact that they both pulled a very difficult feat: making Featherstone look underdressed for a McCallum occasion. Despite not being the sharpest dressed Knight in the room, Featherstone said the prom was a stellar event: well-planned and organized.
"The prom makes me feel like Peter Pan," he said. "I never get old."
He also said that the Class of 2023 had a great time and that they stand out to him for being "free-spirited, caring and engaged in the world around them" and "bold enough to speak their truth without fear of retribution."
Caption by Dave Winter. Photo by J. Frank Webster.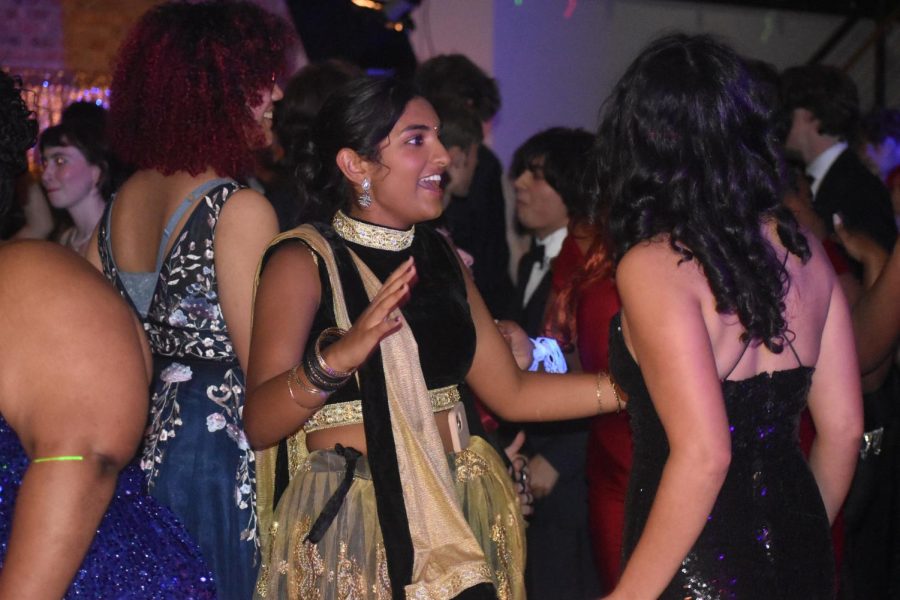 TWO TRADITIONS, ONE KNIGHT: Senior Yamini Shekhar dances in a traditional Indian ghagra choli at prom. When the time came for Shekar to shop for prom outfits, she realized she already owned something perfect for the occasion–a lehenga that she got in Bangalore, India. According to Shekhar, the outfit is typically worn for special occasions like weddings, religious ceremonies and, in her case, prom.
"My sister had worn an Indian outfit for her prom, so that gave me some confidence in wanting to wear it for my prom," Shekhar said. "I thought that wearing this would be a great way for me to show my culture."
Shekhar got her nails done the morning of prom, stopped by a hair salon and did her own makeup. While it was exciting to get ready for her first big event in a while, Shekar had mixed feelings about senior prom arriving at last.
"The whole day was bittersweet since the realization set in that my senior year is coming to an end, but I get to end it in my traditional way," Shekar said.
When Shekar arrived at prom, she received many compliments about her outfit which made her feel happy about her decision not to opt for a western-style prom dress. For her, the highlight of the evening was hours of dancing with friends.
"The highlight of prom for me was just dancing and singing along to all the songs on the dance floor and having a great time with my friends the whole night."
Caption by Ingrid Smith. Photo by Caroline Owen.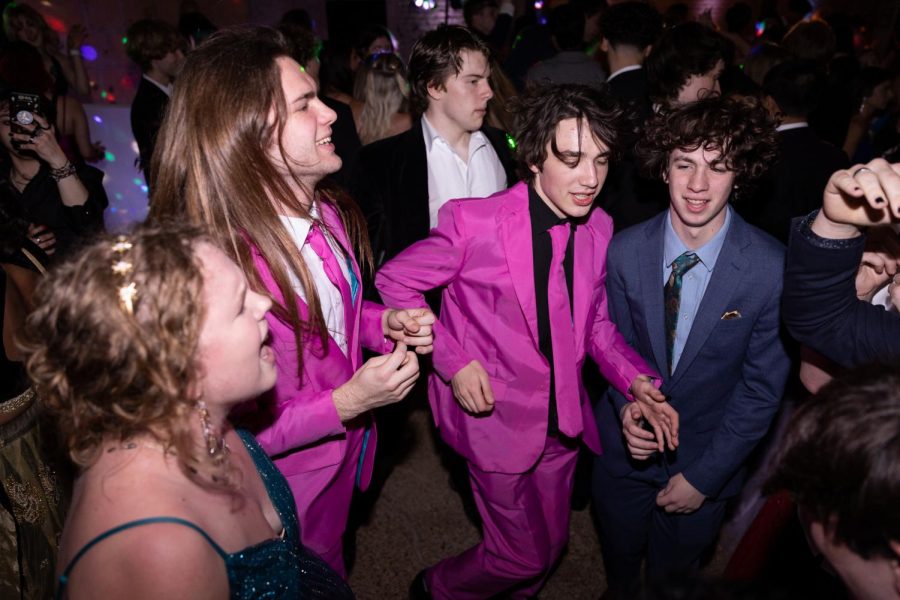 PINK FOR PROM: Seniors Vaughn Vandegrift, Peter Wiseman, Max Yehaskel and Alex Gold sing and dance their hearts out at Saturday's "Under the Knight Sky" prom. Yehaskel and Wiseman stood out in the sea of black and navy suits as the pair opted for bright pink with contrasting, yet coordinating, shirts and ties. While the style decision seemed big to onlookers, for Yehaskel it was a simple choice.
"I like pink, it's a solid color," he said. "It almost melted when I ironed it actually. It's 100% polyester, and I got it from Kohl's."
Yehaskel enjoyed prom overall, except when it came to the royalty announcement.
"Someone stole prom queen from me," he joked. "It was very tragic. But other than that, it was fun."
As prom marks another milestone at the end of senior year, Yehaskel is ready to sit back, relax and enjoy his last few weeks as a Knight.
"My grades don't matter anymore [and] after AP tests I'm done," Yehaskel said. "I'm going to go nuts, and I'm going to start cooking more."
Caption by Francie Wilhelm. Photo by Gergő Major.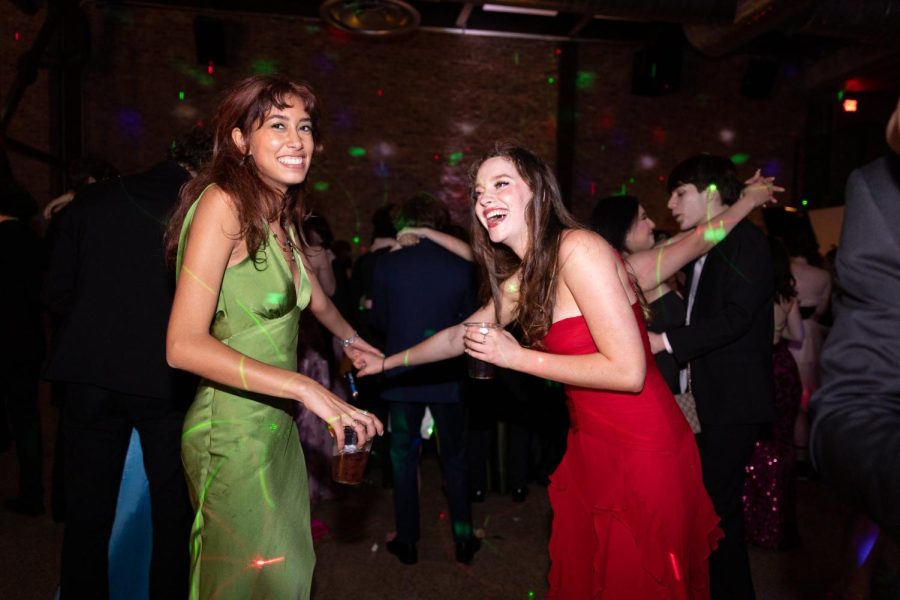 DANCING QUEENS: Just moments after the DJ opted to switch the playlist to slower songs, seniors Sophia Gonzalez and Tallulah Wilson take to the dance floor.
"Everybody started coupling up and me and Sophia decided that we wanted to dance together," Wilson said. "It was really fun. We were spinning and dancing together right in front of the speakers where the music was the loudest and laughing a ton."
For the record (or perhaps on the record), Wilson remembers one of the songs being "Until I Found You" by Stephen Sanchez. Wilson—who attended prom with a large group of friends—expressed appreciation to Ms. Smith and the other faculty sponsors for helping make the prom special and memorable. She also said the details of prom—dresses, reservations and transportation—are stressful, but in the end the overall experience was a blast.
"I got to see so many people out and having fun that I normally wouldn't, and it was really cool to share that experience with them," Wilson said.
Wilson said her favorite moments were when she and her friends took off their shoes so they could dance more. She also said she was really glad she grabbed her digital camera before leaving home so she was able to capture the moments so she can look back on them later.
"[Prom] was kind of a big deal for me mostly because it's kind of the only big dance at McCallum and a really special experience for seniors," Wilson said. "It's definitely something you look forward to throughout all of high school, and I loved that it brought the senior class together."
Caption by Dave Winter. Photo by Gergő Major.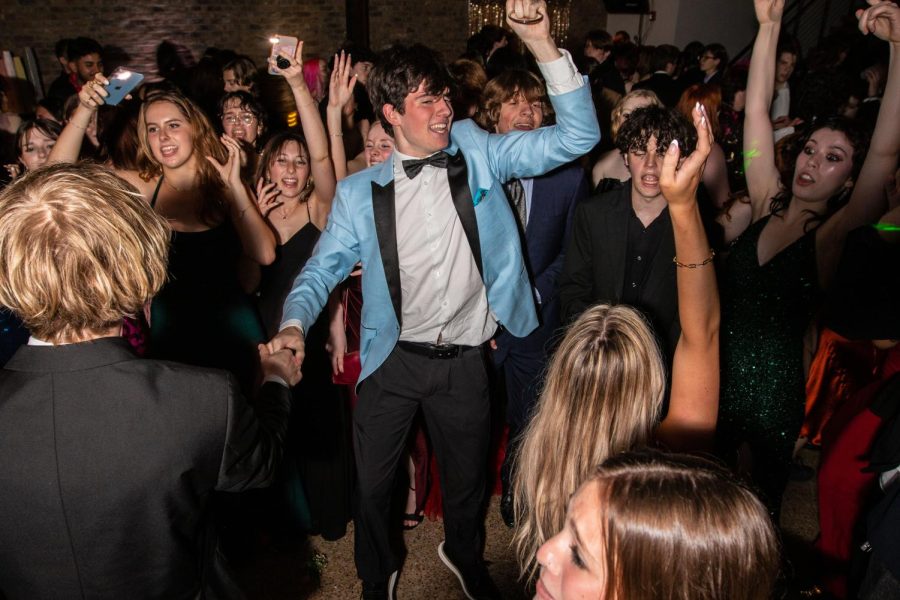 UNDER THE KNIGHT SKY BLUE: Senior Spencer McNelis dances in a group during prom Saturday night at 800 Congress.
"Me and all the seniors were having a lot of fun dancing and running around the circle dancing to the music," McNelis said. "It was a lot of fun seeing all the seniors at the prom all dressed up and dancing together with everyone," McNelis said.
Caption by Kate Boyle. Photo by J. Frank Webster.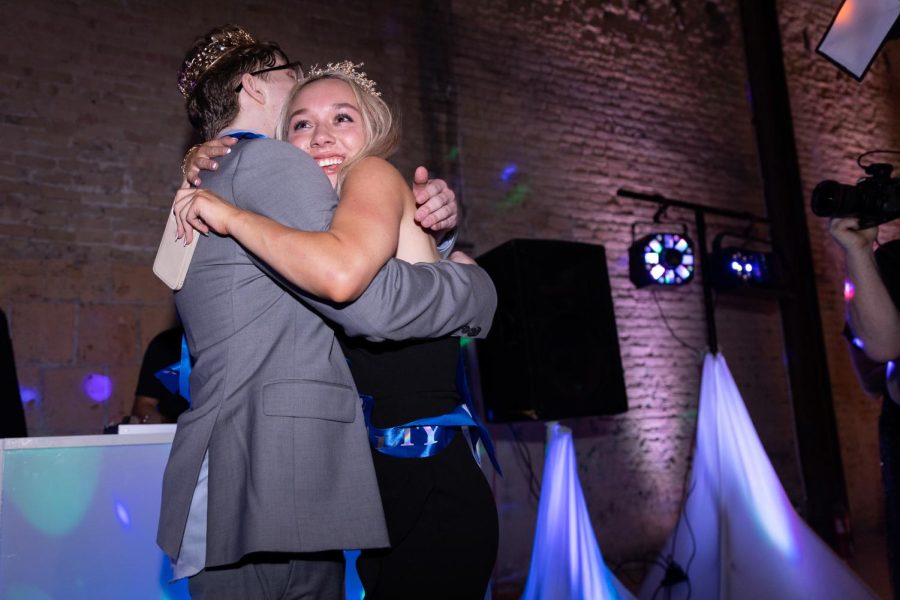 A SHOCKING TURN OF EVENTS: Moments after being announced prom king and queen, seniors Ron Wolleben and Ellie Collard embrace one another. For Collard, the win was unexpected — she didn't even notice she'd won at first.
"I was pretty shocked when I found out I'd won because I didn't even realize they were announcing it," Collard said. "I was standing in the back of the room and one of my friends ran up to me and said I had won. It was obviously really exciting hearing that the seniors had voted me to be prom queen and I felt very grateful."
Collard felt honored to be given the title of Prom Queen by her peers, but found that the best part of her night was not the big win, but simply being around her friends.
"[I loved] dancing with all of my friends and all of the people that I don't see as often outside of school," Collard said. "It makes me feel very greatful that I was recognized by the seniors."
Caption by Alice Scott. Photo by Gergő Major.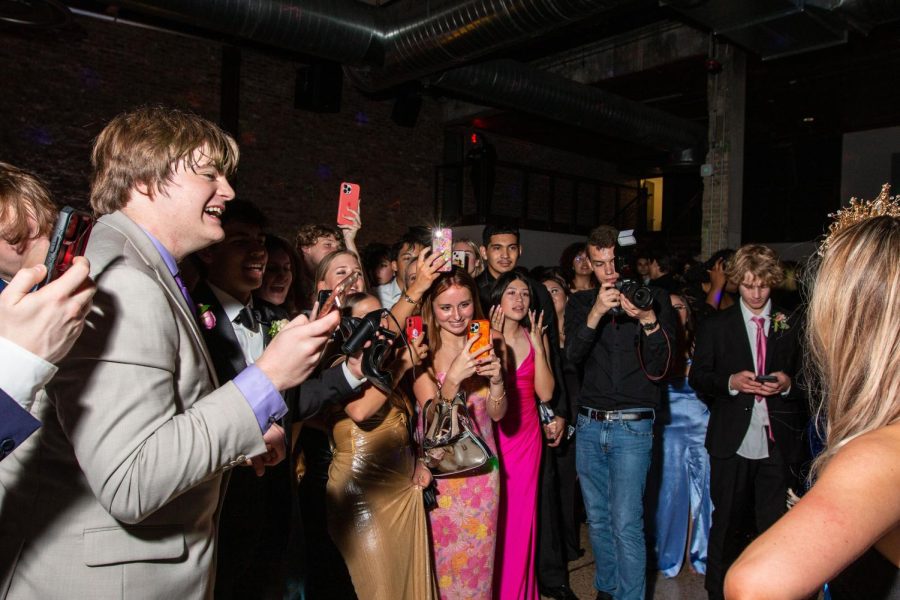 SAY CHEESE Senior Ellie Collard smiles for the camera shortly after being announced prom queen.
"I honestly didn't notice all the pictures being taken because of how surprised I was that I had won." Collard said.
Collard didn't doubt that her prom night was going to be special.
"Obviously everyone had very high expectations going into prom night, but I knew that it would be fun no matter what happened because the whole senior class would be together having a good time." Collard said.
"My emotions leading up to winning were very positive and joyful. Everyone who was nominated are great people so I would have been happy no matter what."
Caption by Sophie Kessler. Photo by J. Frank Webster.
This story was originally published on The Shield Online on April 25, 2023.