A Knight of glitz and 'glamour'
Blue Brigade bids adieu to seniors, welcomes new members in end-of-season spring showcase
After a successful year of performances, pep rallies and dance competitions, the Blue Brigade ended its season last weekend in the annual spring show. Held in the MAC and hosted by class of '22 officers Charli Cevallos and Annabel Winter, "Glamorous" featured two jam-packed acts of award-winning contest team routines and officer dances from throughout the year. Keeping with tradition, the event also hosted special guest dances from Blue Brigade parents, kiddie clinic students, McCallum cheerleaders, rising freshmen and a determined, but less-than-classically trained, group of senior guys.
The exhibition was more than just an opportunity for the dancers to show off their hard work from this past year; for 13 Blue Brigade seniors, it was a chance to say goodbye to a program and group of people that defined their high school experiences. Class of '23 members shared heartfelt letters reflecting on their time with the team, thanking friends, family and of course, program director Nancy Searle, whom the dancers know simply as Honey. Seniors also all shared solo or duet pieces personal to them as they ended their time on the MAC stage.
We are proud to present some of the best photos of some of McCallum's best dancers in this week's Tuesday Top 10 photo essay.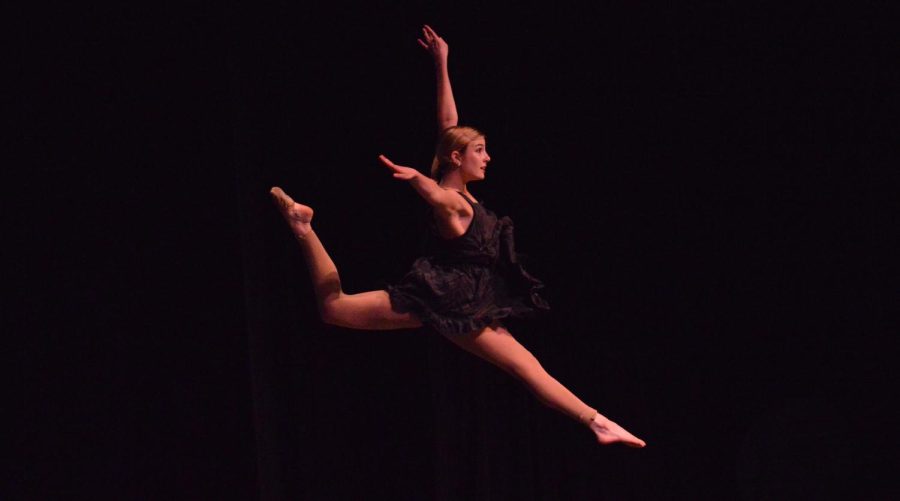 HELLO SAYS GOODBYE: Senior Maddie Hello dances her self-choreographed senior solo to "Real Love" by Big Thief.
"I was definitely feeling very nervous because I really wanted it to be a good performance, but I was also feeling very relieved that all the work I had put into it was paying off," Hello said.
Hello didn't attach specific meaning to the solo as a whole, but had an overarching sentiment that she wanted people to see.
"I really just wanted it to feel very me if that makes sense," Hello said. "Just kinda like a dance people could look at and tell that it was mine."
It took time to create a dance that was uniquely "her" though.
"It took about a month to choreograph, but I ended up almost completely redoing it the week of the show because I'd gotten tired of what I came up with," Hello said. "The process wasn't super difficult besides that because I was able to pull movements I liked from previous dances I'd done with Blue Brigade, and because I started with a song I knew and loved, it was easy to come up with movements that matched the music."
Overall, Hello saw the show as a way to say goodbye to dance and her teammates in Blue Brigade.
"It was a really, really weird feeling knowing that I might never see a lot of the people who I've seen every day for years very soon," Hello said. "It was also really weird cause dancing has been my main hobby since I was really young, and since I'm not pursuing it in college, I sort of risk losing the opportunity to dance as often."
Through a speech and dance, Hello was able to express how much the team meant to her.
"The show was a really nice way to end my time on the team," Hello said. "I was able to tell everyone how thankful I am to have gotten to know them through my speech and then end it all off with dancing all together one last time. I'm just really thankful for the opportunity to dance with people I love. It really makes the hard work worth it."
Caption by Kate Boyle. Photo by Francie Wilhelm.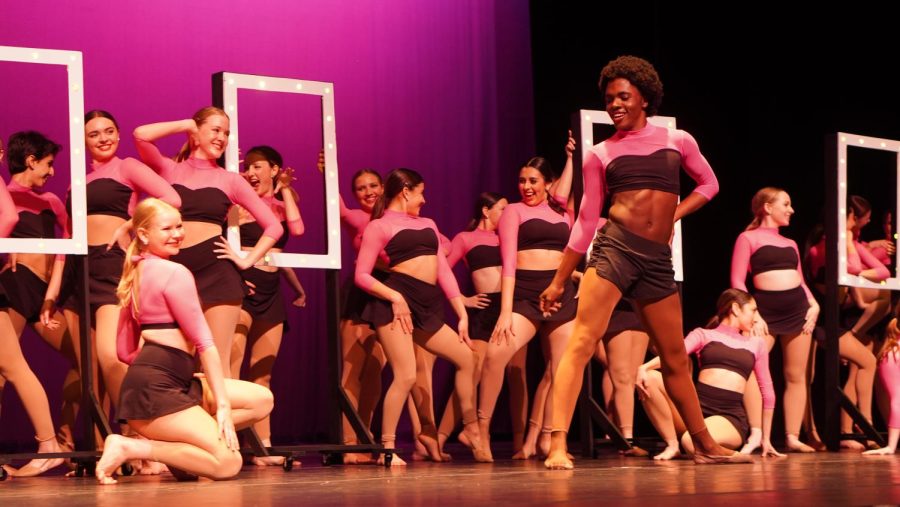 TAPPING INTO THEIR GLAMOR: One of the many unique and carefully choreographed dances at the Blue Brigade Spring show was the 'Glamorous' routine. The dance, performed right before intermission, closed out the first half of the show with spunk.
For sophomore Gaby Alvarado, the dance was the perfect way to energize the crowd and prepare them for the second act.
"It was so fun since everyone on the team was in it," Alvarado said. "We even had a tap dance section, which was so fun since we don't normally do tap on Blue Brigade."
In addition to the tap, the team also used props, a rarity for spring shows.
"My favorite part of the dance was the use of vanities," Alvarado said. "Using props in general could always go wrong with them falling or breaking but happy nothing like that happened."
Alvardo expressed her love for the theme, and how this dance in particular, really came through.
"Overall I think the use of the vanities really pulled together the dance and the 'Glamorous' theme," Alvarado said.
Caption by Chloe Lewcock. Photo by Priya Thoppil.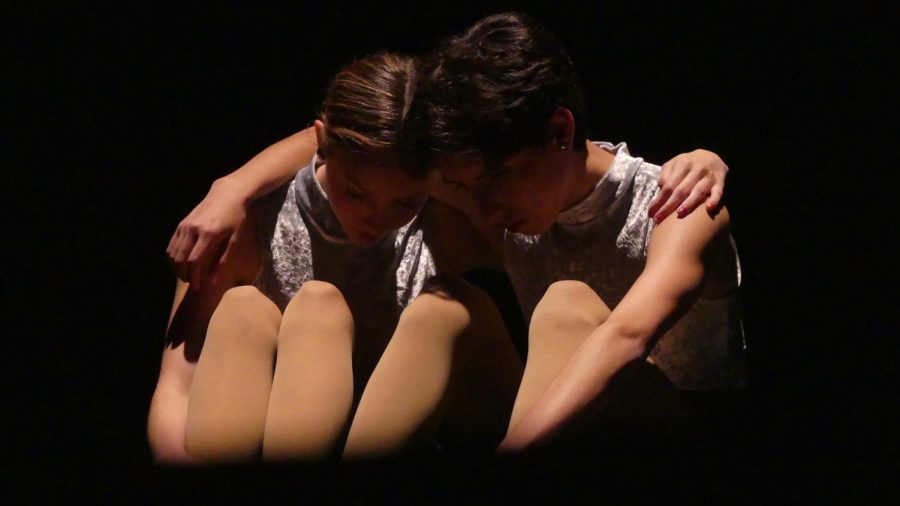 LOVE TO LAST A LIFETIME: Seniors Noah Lawrence and Julia Wallace prepare for their senior duet at the Blue Brigade spring show.
"I was feeling super reflective, thinking about how much time we have spent together on Blue Brigade," Lawrence said. "This moment was the culmination of countless hours spent not only improving ourselves as dancers but also developing a friendship that I feel will last a lifetime."
Lawrence focused on the choreography aspect of the dance.
"Julia, while providing valuable input, let me have most of the choreographic liberty," Lawrence said. "However, everything I created translated so well to her. She performed every move exactly how I envisioned it, and it took no time at all to produce a piece that both of us were very satisfied with."
The duet was to a song by Adele called "Make You Feel My Love."
"The duet was sort of meant to illustrate the difficulty of loving someone from afar, especially after being together for so long," Lawrence said.
Lawrence was ultimately proud of the duet and how the showcase went as a whole.
"The show went very well, and though I did not give a flawless performance in every number, I spared no effort on that stage," Lawrence said. "That's what I think counts."
Caption by Kate Boyle. Photo by Julia Copas.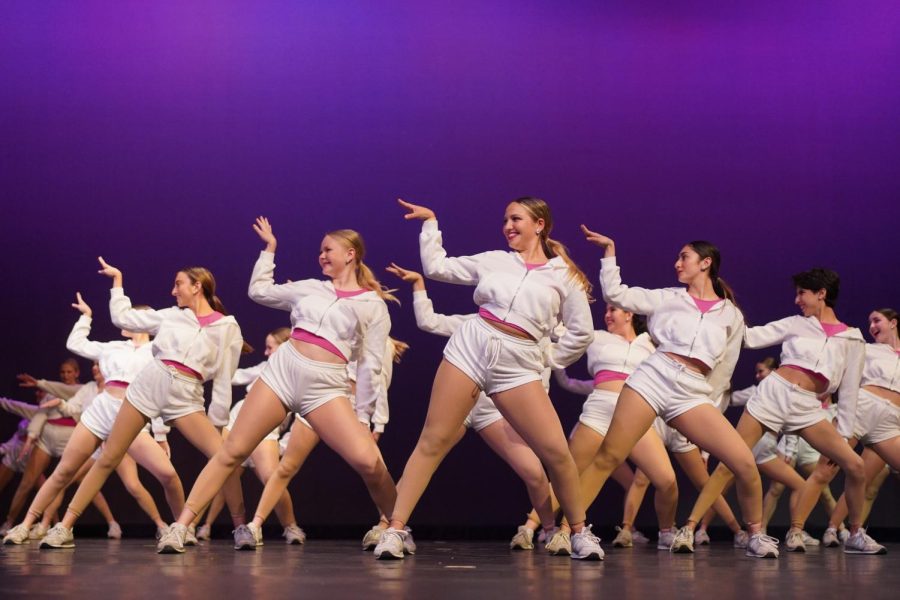 'ONE TWO' THREE GO: Seniors Nia Wayman, Sophia Kramer and Olivia Falcon lead the team's formation in hip hop number "One Two Step," choreographed by Caroline Cullers. Wayman enjoyed conveying the intensity of the number to the audience.
"My favorite part would have to be the headspring whackpack kip-up," Wayman said.
Overall, though, Wayman found this year's spring show to be bittersweet as she said goodbye to the people and program that had been a part of her life for so many years.
"I was excited throughout, but I was also sad that it was the last time I would dancing as part of Blue Brigade," she said.
Caption by Francie Wilhelm. Photo by Charlie Partheymuller.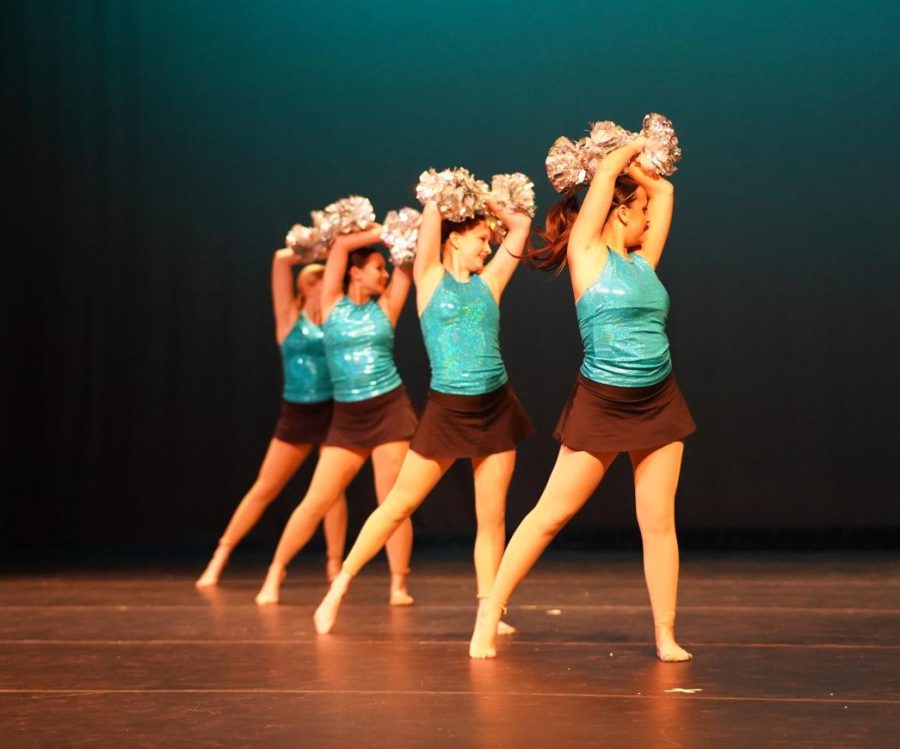 STARSHIP OF SOPHOMORES: The Blue Brigade sophomores round out the first act of the spring show with "Starships," a pom ensemble choreographed by senior captain Sophia Kramer. Each Blue Brigade class performed a dance, and sophomore Catherine Haikola said that the sophomore dance required dedication and skill.
"The sophomore dance was special because of how hard we worked on it," Haikola said. "It was challenging choreography and as a class, we worked on it and perfected it. It was so fulfilling to see it all come together."
For Haikola, the spring show was super exciting and nerve-racking at the same time. In the end, she believes that Blue Brigade put on a performance to be proud of.
"The spring show is different than our other performances because we perform in an actual theatre with lighting cues and stage entrances," Haikola said. "The audience is just as enthusiastic as our other performances and the support feels great."
Next year, Haikola will move into the role of junior lieutenant, and she hopes to make as much of an impression on underclassmen as the current seniors did for her.
"The highlight of the show was definitely watching the senior solos," Haikola said. "I loved listening to their speeches and watching them dance. It's sad to see them go, but I know they are all going to do amazing things."
Caption by Ingrid Smith. Photo by Dave Winter.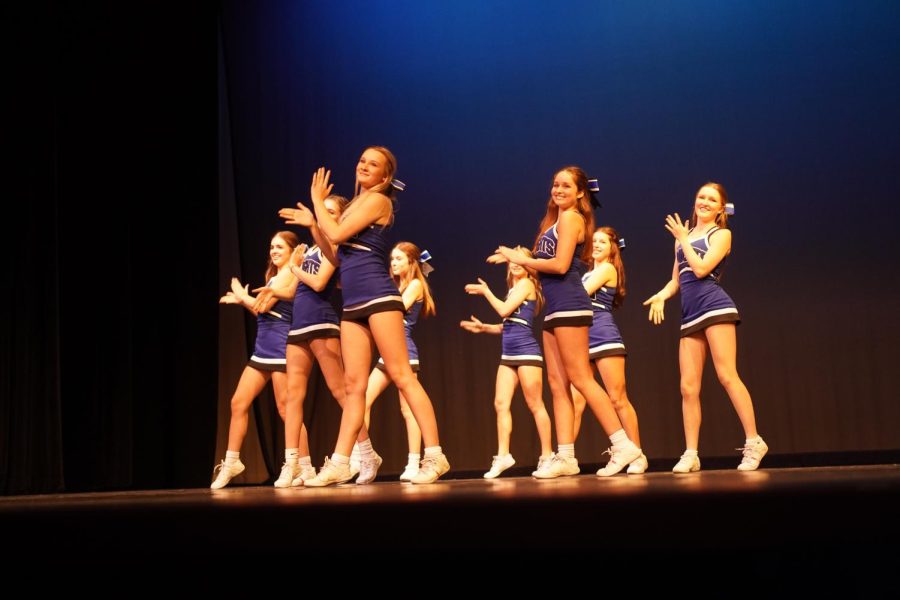 IN SYNC: The cheer team kicked off the start of the Blue Brigade spring showcase Friday night with a routine to get the crowd pumped. Junior and next year's head captain Hannah Van Houten enjoyed the segment.
"As the cheer team each year we choose one night to perform a routine, and we practice for a couple weeks before to show it off on opening night," she said. "It gives us a chance to perform our routines."
Caption by Priya Thoppil. Photo by Charlie Partheymuller.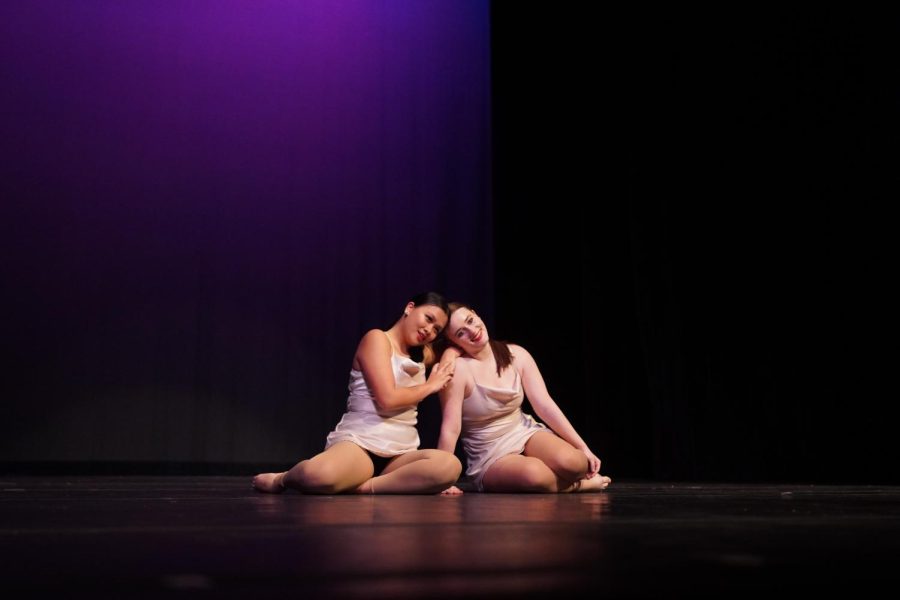 LOOKING TO THE FUTURE: Juniors Sophie Leung-Lieu and Kylie Reeves end their duet number and first performance as next year's Blue Brigade captains. The number, entitled "This Town" and choreographed by Leung-Lieu and Reeves, symbolized the passing of the torch from current captain Sophia Kramer onto the next generation.
"It was an exhilarating experience being on stage performing with my lifelong friend in front of friends and family," Reeves said. "Having a dance being dedicated to me and Sophie and it symbolizing our first step into being captains was very special."
Caption by Francie Wilhelm. Photo by Charlie Partheymuller.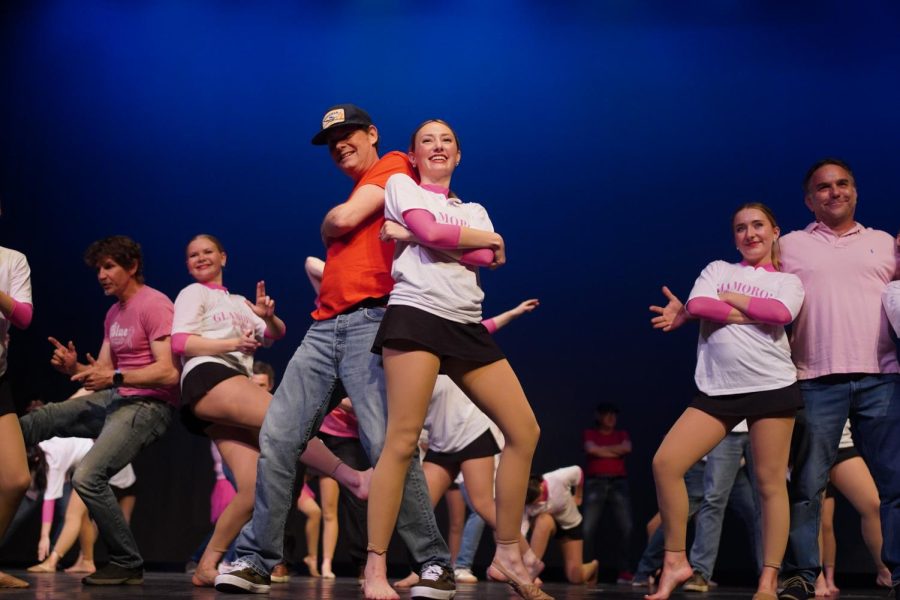 D FOR DADS, A FOR ATTITUDE, D FOR DANCING: Senior Julia Wallace and her dad, Jamie Wallace, pose together at the end of the "Dads Dance" Blue Brigade Spring Show tradition. "We had two practices after school to teach the dads the dance," Wallace said. "But I know a lot of them, my dad included, practice at home because they like to take it very seriously!" Each year, social officers choreograph a short dance to perform with the dads; this year the choreography was done by senior Maddie Hello and Wallace herself. "I think my favorite part about doing the dads dance is that they always work so hard to get the moves down," Wallace said. "but in the end it's just everyone being silly and the dads never really know what's going on." Caption by Elena Ulack. Photo by Charlie Partheymuller.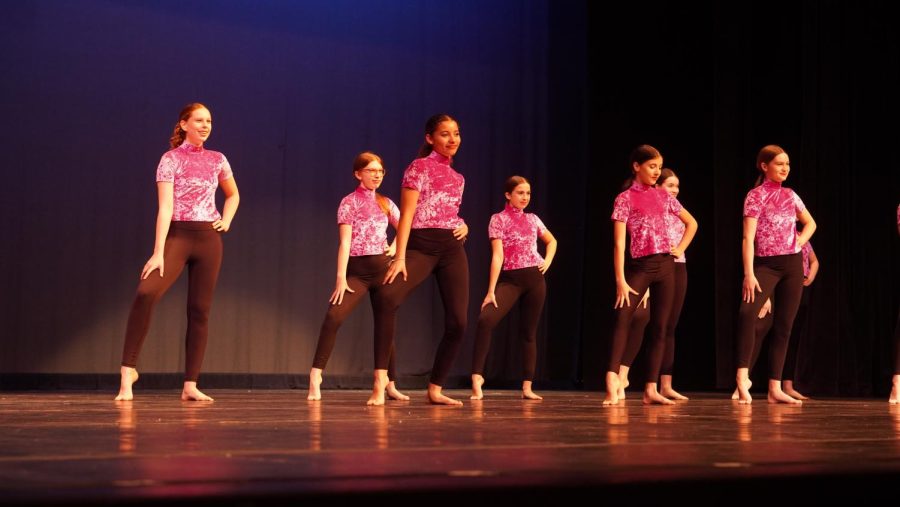 NEW TO THE STAGE: The "Blue Brigade Babies" (the incoming freshman) were dedicated a time slot for a dance in the first half of the program Friday and Saturday night. Current eighth-grader and future Blue Brigade Mia Jones enjoyed the opportunity to perform at the showcase.
"Although it hasn't been long [as a BB member], it's been very fun," Jones said. "And all of the new officers and Honey are very nice and welcoming."
Jones also experienced the show from the audience's perspective and found the group contemporary piece to be a personal favorite.
"I liked how it was a full dance team, and they are all coordinated with different moves incorporated," Jones said.
Caption and photo by Priya Thoppil.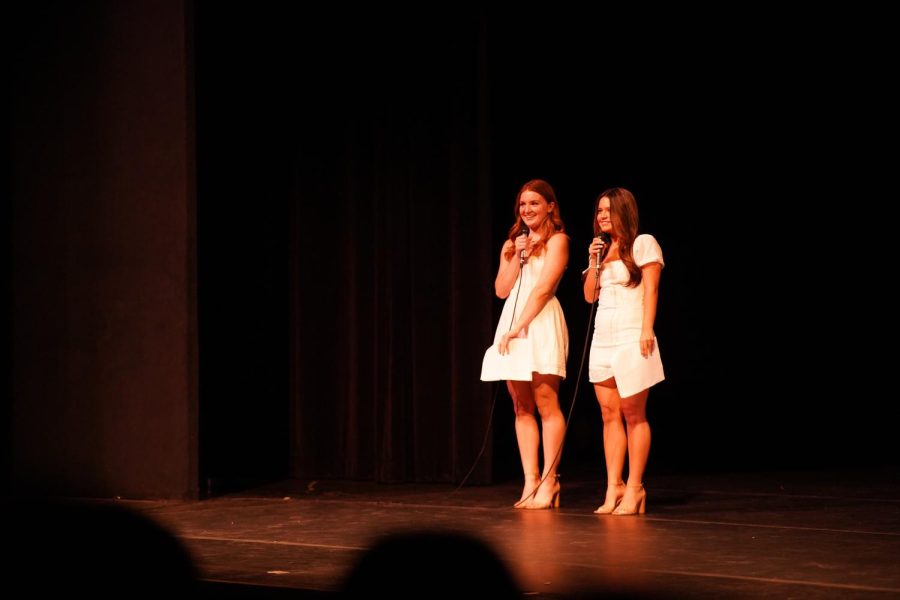 EMCEE SEE: When Charlie Cevallos (right) and Annabel Winter were seniors and the captain and first lieutenant last spring, their final spring show was emceed by 2020-2021 co-captains Addie Seckar-Martinez and Matthew Vargas, who took their cue from 2019-2020 co-captains Lilly Brown and Amelia Paul, who were the first captains to return to campus as spring show emcees.
"There was never really a moment that we knew for sure [that we would be emcees]," Cevallos said. "It was something Annabel and I were planning on once we saw Matthew and Addie emcee for our last spring show. It was sort of a done deal for us and when it came time we bought flights!"
Cevallos and Winter said that emceeing the show they once starred in was equal parts strange and wonderful. Cevallos described the combination in a single word: bittersweet.
"It was weird not being on the side where you're rushing to make a quick change and remember your dances before going on, but it was fun being able to enjoy all of the dances and still be a part of the show," Cevallos said. "It made me miss the team and dancing, that's for sure."
Winter offered a similar take but also described coming back as a full-circle moment. "My whole life I have been on stage, but I am used to dancing not speaking, and I felt old. I remember when Amelia and Lilly came back, and they were freshman in college, and I remember thinking that they were so old, and now I am them."
Both admitted to being nervous before the show. Winter said that encouragement from 2020-2021 co-captain Addie Seckar-Martinez just before the Friday show raised their confidence. Once the show got started, both emcees said they hit a comfortable stride.
"I've always been a talker, but I didn't know how I would do in front of an audience," Cevallos said. "Annabel and I agreed that after stepping out there for the first number, all the nerves were gone."
Winter said it helped realizing that they were not the main attraction.
"After we got into it, I realized that all the people there were either supportive parents or friends and they weren't there for us: they were there for the dancers so I felt less pressure."
And she jokingly added the A she earned in public speaking at the University of Arkansas this semester certainly didn't hurt.
While they were comfortable in their roles, they were emotional moments seeing their younger peers in their dance shoes. For Cevallos, it was captain Sophia Kramer's solo.
"She was my little sister starting sophomore year, and we became best friends through the team," Cevallos said. "Introducing her on stage and hearing her speech got me very emotional, and anyone who was there on the first night heard my tears when I announced her solo. I was so proud of her, but it definitely made me sad to see her say goodbye to Blue Brigade."
For Winter, it was senior lieutenant Nia Wayman's farewell speech. Winter said seeing her at the end of a distinguished Blue Brigade career elicited memories of earlier days when Wayman was a middle-schooler in glasses and pigtails at Lamar Middle School.
Both emcees said the officers' final hug with director Nancy Searle before their final routine brought back powerful memories.
"Not only was it sad to hear all of the officers' sniffles and see their tears during the dance," Cevallos said, "but it made both me and Annabel nostalgic because we remember being in their shoes and having that last hug."
Winter said that the post-intermission moments of the show are emotional every year, but that the last officer dance was especially emotional for her to watch this year.
"I remember what that was like for me, and it made me think of my officer group because it was the last time I ever danced with them."
Every since the tradition of having co-captains (and now for the first time a first lieutenant) come back, the moment has been a homecoming but also a rite of passage.
"We gather in a circle before we go on stage," Winter said. "I remember thinking that my senior spring show was my last one, but this actually was my last circle ever."
Photo and caption by Dave Winter.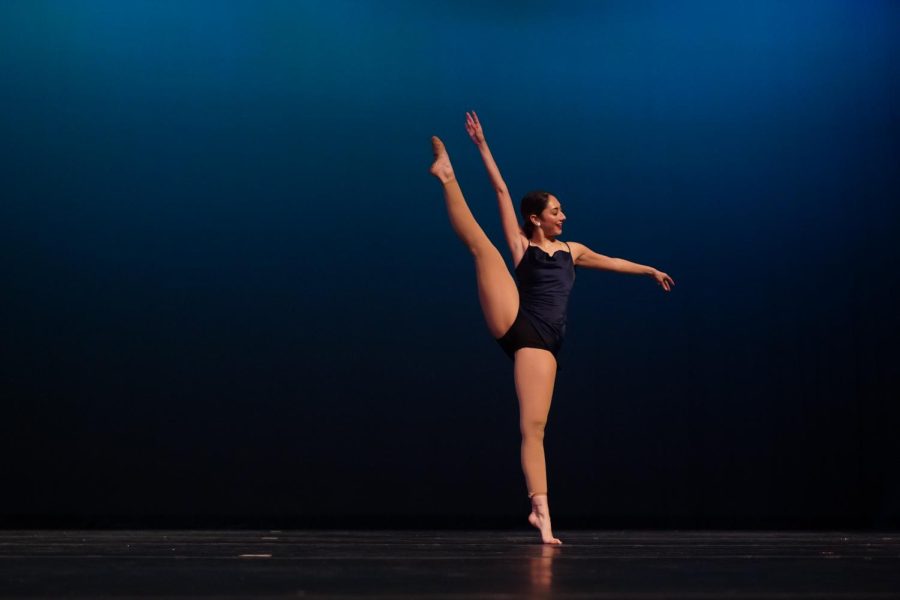 HER WAY: Senior Olivia Falcon has been singing and dancing to Frank Sinatra ever since she got her first pair of ballet slippers. So when she was choosing a piece to dance her final solo to, his classic "My Way" seemed like the perfect choice.
"Growing up, we would listen to Frank Sinatra's greatest hits," Falcon said, "I knew I wanted to do an old classic song, and the lyrics to "My Way" not only took me back to belting the lyrics with my dad but also corresponded with my time and experiences on Blue Brigade."
Falcon wanted to make her final moments on stage count.
"I was super worried about [the aerial] in my solo that I fell during the night before," Falcon said, "I knew for my own peace of mind I wanted to stick my landing since it would be my last time ever performing a solo."
After listening to her prerecorded speech thanking her parents and friends, Falcon felt overwhelmed with emotion. She took that emotion with her in her routine.
"As cliché as it sounds, when the dancing is coming from your heart, it's much more powerful," Falcon said. "As I danced, I saw all my friends in the wings, and I was just so thankful for being able to dance with them one last time."
Caption by Caroline Owen. Photo by Charlie Partheymuller.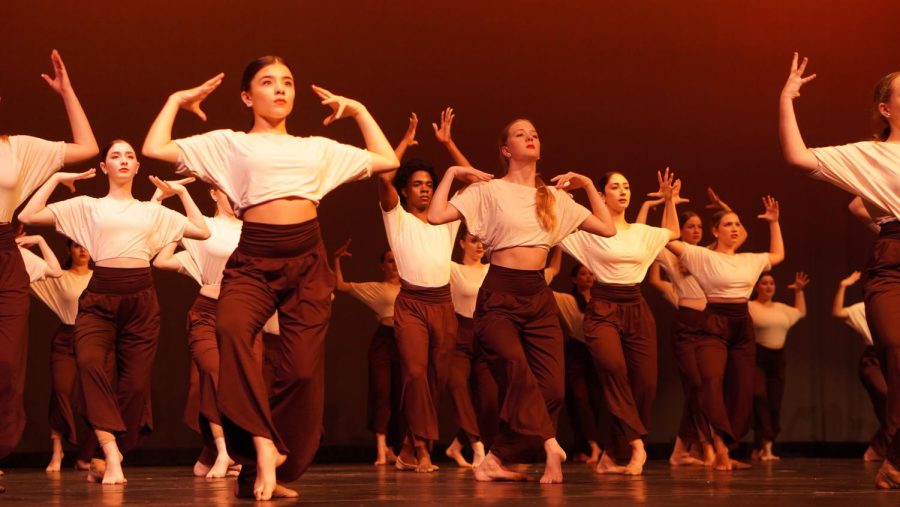 BIG SHOES TO FILL: Freshman Chloe Seckar-Martinez performs "Ultralight Beam," choreographed by former Blue Brigade member Lilly Brown at the program's spring show "Glamorous". For Seckar-Martinez, being able to perform in her first spring show meant more than performing in a typical number.
"It felt a little bit unreal," Seckar-Martinez said. "I have watched my sister [former 2020-2021 Blue Brigade captain] for so many years perform her own spring shows so it was fun to be able to follow in her footsteps and perform as an official member of Blue Brigade."
Seckar-Martinez also found joy in the preparation and performance of the spring show.
"It was also fun being able to show off our dances that we have been practicing throughout the year and the dances that we have put so much effort into," Seckar-Martinez said.
Throughout the whole show, Seckar-Martinez says the thing she looked forward to most, was dancing with her dad.
"One of my favorite parts about the show was being able to dance with my dad," Seckar-Martinez said. "I have been waiting so long to be able to perform with him, so I was so excited to show our dads' dance."
Caption by Naomi Di-Capua. Photo by Priya Thoppil
This story was originally published on The Shield Online on April 18, 2023.