GETTING THE STAR TREATMENT: Colorful celestial-themed pimple patches trending with SH students
From Korean facial masks and layers of concealer to stacks of transparent pimple patches, senior Gabriel Villanueva has tried a variety of ways to remedy his unpleasant relationship with acne.
All of his purchases since middle school have targeted one purpose — covering up.
"I don't think acne is bad — it's normal," Villanueva said. "But I've been conditioned to think that acne is ugly, which is not true, so I still try to find solutions to minimize my acne."
He found one a year ago while scrolling through TikTok videos.
"My friend told me one day how she had found this really cute accessory-looking product you can wear daily and showed me these stars that were on her cheek," the senior said. "They looked so cute I was immediately hooked."
The stars are from the American-produced brand Starface which uses 20 mm wide stars that serve as stickers to cover up an unsightly bump on one's face.

After going through about seven packs now, Villanueva said he's realized a much more meaningful message behind the business. 
"I respect it so much because we're taught that pimples are ugly and having perfect skin is what's beautiful," he said. "But Starface teaches us that you should love your pimples, and the patches are obviously cute." 
Villanueva is not alone in his discovery of this product. Some of his peers on campus have also started sporting this product on their faces as a way of embracing their skin while also destigmatizing acne. 
"I like how Starface is so decorative," said junior Lara Martinez, who's worn Starface since December. "I think it's a great way to just treat your acne, and they can also be like a cute little accessory to your daily outfit."
Like Villanueva, Martinez first learned about this product from a TikTok post from @skincarebyhyram. 
"I find [Starpatches] to be really efficient in taking care of my acne," she said. "I have understanding friends, who never shame me for my acne or wearing pimple patches, but for those who do I educate them through Starface."
PRODUCT AIMS TO PROVIDE STAR TREATMENT
Coming in pocket-size and reusable plastic pods that open up like hand mirrors, Starface's first-released product, the Hydro-Star, comes with a total of 32 yellow star-shaped pimple patches for the price of $14.99. It can be bought on its website or at local stores.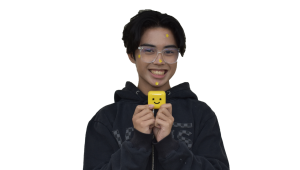 Amid the brand's rising popularity, Starface spokesperson Hope Newman said a total of 77 million original Hydro-Stars have been sold globally across all markets and retail platforms.
According to its website, "Hydro-Stars are made with 100% hydrocolloid, a substance that's clinically proven to help flatten spots by absorbing bacteria and fluid. They're vegan, cruelty-free, hypoallergenic, gentle, and safe for every skin type."
Since its release in 2019, the brand has additionally dropped an array of different hues, such as rainbow and black, partnering with franchises like Hello Kitty to release various shapes, like clouds and hearts, as limited deals. 
For those not into stars, they can also opt for another type of celestial treatment in the form of clouds.
Co-founded by former Elle magazine beauty director Julie Schott in 2019, the signature star-shaped pimple spot treatment has since become a TikTok favorite with #starface garnering over 1.5 million views as of Friday, May 12. The brand also reached a greater audience after several celebrities, including Hailey Bieber, Florence Pugh and Millie Bobby Brown, featured the patches on their social media accounts, such as Instagram.
Especially in light of social media trends, such as #cleangirl, that endorsed unrealistically perfect skin, Martinez said Starface's purpose of normalizing acne is all the more notable.
"I think it's a really good thing because I myself have a lot of acne, which is from genetics," the junior said. "But a lot of the expectations you see on social media can be toxic and unrealistic, so I love how Starface is moving in a different direction."
However, according to a Wednesday, Feb. 15 Accolade online poll, 42% of 107 responders said they'd never heard of this product before.
Freshman Sarah Martell suggests otherwise.
"I'm surprised that not many people know about it yet," said Martell, who first started using Starface products this year. "Most of my freshman friends use it, and my skin improved a lot afterward, especially because I used to use makeup instead."
Despite the bright color and noticeable shape, she said it was exactly those traits that prompted her to first start using the product.
"I was never really worried about how my friends would react because to me the patches acted more as an accessory," the freshman said. "My friends really liked the patches actually, and they said they were cute, so some of my friends even got some for themselves."
On the other hand, sophomore Emily Boyer said she prefers the traditional patches to help her acne. 
"I'm sure it's different for everybody, but Starface hasn't been as effective in helping get rid of pimples, so I like to use it as a face sticker more than a patch," said Boyer, who wears the Mighty Patch overnight and Starface during the day.
Mighty Patch, which Boyer has been using since her freshman year, is another brand selling hydrocolloid stickers that work similar to a Starpatch except that it's transparent. 
"
But it makes you smile when you put [Starface patches] on in the mornings and makes the time while your pimple lasts enjoyable — it's money well spent."
— senior Gabriel Villanueva
TEACHER, PARENT REACTIONS TO STARFACE PRODUCT
Dance director Leiana Volen said she started seeing many of her students donning the patches since early in the school year and views them becoming a potential accessory dancers can adorn their faces with during performances, though she doesn't see herself decorating her face.
"I was like, 'This is so cute,'" Volen said. "I wish I had these when I was a teenager because we try to hide our imperfections sometimes, and I love that they get to do it in a really cute way."
Seeing her daughter frequently wear Starface products, Martell's mother said the products remind her of when she too had blemishes as a student.
"I think the patches are a cute and creative way of covering blemishes, and I love seeing my daughter wear them," Martell's mother said. "I certainly do wish positive products like this were available when I was younger because I also had mini breakouts. In the past, I felt there's more of a need to cover up rather than what Starface does, which kind of tells you that [acne is] OK."
Though some critics have argued Starface's contradictory message about encouraging acne acceptance, yet marketing treatment for it, Villanueva said overcoming the insecurity of blemishes during breakouts is what matters. 
"Don't get me wrong, I don't like acne," said the senior, who feels more students should give this product a try. "But it makes you smile when you put [Starface patches] on in the mornings and makes the time while your pimple lasts enjoyable — it's money well spent."
This story was originally published on The Accolade on May 22, 2023.