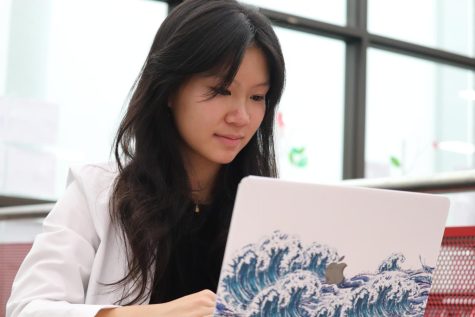 Confused yet determined to find her answers, Coppell High School senior Isabelle Beach traverses her classes with a Macbook screen peppered with lines of Python, hoping a fellow peer can help decipher the unknowns.
"One thing you can take away from me is that I am not supposed to be in computer science," Beach jokes.
Beach is rather entranced by the complexities held by medicine and sciences and has been since she was a child. Participating in Health Occupations Students of America (HOSA) in her freshman year and founding the Future Medical Students Club in her sophomore year, she utilized those activities to fuel her passions.
As a junior, Beach further expanded those interests by joining the Texas Christian University Research Apprentices Program. The program is open to all ages and students are given the opportunity to help professors with their scientific research, and they are able to do so remotely. 
Story continues below advertisement
"It was as easy as filling out an application and asking, 'What do you need help with?'," Beach said. "Since the prospect was to help out a professor with their research, I didn't get to choose the topic, but I rather picked the topic that showed the most interest to me. It seemed like a good challenge to take on and since it is remote research, I can do it at home and not drive an hour down to TCU every week."
Beach paired up with TCU associate professor Dr. Hana Dobrovolny, and together they have been researching the effectiveness of antibodies in syncytia-forming viruses, and furthermore, the fusion mechanism of cells that affects a virus' infectiousness and longevity and its effects on antibody responses. 
"The main reason I chose to take on this topic is that it is related to biology," Beach said. "Although it may not be related to the healthcare aspect of it, whereas it is about transmissibility, it is about infectiousness which is important to look at as viruses are evolving and vaccines are evolving. As this research is centered around respiratory syncytial viruses, which is a prevalent issue especially in America, I wanted to contribute to the research that is going towards treating it."
Throughout the research process, Beach was taken out of her comfort zone as she had to equip herself to new subjects and delve deeper into topics to formulate introspective results.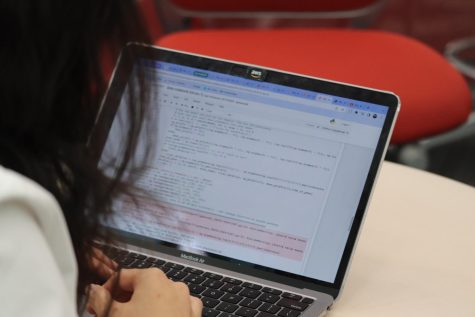 "Most of the time my research process has consisted of calibrating," Beach said. "I am trying to write code to simulate an infection, but I don't know how I am supposed to build it, because the parameters I put in are all subjective until the range is determined. Figuring that out took up a lot of time, as well as building a model of python. I had to learn python by myself and had to ask a lot of peers around me for help, who were usually surprised by the complexity of the code." 
Although some tasks were arduous, Beach didn't let that push her around. 
"Her project has been a little more difficult than I expected to be as it was tricky to group the information from the research together in a way it made sense, but she has been taking the criticisms and drawbacks in stride," Dobrovolny said. "She is quite diligent in what she does and she wants to completely understand what she is doing and why she is doing it. It's interesting, because with some students you just tell them what to do and they will go ahead and do it, but she is not one of those."
Through weekly check-ins in the form of Zoom meetings with Dobrovolny, Beach was able to adapt new teaching methods. 
"I got to learn a lot from [Dobrovolny]," Beach said. "Since she is a professor, what she taught me was a lot different from how they teach me at school. I was able to pick up some of those skills to help me teach others about my research, which can be complex to understand for some people. She also directed me to some of her grad-students and I was able to build better communication skills."
On April 18, Beach presented her research at an online e-poster symposium over Zoom and on April 28, she presented her research at an in-person poster symposium at TCU.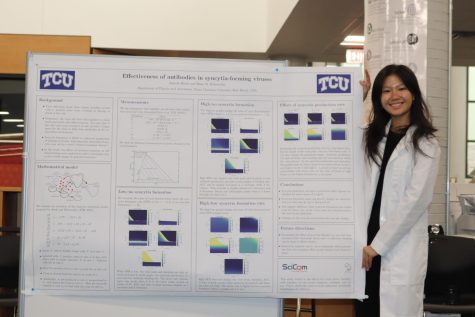 "I didn't feel super out of place at the symposiums," Beach said. "It was cool to see people's projects and the variety in them. Presenting at the symposium was a good experience as the people who stopped by my poster were truly interested in what I had to say, and getting to run the information on my poster multiple times was helpful to me as I gained more confidence in the research."
Beach continues to research about this topic and hopes that one day her and Dobrovolny can construct a published paper together.
"The biggest thing I learned was how to break down something so niche and out there into terms that are understandable," Beach said. "Before starting my research, this was hard for me, because to be able to explain something, you need to really know it. But when the information clicks in your brain, it is the best feeling ever."
Follow Sahasra (@sahasrachak24) and @CHSCampusNews on Twitter.
This story was originally published on Coppell Student Media on May 19, 2023.