"Three…two…one!"
The announcer's voice pierced through the gym, and the crowd, on their feet in excitement, shouted and cheered as the referee blew the final whistle.
Over 100 points were scored at the Project UNIFY basketball game against Old Bridge on Monday, February 13, held in Edison High's Frank N. Cangelosi Gymnasium. Although Old Bridge emerged victorious over the Eagles by a score of 55–53, the reactions of the numerous students and staff in attendance made it clear that every player was a winner, regardless of the game's final outcome.
It's time to meet Project UNIFY, Edison High's platform for student inclusivity and activity fun.
Story continues below advertisement
What is Project UNIFY?
Project UNIFY is a nationally-acclaimed program that promotes acceptance of youth and young adults with learning disabilities in school and community settings.
"Project UNIFY is a strategy for engaging schools to use sports programs and educational tools to help create a really good school climate of inclusion with special needs students," added Ms. Melissa Wertz, a school social worker and the Child Study Team case manager at Edison High. "We want to promote acceptance, we want to promote respect, for all students, with or without intellectual disabilities, so Project UNIFY brings students together."
The program is run by the Special Olympics, an organization first founded in Washington, D.C. by Eunice Kennedy Shriver of the Kennedy family. Since its founding in 1968, the Special Olympics has emerged as a nationally recognized organization promoting special needs youth and adult inclusion in sports. Today, Project UNIFY works with more than 500,000 students in 2,100 schools across 42 states, according to the Special Olympics' official factsheet.
"Project UNIFY is an inclusive club that allows the special needs students to be with regular education students, and it's really beneficial for both sides," said health and physical education teacher Mr. Mark Blevins. "It teaches [special needs students] how to act in a proper manner around other people, and for the general education students, it allows them to be empathetic and to be thankful for the gifts they are given and the ability to help others."
For Project UNIFY advisers Mr. Christopher McKnight and Mr. Donaven Kregeloh, the club is an opportunity for special and general education students to interact in meaningful ways, through games, sports, and parties along the year.
"There are a lot of different activities we do," said Kregeloh. "And then bringing it to the whole school awareness setting, you know, like we've done with the basketball games, and just letting people see what we do. It's definitely grown through the years."
In addition to bringing kids together to shoot hoops, Project UNIFY gets students involved in other stimulating events, such as track-and-field, baseball, and bowling.
"We've been fortunate that the Edison [Township] School District signed on to be a part of this through the state," said Kregeloh. "We've grown through the years, and luckily our supervisors have been a big part of making this happen."
Talk about good basketball! How was the game?
Edison's game against Old Bridge on February 13 took place during periods eight, nine, and ten. Seating was completely filled within minutes, and students packed the stands holding colorful pom-poms and cardboard eagle cutouts.
"To be able to see [the UNIFIED students] in a context outside of the classroom is so much fun. It is 100% fun. We don't have to worry about any of our differences in the classroom because here on the court everybody gets to play and everybody gets to have a good time," said language/learning disability (LLD) math teacher Ms. Roseanna Scimone-Taylor. "And I think one of the greatest things, as my colleague Ms. Taco was saying, is that everybody is cheering each other on. Everybody here is just here to support and have a good time."
The match featured Edison's general and special education athletes competing against Old Bridge's own UNIFIED team. Both teams' players made particular efforts to put the game in the control of the special education students. If a student were to miss a shot, for example, their team's athletes would make the rebound and pass the ball to the student so as to allow them to try again. When they did make the basket, the entire audience would erupt in cheers, and the team would exchange fist-bumps and high-fives with each other.
"I really like the game. I like shooting baskets. [I feel] unstoppable," said Christian Cesar '23, a UNIFIED athlete.
"The kids were just so excited, and our student body was just so supportive," said Wertz.
Coaches McKnight and Kregeloh also made player substitutions throughout the game, allowing each UNIFIED student an opportunity to showcase their basketball skills in front of the audience.
Midway through the third quarter, for instance, Eric Lerea '23 made a half-court shot after receiving a pass from Michael Gandionco '26, who himself stole the ball from an Old Bridge athlete. Raymond "Big Play Ray" Taub '23's buzzer-beating three-point attempt bounced off the rim and into the hands of Old Bridge, but the audience knew they had witnessed a great game, evident in the loud clapping and cheering that followed.
"I was unaware of Project UNIFY beforehand, and I thought it was really exciting to see a bunch of people together playing and having fun," said spectator Ethan Chen '24.
McKnight and Kregeloh attribute the success of the recent basketball games to the supportive nature of Edison staff and administration.
"Just helping with the logistics with getting everyone in the gym and out of the gym, you know, you have four hundred kids filing into a gymnasium, filing into bleachers, while there's a game going on, bells ringing and half periods and lunch periods. . . . the entire faculty in recent years has been extremely supportive," said McKnight.
"We've been fortunate to have so many people help us out, lend us a hand," said Kregeloh.
All in all, Project UNIFY's sports events attest to the ability of the school body to come together over sports and a good cause.
"Everyone has their academic demands, we have our family lives in demand, [and] there has been a lot going on with the pandemic [as well]," said Wertz. "So seeing a huge gym full of our students and our staff cheering for a common goal is heartwarming, really."
What can students expect from Project UNIFY in the future?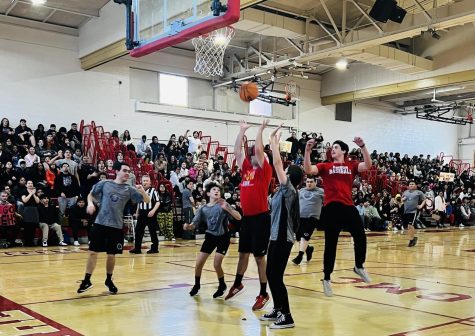 Students will be glad to hear that Project UNIFY plans to continue hosting exciting events throughout the remainder of the school year. In addition, Project UNIFY plans to take up a role with the larger Edison Township community.
"I think the next logical step, now that everyone knows, within the school, what we do and who we are, is trying to expand to the community as a whole," said McKnight. "[It also means] trying to get people from outside the school, maybe Edison Police or Fire Department officers to come in, our town council or other community members like that. Even just inviting parents in to watch the games that we have—it's community outreach, and making it not just about Edison schools, but Edison as a whole."
To become involved in the planning, students can join the Project UNIFY club and continue the legacy of countless UNIFY alumni who have returned to Edison High to help out.
"It's good to see former students, especially from the LLD program, come back. They're becoming parts of the community where they're contributing something outside of school, and then they come back and pay back what they got back from Edison High School, which is nice to see," said McKnight.
With such dedication and direct involvement, students learn to care for others in addition to themselves.
"I think that's one of the most important parts of Project UNIFY, is that you are not putting yourself first, you are there for someone else," said Blevins. "It builds a sense of empathy. It builds a sense of compassion and also acceptance."
For those already involved, working with Project UNIFY has been both a fun and rewarding experience.
"It's a great club to be in. Kids have fun, I have fun, the school has fun, and I feel like it's a good time," said Taub.
Students Allison Dima '23 and Mathew Yascko '23 agreed with Taub's assessment, advising all interested students to "just do it" and join the club. Prospective members can reach out to McKnight and Kregeloh.
In addition to fostering a sense of belonging and connection, Project UNIFY has formed and strengthened meaningful relationships outside of the court and classroom.
"You will now maybe see one of the kids that was in the basketball game. Give them a high-five, give them a pat on the back, give them positive feedback," said Wertz. "Maybe it's someone you've never talked to before. You are going to speak to each other, maybe you are going to sit together in a lunchroom, maybe you are going to do an afterschool activity together."
"I think we need more things like [UNIFIED Activities]…It really promotes more than just a basketball game."
The Edison UNIFIED team played their last basketball match of this school year against J.P. Stevens on Tuesday, March 7.
Students can follow Edison High Project UNIFY's official account on Twitter for the latest news and updates about the club.
This story was originally published on The Eagle"s Eye on March 7, 2023.