From Gables to Glory: The Rise of NFL Star Gregory "Buddy" Howell
"Touchdown" was his first word. He was on the field at 5 years old. Gregory "Buddy" Howell has had a journey with football like no other. 
As number eight dodges defenders and sprints towards the end zone, it's hard not to be impressed by this athlete's sheer talent and dedication. Today, Coral Gables Senior High alum and National Football League star Gregory "Buddy" Howell is know for various triumphs throughout his career, but his journey was not always smooth sailing. From humble beginnings in Coconut Grove, Fla. to winning the Super Bowl and becoming a role model for young athletes, Buddy's story is one of determination and perseverance.
Small Town Roots, Big League Dreams
---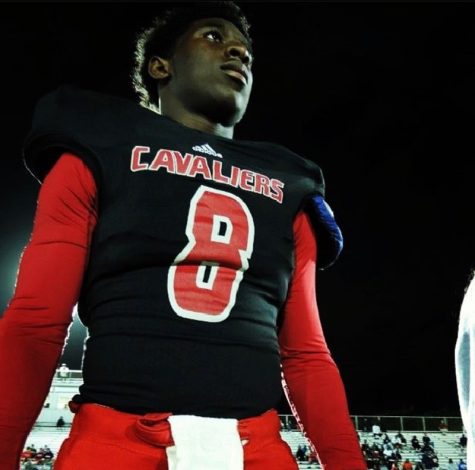 His first time on Gables' field, Howell wore the number six as a part of the junior varsity team, in which he remained for two years. The next spring, his talent and dedication earned him a place on varsity and a new number, 30. Howell's sophomore year proved to be one of achievements and challenges, as the rookie running back tore his hamstring while executing a stunning play against Christopher Columbus High School. 
The potentially career-ruining injury proved to be a trivial matter for Howell; however, the athlete came back a year later stronger than ever. This time around, Howell chose the number eight, the number that would stay with him on the field until his last senior game. With a win streak of 3-7 during his junior year, Howell sealed the last game of a tie breaker series against Miami High School with an interception that would put him in the spotlight once again.
During his final year on the field, Howell won the district championship, bringing pride to the Gables football team. Having put in years of effort and focus, Howell and his teammates were able to put their team chemistry to use and claim their well-earned victory. The strong bonds of the 2014 Gables varsity football team allowed them to beat the Columbus Explorers twice, a feat unheard of at the time. During these four years, Howell tallied 232 carries for 1,567 yards and 13 scores, earned the name of 8A third team all-state and participated in the Dade/Broward All-Star Game.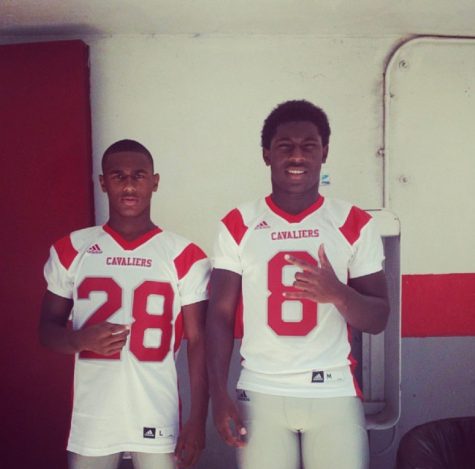 "I saw what it was like when nobody expects much of you, and what it was like when people expect the world of you. Being there everyday […] making that change with my teammates, while trying to keep growing and focus, that was something that stood out to me," alum Howell said. 
Also running on Gables' track and field team, Howell originally signed up to improve his speed, after suggestions from his coach. In order to progress in these areas, he participated in events like the 100 meter and the 4 x 100 relay race. By senior year, his skills had grown, pushing him to take up discus throw and shot put as well as earning a spot in the districts championship with the 100 meter race. As a stepping stone towards football success, track not only made Howell faster but proved that he can do anything to achieve his goals. 
Howell continually showed his school pride through his involvement in Student Activities, a student-run group that takes pride in organizing the most popular events of the year, making Gables the tight-knit community it is known to be. Having earned the honor of Principal's Senior of Distinction, Howell proved to be a clear example of both sides of a Cavalier, as a student athlete.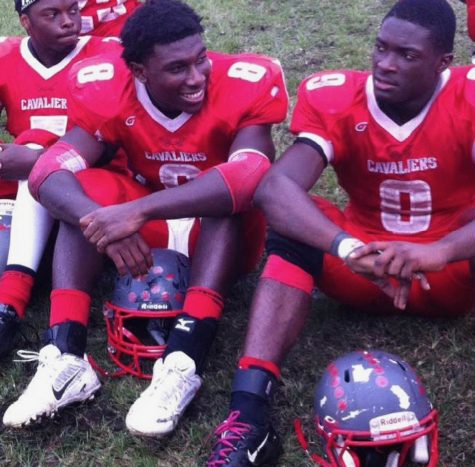 "I can absolutely say that I learned how to work with people. The diversity of Gables exposes you to different groups and allows you to grow in that aspect. Being able to work with different types of people and coaches, whether black, white, hispanic, or asian helped me become more well rounded," alum Howell said.
Keeping his eye on the prize, Howell made sure to balance out his athletics by keeping up with his studies. He was able to make great academic strides, achieving a 3.4 Grade Point Average while taking Honors classes and scoring a 1440 on his Scholastic Aptitude Test. His efforts of ensuring academic security proved to be successful when he was offered scholarships by various teams; in the end, he chose Florida Atlantic University. 
With a passion for education, Howell pursued a business career at FAU and graduated in business management with a minor in accounting. During his later years, his owl spirit would continue to show when Howell became the primary spokesperson for FAU's football team. Playing running back, Howell broke the single season touchdown record of 13 and made one of the biggest plays of his career, at the perfect time in a game against the Florida Gators.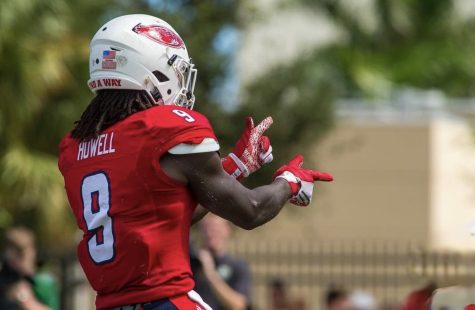 "FAU taught me adversity because I had moments when I felt depressed because they weren't playing me, but I was doing everything correctly. But if you know your role and know what is expected from you, it is much harder to get sidetracked. I learned that accepting your role and becoming something great within that is necessary to become successful and be mentally in a good space," alum Howell said.
Following the 2018 NFL Draft, Howell signed as a free agent with the Miami Dolphins. By Sept. 2 of the same year, the Houston Texans claimed him off the waivers, having him play running back on their team until August 31, 2021. Three years after his first signing, Howell was signed into the Los Angeles Rams practice squad on Sept. 2, 2021 and was promoted to their active roster on Oct. 19 of that year. After making a comeback from injured reserve, Howell won Super Bowl LVI when the Los Angeles Rams defeated the Cincinnati Bengals 23–20 on Feb. 12, 2022.
Running it Back To Inspire the Next Generation
---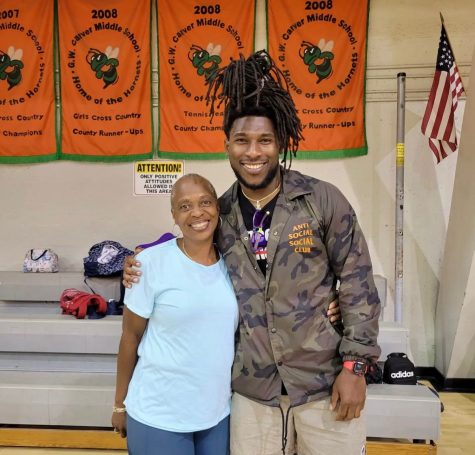 After experiencing the ups and downs of his professional and personal career, Howell currently takes pride in inspiring younger generations of his alma mater and home community. Through frequent training sessions with Gables' football team, he instills the values of hard work and dedication in the growing team. Additionally, Howell made it a point to go back to his middle school, G. W. Carver Middle School, where he tells his story and reconnects with the same teachers that fostered his academic success as a child.
"Buddy helped coach a lot of our practices after school during spring football conditioning, and he set up a lot of ways for us to connect as a team. He showed us ways to get better at what we do, kept motivating us to keep going and also tried participating in some of the workouts we did," freshman Joshua Markowitz said.
After Howell celebrated his birthday on March 27 in Coconut Grove, he has made it a point to go back every year on said day to his community. Using his fame for the better, Howell shares his experiences to make a difference in the lives of children in Coconut Grove, inspiring the next generation of leaders and athletes.
"This is my home, so coming out here makes me feel like a kid all over again. As I continue to grow, I see the bigger picture and it is the youth and those who are going through the process I went through. I want to give them free game and give them that confidence to just do their best and trust in the process," alum Howell said.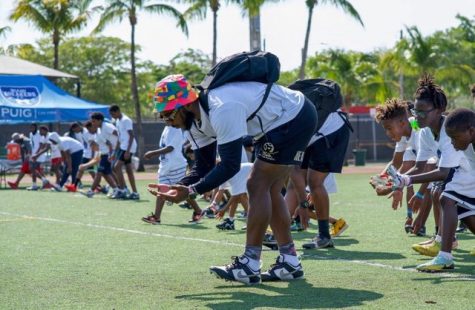 On May 6, Howell hosted the Coconut Grove With Love spring camp, partnering with the Coconut Grove Cowboys and Gables' football team to provide young athletes from the community with hands-on football experience. Esther Mae Armbrister Park was full of athletes of all ages and backgrounds, running technical drills and conditioning while being guided by Howell himself. 
"I think it is a good opportunity to have the kids play football and have the motivation from [Howell] to let them know that they can do it as well. It is good to know that the color of their skin does not mean that they cannot follow in his footsteps and be as successful as him," mother of two campers Charnasha Williams said.
Starting at 10 a.m., Howell began the camp with an encouraging speech to the young athletes, later splitting them into age groups and sending them to individual stations. Gables' football players helped manage the stations while practicing running and catching drills along with footwork training. Howell incorporated cardio and one on one plays among the athletes, ending the practice with a race by age groups. Howell concluded the camp with a final talk, followed by a practice from the football team in front of the younger athletes.
With the pressure of playing football, from being a rookie to a Super Bowl winner, Howell has learned the factors in life that led to both his personal and professional success. Thanks to his teams, he discovered that the most valuable lesson in life was to be a good person to others. It was equally important to make others' lives better with their presence, by providing support and thus promoting happiness. As advice to younger generations, he stressed the significance of uplifting others to ultimately reach personal success.
"I want everybody to be influential, but in a positive way. Uplift each other and do what you can to help those around you. You have to be selfless, and open to help another person out. If that message spreads, you are only going to keep yourself up," alum Howell said.
Howell's efforts have shown that success is not only reflected through personal achievements, but through giving back and creating opportunities. From here, Howell intends on continuing the tradition of hosting football camps for aspiring young athletes. With plans of expanding from the Grove to Kendall and the Liberty City area, he wants to take advantage of his platform and knowledge to give back to communities that believed in him from the very start.
This story was originally published on CavsConnect on May 8, 2023.