The lights of the stadium reflect off the metal of the instruments, bouncing back to their eyes as they move their fingers, feet or entire bodies in sync with one another. The feeling of sweat fills every crevice of the body, and a pinching feeling takes over their chest as they breathe heavily, trying to catch their breath, hoping to fill their lungs just enough to make the one note, that one hit, sound as loud, in tune and perfect as possible. Everything done in the performance is to be done at the highest level. It's beyond the typical high-school-marching-band-in-Texas scene, it's a way of life with the Corps.
Over the summer, seniors Austin Waldbusser and Connor Daly, along with sophomore Andrew McCarthy, participated in Drum Corps International, better known as DCI. DCI is a non-profit organization that is known to be the highest level of marching band available. Students who audition and are chosen to march with a DCI corp have the opportunity to tour around the country for three months in the summer, performing advanced and technical marching shows and competing against other corps. 
"[DCI] was both very cool and very scary," Waldbusser said. " I just kind of threw myself off the deep end, and was kind of like 'I'll just figure it out'. I'm glad I did it, getting that experience early on, especially as someone who wants to go into music and become an educator. I thought it was a really good experience for me." 
Waldbusser was a contracted member with the Phantom Regiment, a World Class Corp based out of Rockford, Illinois. He became the youngest member in the mellophone section. DCI members not only have to adjust to an intense traveling and rehearsal schedule, but also the housing inconsistency. Most drum corp members find themselves sleeping in a high school gym, bus or occasionally a dorm room.
Story continues below advertisement
"It was definitely a lot," Waldbusser said. "There were challenges, especially so young. I learned a lot more skills, not just in marching, but life skills in general. Living on my own like that, I had to learn independence and be resilient because obviously there really was no one there to pick me up and keep me going, it was more on me."
The audition process for DCI begins in the fall and can start as early as September and can end as late as April depending on the corp. Since few of the corps are based in Texas, many hold satellite camps around the state to scout talent from top-level marching bands. Audition materials depend on the corp, but many include audition tapes, an application, and attending the camp. Both Daly and McCarthy auditioned for Blue Knights, a World Class drum corp based in Denver, Colorado. To his surprise, Daly received a contract to march euphonium for the Blue Knights Corps over the summer, but McCarthy's experience had a different ending. 
"I went to the Blue Knights [audition camp] with all my friends from Vista Ridge," McCarthy said. "I got cut and I was devastated because everyone got a contract but me. Then, I went to the Guardians [audition camp] and they were basically like 'here you go' and handed me a contract. I was so excited."
McCarthy was the youngest member in the Open Class Guardians Corp, marching mellophone. The average age of a DCI member is approximately 20 years old, and he said he learned a lot from the older members of the corp. 
"All the techs didn't know I was that young until I told them," McCarthy said. "One of the biggest things they taught me was to keep going and just forget about [mistakes]. They would say 'will this matter tomorrow?' like basically in the end does missing your [performance] dot really matter?"
With DCI occurring during the summer months, the 12 hour rehearsals presented challenges, according to Daly. Daly said the rehearsals taught him more about his peers than himself.
"It's sort of a weird experience going from seeing the best in some people to two reps later they are just down in the dumps about to catch on fire," Daly said. "That just kind of happens in the activity. It's just a weird experience ricocheting from absolute worst in some people and absolute best in some people, and learning that people go through their own hurdles, you just kind of have to focus on your own and hope things don't get too bad."
Throughout the three months of the DCI tour, which include performances in stadiums such as the Rose Bowl and the Alamodome, the corps competed in smaller competitions around the country in preparation for the last shows of the tour, the DCI World Championship at Lucas Oil Stadium in Indianapolis, Indiana. Over the course of three days dedicated to prelims, semifinals and finals, a grand champion is declared amongst the 40 corps. Both Daly with the Blue Knights and Waldbusser with the Phantom Regiment qualified for Finals. 
"It was really cool," Waldbusser said. "It was really surreal to play in that stadium in front of that crowd, and we won the FLO Marching fan favorite award, so it was very cool and very fun. Especially so young, I was very grateful to march with such a top group."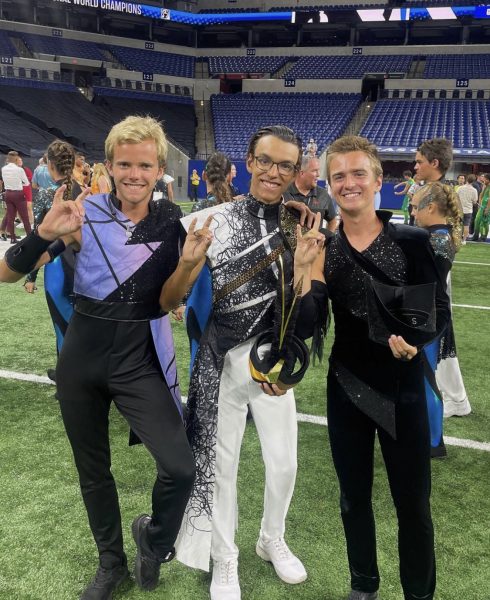 Despite not qualifying for finals, McCarthy had the opportunity to participate in a Guardians tradition of staying at Thatcher Park in Indianapolis.
"[Thatcher Park] is a YMCA, but it has a big grass field, so [Guradians] has been there for like five years," McCarthy said. "You could really feel how special it was, some of the veterans could feel it too, like people from 2018 were sleeping the same spot as me and now I'm doing the same thing." 
After Finals, DCI season finished and all three boys returned to Cedar Park in early August, the height of high school summer band. Daly said although there was some adjustment because the band uses a different technique than the corps, participating in DCI helped him get through summer band. 
"Getting used to band culture here again was an adjustment," Daly said. "Especially because I had to learn the entire show in basically two days. [But] I was doing some basics across the field while everyone was rehearsing the show, and [a marching tech] came up to me and was like 'honestly you have really good marching technique for not marching this for like three months.' It looked like I was doing the entirety of the summer band at peak when I had really just got back." 
McCarthy, who is a transfer from Vista Ridge, said his decision to do DCI over the summer helped him adjust to the new school. 
"The only people I knew were Connor, Austin and Harris [Garner] from DCI," McCarthy said. "The first thing I thought when I found out I was going to transfer was 'what if they don't like me?' but going to Guardians I realized people are going to really hate you but, it's okay. There will still be people that will tolerate you." 
Waldbusser has a large leadership role in the band, even though he doesn't carry an official title. He said being surrounded by good leaders, and having to feel the freshman feeling of being the new person and feeling like a deer in the headlights again, helped him learn a lot. 
"I noticed a lot of the leaders [with Phantoms] were always down to talk to members one on one as a genuine person to person conversations outside of just leadership," Waldbusser said. "Our Drum major won the leadership award for DCI so she was a big influence on how to treat people with respect and talk to people as well outside of the marching field. I was also a little more understanding of [freshmen's] situation kind of. [Feeling like a freshman in DCI] helped me connect with them a little bit more." 
Waldbusser said the band community's support helped him through the times when it became hard mentally and physically, and he is very thankful for the support. 
"The community here definitely helped," Waldbusser said. "I was very grateful to have friends supporting me throughout the summer, and my parents had a bunch of my friends over for the premiere of the show and had a watch party, so that was very nice. I am very grateful for the band directors here and the band culture they have set."
The band is currently working on their state UIL show titled "Belle Mecanique". Both Daly and Waldbusser said they hope they can bring back the care and work ethic the members in DCI corps hold for those shows to the band for this year's show. 
"The younger members and the rookies in Blue Knights, once they get settled in the DCI life really start to give the show a sort punch and energy that can sometimes be lost in high school shows where people straight up don't care about a specific chunk of the show," Daly said. "It sort of sounded like that until the season went on until finals where it feels like every part of the show was special in its own way. I definitely want to try to get some of the younger members, really all members, to really feel that kind of investment and put that work into our show."
This story was originally published on Wolfpack on September 12, 2023.