McCallum's observation of the Taco Shack was a mix of old traditions blended with new ideas.
The student government pulled ideas from homecoming and Pink Week to bring a new experience to Taco Shack. Like Pink Week there were sales tables offering everything from snacks and drinks to hair tinsel and nail painting. Like homecoming, there was a spirited hallway decoration competition between the classes.
While these activities were familiar to campus but new to Taco Shack, the school also embraced the tried and true Taco Shack events: the decoration of the Taco Shack on North Lamar, the before sunrise telecast on KXAN the day of the game, the first spirit day of the school year (Tropical Day) and a raucous first pep rally of the fall semester.
While McCallum suffered a narrow defeat in the morning spirit contest and a more decisive loss in the evening football game, Taco Shack 2023 still offered a treasure trove of memorable moments. We are proud to share many of them as this week's Tuesday Top 10.
Story continues below advertisement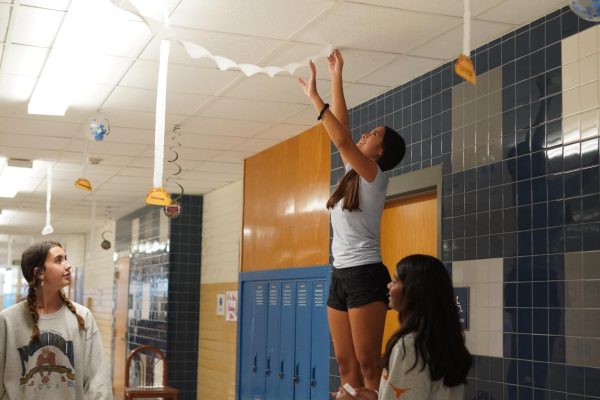 Sophomores Vivian Medina, Josephine Fahrenbacher-Martin, and Cienna Patel decorate their hallway Monday morning.
Photo by Chloe Lewcock.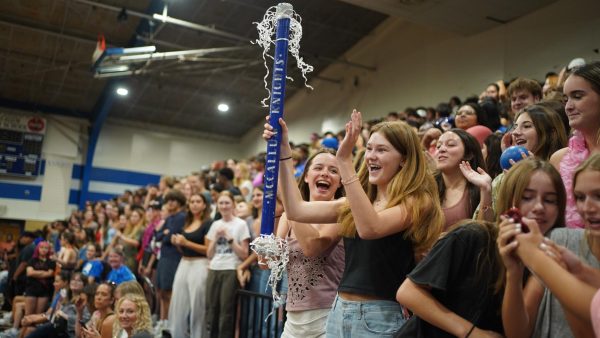 SENIORS GOT SPIRIT: Senior Emmy Penders cheers after being awarded the spirit stick. Penders was given the stick after it was determined that the senior section had the loudest chant at the pep rally. 
"I wasn't shocked that the senior class won the spirit stick, but it was still exciting," Penders said. "In the past two years I saw the seniors before win, so it was nice to finally win it for our class."
Penders enjoyed the pep rally.
"The pep rally created a fun atmosphere that made me excited to attend the game," Penders said. "My favorite part was chanting our senior battle cry and then popping the confetti, because it's another fun tradition seniors get to do during senior year."
Although Penders had a great time, she couldn't help but feel a twinge of sadness.
"It's bittersweet that this is my last year of pep rallies because I'll miss the school spirit that happens during it," Penders said. "But I'm also excited to move on to new experiences."
Caption by JoJo Barnard. Photo by Dave Winter.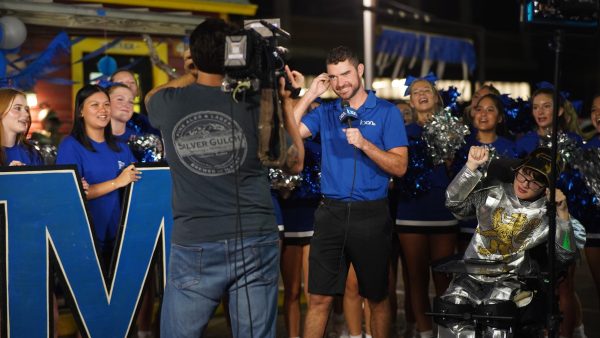 THIS MASCOT IS IN IT TO WIN IT: For junior Ben Polega being a mascot is more than just spirit. The friendship, collaboration and overall end goal of creating a good time for everyone, is what creates the most memories, and what made the Taco Shack spirit competition special. 
In his first year as a mascot, Polega said he is committed to uplifting spirits, win or lose. 
"We didn't win the spirit award, and the game," Polega said. "But you know if we had fun, we won." 
Polega was part of the group that met at the early morning Taco Shack spirit competition and experienced the thrill of pumping up KXAN viewers for the Taco Shack Bowl. 
"I am only one piece of the puzzle, the cheerleaders are the other piece," Polega said. "I approach each game with an open mind… and you know what? If we don't win, we don't win." 
Caption by Chloe Lewcock. Photo by Julia Copas.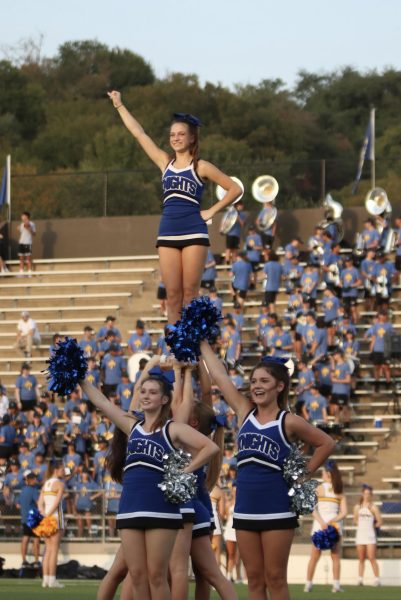 FLYING ABOVE ALL: Junior co-captain Avi Zeifman performs an extension at the 22nd annual Taco Shack. Even though the game is only four hours of performing, Zeifman and the rest of the team have been planning the choreography since summer.
"I took a lot of responsibility with making most of the Taco Shack dance, but luckily my amazing co-captains, senior Stella Shepard, senior Hannah VanHouten and sophomore Larkin Long stepped in and helped take the reins once the week of Taco Shack rolled around," Zeifman said. "I honestly could not ask for a better team or co-captains. They made the experience so enjoyable."
Performing with her teammates in front of everyone gives Zeifman a way to be a part of something bigger. 
"Even though I'm not on the field actually playing the game, being a part of the entertainment and school spirit is very gratifying and exciting in a way that I think is different from viewership," Zeifman said. 
Although the game didn't go the Knights' way–waking up at five in the morning, performing at the pep rally, and dancing in the 100 degree heat for four hours straight–the team was able to take a step back and really admire their hard work. 
"The results of all our work by the game itself were so satisfying," Zeifman said. "I was so proud of everyone. It's so amazing to see such a big crowd because it gives us such a great source of support."
Caption by Maya Tackett. Photo by Meredith Grotevant.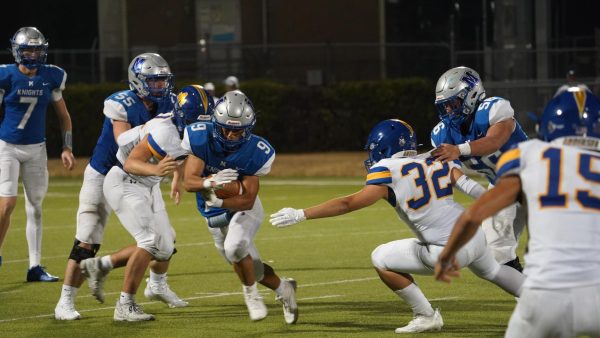 RUNNING BACK TO MAC: Senior running back Drew Andrews pushes through Anderson's defense at the Taco Shack Bowl. Hearing the chants of the McCallum student section from the field, Andrews was motivated to play his best.
"It makes you want to win more just because you want to do it for the entire school," Andrews said. 
As Anderson built a sizeable lead en route to an eventual 42-0 victory, Andrews focused on playing like it was 0-0.
"I was trying to forget about the score and keep trying throughout the entire game, not letting the score bring us down," Andrews said.
Although Andrews' high hopes for his senior year Taco Shack were not met, he said he left the field feeling confident about the upcoming season. According to him, the Knights need to focus on teamwork and refining "the little things."
"I feel a lot more confident now knowing what we need to work on," Andrews said. "I think we're gonna build as a team."
Caption by ingrid Smith. Photo by Naomi Di-Capua.
AN HONORARY MEMBER: Blue Brigade junior lieutenant Catherine Haikola and head football coach Thomas Gammerdinger's daughter, Camilla Gammerdinger, hold their hats and face the flag during the national anthem. 
According to Haikola, Gammerdinger might as well be a member of Blue Brigade. 
 "Camilla loves to do everything with us," Haikola said. "She is basically an honorary member."
Haikola says her memories of Camilla go as far back as her history with the team. 
"Ever since my freshman year, she always sat in the stands with us and done the stand routines with me," Haikola said. "She is so sweet and brings so much joy to all of Blue Brigade." 
Caption and photo by Naomi Di-Capua.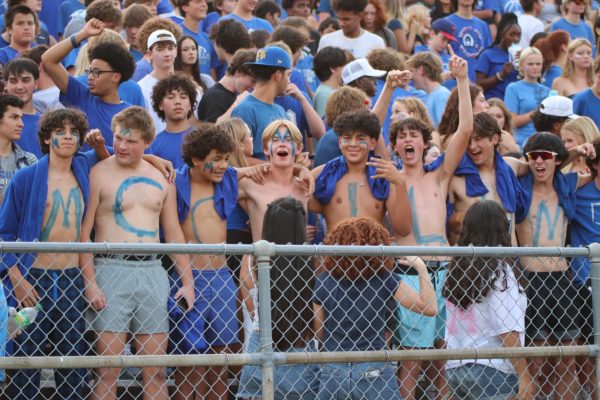 CHEERS AND CHESTS: Freshmen cheer on the Knights with "McCallum" written across their chests in blue paint. Freshman Hugo Smith said the shirtless display of spirit was a spur-of-the-moment decision.
"Everyone in our row that we were sitting with participated," Smith said. "We just told everyone 'Take your shirt off. Write your letter.'"
Smith said that showing up and doing things like this shows support for your team. 
"It just felt fun. We need spirit to win our games," Smith said. 
Smith also said that plans to do this again are in the works, and that as a football player he'd love if people did that at sub-varsity games too. 
"I'd feel hyped up. I'd feel like those kdis would be there to come support me. I'd be happy they were there,"
Caption by Julia Copas with reporting by Ingrid Smith. Photo by Meredith Grotevant.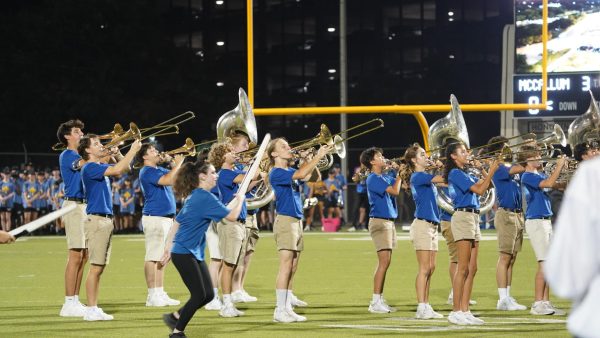 REVIVING SPIRITS: Sophomore tuba player Carlos Aldrete said that seeing the McCallum fans come back to life for the show definitely made the performance better. The halftime show marked the band's first full run-through presented to the public. 
"I saw a lot of students get hyped for our performance, which was fun," Aldrete said. "I think it did raise spirits,"
Aldrete says that the band is getting off on the right foot this year, with special thanks to the new crop of freshmen. 
"I have good confidence for this year," Aldrete said. "We have lots of experienced marchers and new techs to back us up, and I have faith in our freshmen class, so I expect us to do pretty well at competitions."
Aldrete said that the band has a few things to clean up, but overall their main goals are to keep spirits high throughout the game, especially at halftime, and to dominate in competition, as they have done in previous years. 
Caption by Julia Copas. Photo by Morgan Eye.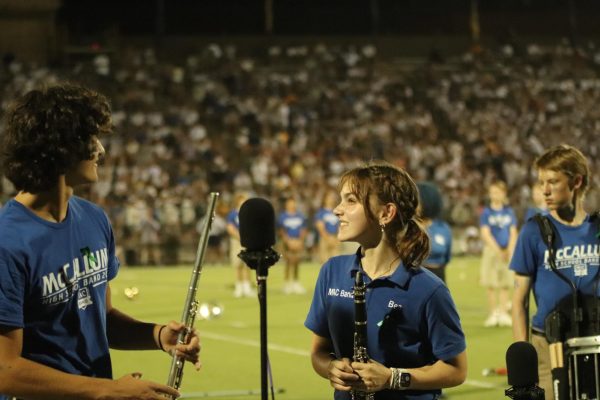 A KNIGHT TO REMEMBER: While the football game is a huge part of the Thursday Night Taco Shack experience, for some the premier of the halftime marching band show "Starsurfer" was a House Park performance that was just as anticipated and important. After practicing three weeks prior to school starting, and every morning before school starts, the McCallum marching band finally got to show off its hard work and dazzle the crowd. 
For junior Bea Saffer the unique theme of this year's show made it more intriguing to learn. 
"It's based on a sci-fi Disney movie from 'Treasure Planet' from the early 2000s," Saffer said. "At Taco Shack we performed the first two movements of the show."
The show consisted of different sections such as a duet in which Saffer played clarinet and her partner Junior Ben Martinez played the flute. 
"At the beginning of the show, myself and Ben Martinez played a duet based on the melody of the interstellar Cornfield chase scene," Saffer said. 
In addition to Saffer's role in the show, she also is a drum major, meaning she has dual action and has to manage both throughout. 
"After we're done playing, I leave the stage and hop on my podium to conduct the rest of the show," Saffer said. 
Caption by Chloe Lewcock. Photo by Meredith Grotevant.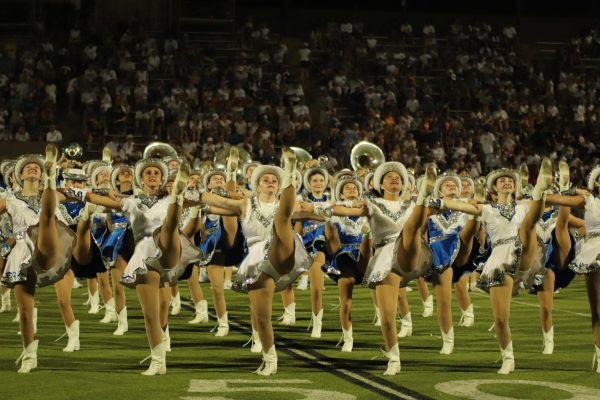 …BABY ONE LAST TIME: Senior co-captain Sophie Leung-Lieu and Blue Brigade perform their signature kick routine to "Hey Baby." The performance, which highlighted the team's months of practice, went off without a hitch, according to Leung-Lieu.
"I thought it went well," Leung-Lieu said. "We have been preparing for 'Hey Baby' since summer, and I was super excited to do it one last time. The team has been working so hard this year, and we are all so excited for more great halftime performances." 
For Leung-Lieu, the performance was bittersweet as it marked her last Taco Shack at McCallum. 
"My favorite part about the day was definitely the pep rally and doing all the fun football traditions for the last time," Leung-Lieu said. "Seeing everyone's school spirit up and doing game day with all the seniors was such a great memory."
Reporting by Alice Scott. Photo by Meredith Grotevant.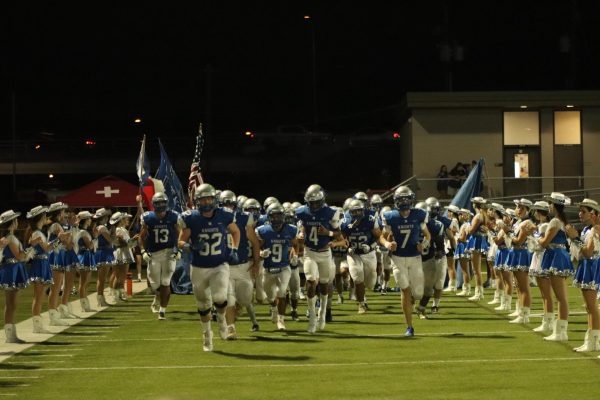 THURSDAY KNIGHT LIGHTS: Seniors Edward Bomba, Henry Snyder and Drew Andrews and juniors Karon Lewis, Chander Tripathi and Luke Dunham lead the pack as the Knights sprint onto the field at the 22nd annual Taco Shack Bowl. Snyder felt that moment symbolized all of the football team's efforts during the months leading up to Taco Shack.
"It was kind of like the culmination of all the work we put in over the summer: the running, the weightlifting," Snyder said. "It was all there. It was all now, and it started as a fun and exciting moment."
Although Snyder's last Taco Shack didn't go the way he wanted, he still enjoyed playing in the traditional House Park stadium in front of the fans. He may have played in Taco Shack before, but as a senior and a captain, this year's game provided new experiences for Snyder. The opening coin toss was one such moment.
"I've always looked up to the seniors before me and seen them do [the coin toss]," Snyder said. "It's kind of cool to finally be the one out there, as a captain, and do that."
Snyder said it was special to be a captain as it meant he was chosen by the players and coaches as a leader. Now, Snyder tries to emulate the seniors that came before him in his new leadership role.
"I just really try to watch the way I carry myself," Snyder said. "[I try to] set a good example for the younger guys, [so they can] look up to me. I try to just be nice to them, help coach them and get them better." 
While the team may have lost the game, Snyder saw it as a moment to put his experience and leadership skills to use. 
"Some of the younger guys that hadn't played in a game like that before were obviously pretty nervous," Snyder said. "So I was just trying to talk them through it and just help make sure they weren't too nervous and knew what to do."
Caption by Lanie Sepehri. Photo by Meredith Grotevant.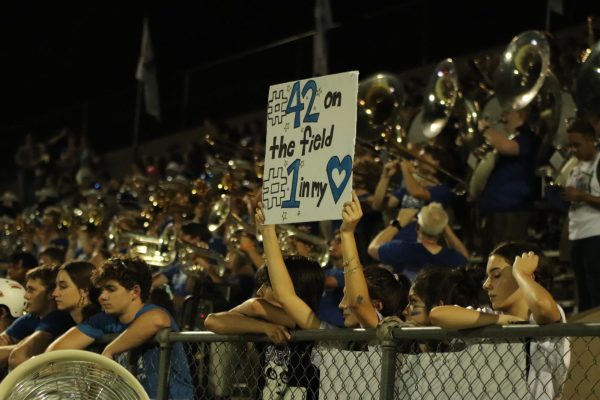 Junior Mika Hishida cheers in the crowd while holding up a sign to support her boyfriend, junior John Scott Marby.
Photo by Meredith Grotevant.
This story was originally published on The Shield Online on August 29, 2023.