Sweat dripped down the side of freshman Hugo Smith's face. He felt the football field turf burning into his feet. It was 106 degrees Fahrenheit outside, but to him, the ground felt at least 30 degrees hotter. Then, he started to feel dizzy and found it difficult to see. 
"It's hard to do anything when you can't see," Smith said.
That was the freshman football team's Aug. 23 game against Anderson. However, issues with outdoor heat have continued to affect multiple different sports throughout the beginning of the year. 
According to AISD's health guidelines, the type of practice student-athletes can have depends on the heat index and Wet Bulb temperature, which uses the temperature, humidity, wind and solar radiation from the sun to get a measurement that is then used to monitor conditions during practice.
Story continues below advertisement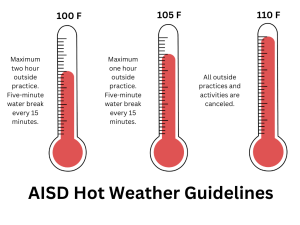 If these guidelines aren't followed, athletic trainer Marissa Rios said that the high temperatures could affect athletes not only in the moment but also in the long run. 
"If they have existing medical conditions, it can exacerbate it," Rios said. "It can also affect their recovery, making it a little bit harder."
According to Rios, dehydration makes practicing in the heat even more dangerous.
"It can cause a number of issues ranging from obviously serious life-threatening injuries to some mild exhaustion," Rios said. "[Dehydration] is one of the body's first signs of, 'Hey you need to take care of yourself a little bit better before you come out here.'"
According to athletic director and head football coach Thomas Gammerdinger, the football program has implemented a rule that if you need water, you don't have to ask, you can just get some. 
Gammerdinger says football takes the AISD protocols seriously. When the temperature is 100 degrees Fahrenheit, players are strongly encouraged to remove helmets and shoulder pads when possible. As the temperature increases above 105 degrees Fahrenheit, there is no protective gear to be worn.
"
It can be frustrating when you're in camp and you need all the practice time, but there's a limit to what the human body can do
— athletic director Thomas Gammerdinger
Gammerdinger has also moved freshman and junior varsity football practices to 7:15 a.m. instead of having them right after school to allow a full practice to commence without overheating the players.
"Safety always comes first," Gammerdinger said. "When we were in camp practicing in the afternoon, we would take some time and do a walk-through type practice inside to do all the teaching. Then we go outside and do all the physical work." 
But Gammerdinger said that some players find these new rules difficult especially when preparing for a season.
"It can be frustrating when you're in camp and you need all the practice time, but there's a limit to what the human body can do," Gammerdinger said. "One of the concerns, obviously, if you're not practicing in that heat, then you're not going to get ready for the games which have to be played outside."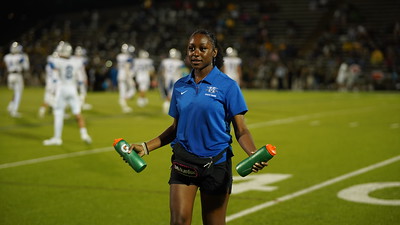 Junior soccer player Sofia Thatcher felt the heat from the very first practice outside, having some negative effects.
"At first, I felt good, just very hot," Thatcher said. "But as the practice went on, I just became dizzier and it got harder because of the heat, dust and just being tired. [The heat] definitely wore me down more than usual."
"
[The heat] definitely wore me down more than usual
— junior Sofia Thatcher
For head coach Barney Guerra the daily heat affected his original practice plans, making him have to pivot five minutes before the soccer class started. 
"The trainers have to measure the weather every day, which makes it tough for me to plan," Guerra said. "We're just trying to make due with what we can do because we're also sharing an athletics period with basketball who has a big program and we have a big program. So trying to find space to work out inside sometimes is an issue."
According to Guerra, the limited indoor space has made it difficult for outside sports to still be active and prepare for the seasons. Guerra made use of his classroom and the empty classroom next to him to project a HIT workout video so his athletes could get something out of the class.
"
As a coach, you always have to err on the side of caution
— soccer coach Barney Guerra
When the program is allowed to practice outside, Guerra is conscientious about protecting the athletes' health.
"We're dealing with temperatures that we've probably never dealt with in central Texas, so there's really no way to predict how it's going to affect people," Guerra said. "If it was not as hot as it was and someone was dehydrated then they would feel a little sluggish or nauseated, but they would be OK. But mixed in with how hot it is and if they're dehydrated, then it's a whole dangerous situation."
While Guerra said it's essential to practice in the fall to prepare for the spring soccer season, he doesn't want any athletes to be negatively affected by the heat.
"The sports side of me is like 'Oh my goodness we need to practice, we need to get better, we need to compete'" Guerra said. "However, we can't put our competitiveness above the players' health. As a coach, you always have to err on the side of caution."
This story was originally published on The Shield Online on September 22, 2023.