Superheroes, princesses, and magical creatures are standard on children's backpacks, but this year the Class of '24 decided they would rock these prints too. As seniors entered school last Thursday for their "last first day," they carried the one thing that allowed them to reminisce about their first days of school: character backpacks.
"Picking out my senior backpack was so much fun! I ended up choosing a princess backpack which was honestly a throwback since my first school backpack was princess themed too," senior EllaRose Delgado said. "It was truly a full circle moment."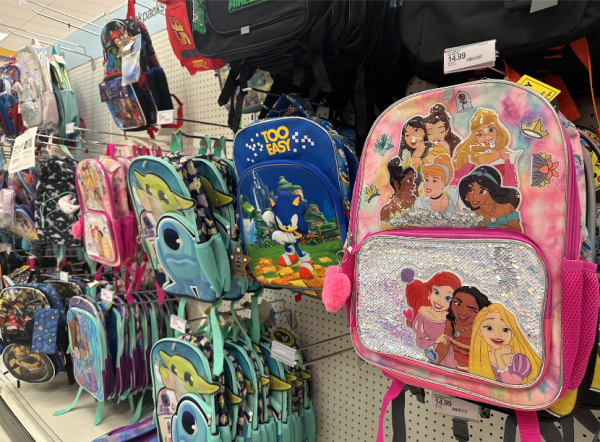 Senior Student-Government officers proposed the idea on the senior class group chat, as a way to unify the senior class on the first day of school.
"Spotting these backpacks around the school is a constant reminder that we are all in this together," Student Body Liaison Victoria Figueroa said.
Story continues below advertisement
Other members of the Student Government, including the Senior Social Media Director Ella Barras, also recognized the positive results of the trend.
"It is such a creative way to show off our seniority to the student body! It is also a fun way to welcome the new school year and set a precedent for an exciting year," Barras said.
Gulliver students are not the only ones participating in this trend. Nationwide, seniors have decided that they too would like to welcome the year with a throwback to the past, as reported recently in an article on USA Today. This was the case for Vanessa Aguay, a senior at Wyomissing Area Junior-Senior High School in Wyomissing, Pennsylvania. Aguay felt that the display of fun prints and designs added some lighthearted fun to the start of the school year, which could be tough for some.
"Although some people dread the first day of school, others are really excited to see what kind of backpacks the seniors will bring," Auguay said. "It always makes walking in the halls interesting, we'll have everything from groups with Power Ranger backpacks to taco-shaped lunch boxes."
Back on campus, not only did seniors enjoy the thought of colorful backpacks lining the halls, but so did younger students who looked forward to carrying the tradition during their senior year.
"Seeing all the little kid backpacks is making me excited for my senior year;  I can't wait to pick out my own next year," junior Isabella Antorcha said.
This story was originally published on The Raider Voice on August 25, 2023.