The sound of engines fills the air and the race is about to start. As the last few seconds on the clock tick away, and the barricades begin to fall, senior Joanna Tebbs is hit with a rush of adrenaline as she revs her engine, knowing that she is ready to race.
Tebbs has been involved in motorbiking since 2019. She picked up the sport because her dad was involved in it when he was younger.
"It was a lot of fun for him when he was younger, so he thought it would be cool if I got into it," Tebbs said. "He signed me up for lessons and everything. I thought it was really fun, so I just continued with it."
We used to go to this track called Murphy's. We would practice there at night because they had Friday Night Lights.
— Joanna Tebbs, Motor biker
Through motorbiking, Tebbs has made tight-knit friendships with other riders, but one of her main riding partners is her twin brother, senior Connor Tebbs.
Story continues below advertisement
"We used to go to this track called Murphy's," Connor said. "We would practice there at night because they had Friday night lights, so all the lights would be on, and it was perfect for biking around in loops."
Motorbiking is a competitive sport where athletes race their competition on either a dirt track or a trail on motorized bikes. Track riding is when you race on a designated motocross track that has jumps and corners, while trail riding is when you race on actual trails in more rugged areas. Trail riding is very similar to mountain biking but on a motorized bike.
"I got more into track riding," Joanna said. "I tried trail riding once, but then I got stuck in the middle of the trail a couple of miles out. I was riding a really janky bike, and I had to push a 200-pound bike back."
One of Joanna's favorite parts about motorbiking is being able to see the progression in her skills. She likes to work towards her goals, such as landing a big jump or getting a faster time, and she's made a lot of good memories because of it.
"My favorite memory was when I went to my first, less local, more professional track," Joanna said. "It's called Freestone. I did one race there, and I actually didn't turn out in last place, which is great. I was 15 years old at the time, and I was racing a bunch of 20-year-old guys, so it made me realize I'm getting somewhere."
Like other extreme sports, motorbiking can lead to serious injuries. In fact, it's common to see someone get injured and have medics rush over to them during a race. Joanna has seen a fair amount of injuries, but she's also gotten some serious injuries herself.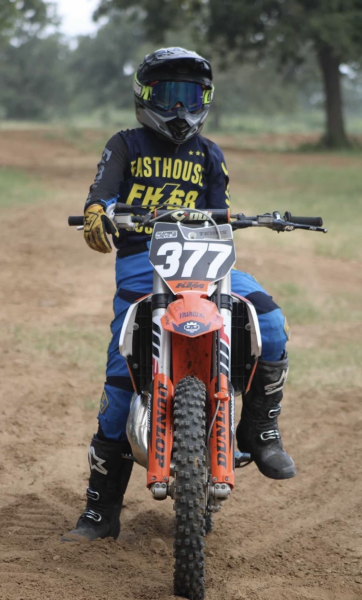 "The time I got a concussion and I also messed up my knee," Joanna said. "I don't even remember it because I was so out of it. This group of dads came over, and they had gotten my dad and carried me over to the truck. I don't know what happened honestly but I just magically came to in the car."
With this dangerous sport comes a lot of safety precautions and expensive gear, including helmets and pads.
"They have neck braces so there's less chance of concussions, and there's also knee protectors," Connor said. "The most important protection is boots because if you land too hard on a flat surface, your ankles will pop, so it's important to get good boots."
According to Joanna, despite the dangers of the sport, it's still worth participating in because of the rush she gets when she's riding.
"It's that adrenaline rush you get when you're going at that speed and floating through the air," Joanna said. "I feel like you have to experience it to understand it."
Something that comes with being a part of a motorsport is gaining general mechanical skills. If a rider is able to repair their bike themselves instead of relying on a shop to do it for them, it can teach them a lot.
"At one point I was working on a lot of my repairs by myself," Joanna said. "It made me realize how accessible learning how to work on mechanics is. Even with an oil change, most people go and pay for that. You just have to realize that it's not hard at all. You could do that if you wanted to."
According to Joanna, motorbiking has provided a great sense of community and given her connections to a whole other world and people she wouldn't be able to find anywhere else.
"It's a good sport to get into," Joanna said. "There's a really nice community that you get into that you wouldn't think you were getting into. People kind of gravitate towards you. The community is very positive, and they're always going to be there for you.
This story was originally published on The Dispatch on October 11, 2023.