In the midst of Austin's picturesque landscapes, sophomore Carson Baker embraces the art of mountain biking, navigating the rocky trails and challenging terrain with every pedal and leap he takes.
"It's where you truly connect with the sport," Baker said. "You get to see the nature in the trails along with the sheer joy of riding."
Baker's introduction to mountain biking started when he joined a group of riders with a shared passion for off-road cycling. With this group, Baker found his passion for the sport, surrounded by like-minded individuals who only propelled his passion further.
"I started mountain biking around sixth grade with the Bulldogs and immediately fell in love with the sport," Baker said.
Story continues below advertisement
What truly enamored Baker with mountain biking was the sense of community and exploration it offered.
"I love that I get to hang out with my friends," Baker said. "We can go on long rides around the neighborhood and around Austin, both on the road and trails."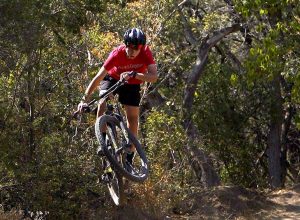 The camaraderie among the riders underscores the strong connections forged through their shared passion for mountain biking. Collectively, they exemplify the adventurous spirit that characterizes this tightly-knit community, gaining respect between themselves through their biking skills and prowess.
"Carson taught me a lot about mountain biking," sophomore Sid Caraway said. "He really proves how working hard on skill and technique is important."
The groups' genuine friendliness is evident through their open invitations to events and group outings, creating an environment where riders of all skill levels can connect and bond over their shared passion for biking. This welcoming ethos not only strengthens the sense of unity within the community but also encourages newcomers to embrace off-road cycling.
"Everybody is really friendly and everybody's invited to events or to just hang out as a group," Caraway said.
Among the standout moments etched in Baker's memory were victories on the racecourse, particularly his win in the Cat Four state championship. For him and Caraway, however, the sport is not about the podium or success; mountain biking is about the shared experiences, like simply riding through a forest on their own hours together, that truly made an impact.
"Carson isn't too much of a talker when he's focused," Caraway said. "I think it's part of what makes him really cool to be around though."
Despite the joys of mountain biking, Baker recognizes the sport's challenges, with its considerable time commitment topping the list. Managing rigorous training schedules alongside academic responsibilities was a juggling act that demanded discipline and dedication..
"The hardest thing is probably just like the amount of time it takes up…it's definitely a time commitment, but it's worth it," Baker said.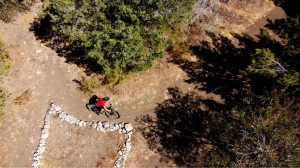 Baker's insights shed light on the essence of progress in mountain biking. It's a simple yet powerful concept that resonates with anyone seeking to improve in the sport or any endeavor.
"The best way to work forward is simply incredible amount of practice and repetition," Baker said.
Baker's favorite trail, Rattlesnake, is one he spends the majority of his solo practice rides in.
"The trail is close just across the river," Baker said. "I like that the turns are smooth and I can ride very quickly."
Knowing good trails is essential for mountain bikers, as emphasized by Baker. Quality trails offer thrilling rides and opportunities for skill development, making them a vital aspect of the sport. Baker's experience highlights the significance of well-chosen trails in elevating the mountain biking experience.
"The right trail can make all the difference in how enjoyable and rewarding a ride can be," Baker said.
For individuals interested in an entry into the realm of mountain biking, Baker provided some practical advice through his own personal experience aimed at helping newcomers navigate the exciting but sometimes demanding journey ahead
"I recommend finding a friend that already mountain bikes and knows what they're doing," Baker said. "Go on rides with people that are better than you, join a team, and slowly work your way towards better gear."
This story was originally published on The Dispatch on October 12, 2023.