On Oct. 5, Taste of West returned for the first time in two years. The event was hosted in the main gym where students could purchase a $15 ticket to taste foods from different vendors around the St. Louis area. 
Taste of West was created to give back to the community through a shared appreciation of food. This year, 19 vendors participated, bringing unique flavors to each and every booth. 
"[The vendors] support us in many ways and this is a way for us to get their name out there and let them get samples out to people. Hopefully, people go in and use their business [in the future]," Principal John McCabe said.
For many, Taste of West was a new experience due to the fact it shut down during the pandemic. Since winter of last year, McCabe worked with West's Parent Organization to coordinate the event. The news of its return sparked many emotions, especially for those who had the chance to attend in the past.
Story continues below advertisement
"I was so excited. It was so great that it was finally back," math teacher Patrick Mooney said. "I know that some of the restaurants have West High ties, so they come just because they graduated from here, or their kids go here or used to go here — it's a really neat way to bring everyone together."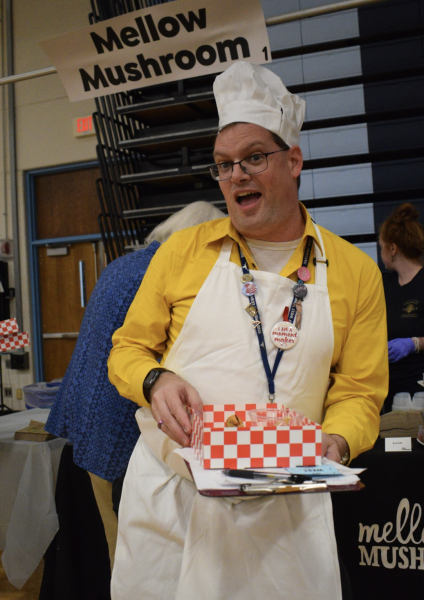 While showcasing products, the event also connects the people within the West community. Staff came together to make Taste of West possible. Since 2014, Mooney has taken charge of running the ordeal. 
"[Taste of West] really does bring a lot of people together," Mooney said. "Folks who might not sit together would sit at tables together and have conversations that they might not otherwise have, because they have to."
Many of the businesses are local and very close to West such as Ukraft, Circle 7 and Culver's. These restaurants were given an opportunity to bring light to their stores by giving out samples. 
"Letting people taste our product is a win for us," co-owner of Ukraft Matt Ratz said. "The best advertising that you can get as a restaurant is putting your product in your [potential customer's] mouth, and hopefully, they'll like it and will come to see you."
Taste of West not only provided opportunities for local restaurants, but for students at West as well. Students in or wanting to be in the National Honors Society (NHS) had the chance to volunteer and help the vendors by preparing food and checking off food tickets. 
"I would [volunteer] again so I can eat more food," student volunteer and junior Felicity Jackson said. "And [for the] NHS hours you need to apply for and stay in NHS. [Taste of West was] convenient because that way I didn't have to drive somewhere really far."
Along with the food, Taste of West presented itself as an event that was greatly missed and valued by students, teachers and vendors. Raffle prizes allowed participants to potentially win a free parking spot and gift baskets from the vendors. It will become an annual event once again due to all of the positive aspects.
"I always talk about how we, at West, are one [community]. So, anytime we can bring everybody together for an event that's positively based, [we do]," McCabe said. "It builds our culture and our climate being together, spending time [and] supporting each other. I can't wait to do that [again]."
This story was originally published on Pathfinder on October 17, 2023.