Many classrooms at Wadsworth High School have recycling bins that have been sitting full, untouched for weeks. With no recycling club, the question is posed, who will take over these overflowing bins?
Allison Parsons, a math teacher at Wadsworth High School started the Recycling Club in 2018. At the start of the 2023 school year, Parsons announced that she would no longer be in charge of the club and no one has since then taken over the club. Due to this, the Recycling Club at WHS has virtually vanished. 
"I'm teaching two new classes, one of which is an AP class, and I knew that I wouldn't have time to organize and coordinate everything," Parsons said.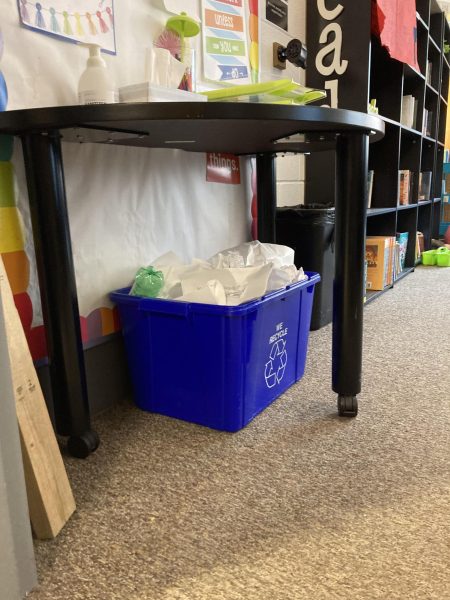 In each classroom, there are big blue recycling bins placed next to the trash cans. The responsibility of the club is to go around and collect the recycling bins to recycle the material in the bins.
Story continues below advertisement
"I feel like it is upsetting to know that it [the recycling club] is going to stop being a priority to eliminate the waste that is so excess in the high school," said former member and senior Bella Schoonover, "especially [the amount of] paper." 
The recycling bins in teachers' classrooms have begun to overflow which prompted some to ask the question as to who is now responsible for the club.
"At the beginning of this school year, I sent an email out to the whole staff saying that I was looking for someone to take over this year." Parsons said, "Unfortunately, no one ever reached out to me expressing interest in continuing the recycling program."
Although recycling does not fall on the custodial department, some custodians have just begun to empty the recycling bins. However, the custodians just dump the recycling bins into the trash as it is easier for them than sorting through what needs to go where. 
This defeats the purpose of having the recycling bins and why the recycling club was created. 
"I feel like it was very important because as a school we throw away so many paper products. Even with the recent digitalization of so many of our assignments, we still have many worksheets that just get trashed when we are done with them," Schoonover said. 
It is unclear at this point whether or not someone will take charge of the club.
This story was originally published on Bruin on October 16, 2023.