There was a time at B-A where Thad Dick would have either been a football player or nothing at all. Fall sports options were limited and the thought of a male joining the cheer team would have been unheard of. In short, he would have been forced to stick with the status quo.
But the status quo has never been a concern for Dick, who auspiciously tried out and made the cheer team this past spring.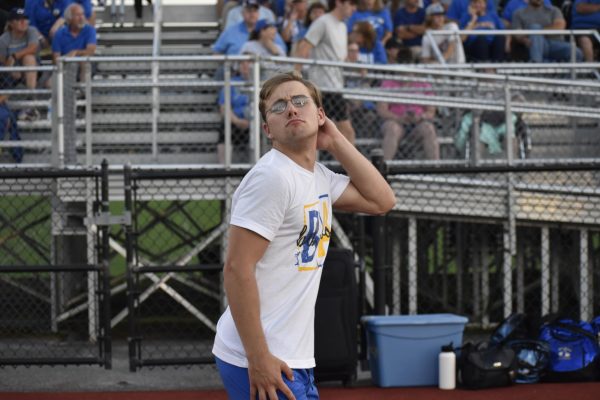 "I like to give a show, and I love my school, so I figured what better way to show school spirit," Thad said.
Nationwide, out of the 144,209 total high school cheerleaders in the last year, less than 3% are male. The Bellwood-Antis cheer team has played a role in that 3% ever since Thad decided to join the squad for his senior year.
Story continues below advertisement
He is the first male cheerleader at B-A since Jesson Beck in 2012.
Thad's first and last year as a high school cheerleader has already created a colossal impact on those who see him every day, and even for some who have never met him before.
After B-A played Philipsburg-Osceola on Sept. 29, a mother of a young male cheerleader from the opposing team shared a heartwarming story on Facebook.
Kaitlyn's post regarded a fulfilling interaction that her son had with Thad at the game, where the two met and took a picture together. She thanked Thad's family for encouraging him to stay in the sport, which inspired her son to do the same.
Within the thread of the post, the P-O cheerleader's aunt, Payton, commented about the impact Thad had on her nephew.
"[My nephew] was in awe of Thad and kept talking about it when I was taking him home," she stated.
The post gained traction and eventually circled back to Thad and his family.
"I am so glad that I encouraged him to keep cheering," Thad shared, "I had no idea that he was being bullied. And for the other people who think they are the odd ball, do what you like no matter what anyone thinks."
One of Thad's fellow senior cheerleaders, Savannah Wray, concurs that he is a role model for anyone to look up to.
"Any other guy who might want to get into cheering would definitely be inspired by Thad," Savannah said.
While his radiant confidence and blaring school spirit should keep anyone from thinking twice about his involvement with cheer, some were initially worried he joined the team as a joke.
"Having a male cheerleader is not common for high schools in our area, especially a school our size," said cheer advisor Chrissy Shura. "When Thad signed up I was a little skeptical that maybe he wasn't serious or if he knew what he was getting himself into. After tryouts I think he quickly realized that cheerleading is much more than doing some cheers on the sideline."
Thad felt similarly in the beginning, and he was aware of what the general perception would likely be. He acknowledged that joining the team was "a little weird", but quickly became fun.
"Some thought I did it as a joke, but as we all got to know each other, the less weird it got. [The girls] have been nothing but nice and patient with me as I try to learn and keep up with them," Thad said.
The initial skepticism from peers, teammates, and even his coaches, made his cheerleading debut all the better.
"
Some thought I did it as a joke, but as we all got to know each other, the less weird it got. [The girls] have been nothing but nice and patient with me as I try to learn and keep up with them.
— Thad Dick
"[Thad] brings nothing but excitement and positivity, and he is always there to make sure our team is happy and getting along," senior cheerleader Cami Focht mentioned.
Coach Shura agrees and appreciates his energy, constant encouragement, and his "don't quit attitude". Besides his team spirit, his cheer skills are just as notable. With no prior cheerleading experience, Thad learned how to do a back handspring and standing back tuck in only two weeks.
"Thad is an asset to the squad because we are able to do new and different stunts," said Coach Shura, "He does a great job of trying new stunts and working hard until [the team] successfully stick[s] them."
Thad's natural success in the cheerleading realm was to be expected, considering his avid participation in the theater department and his charisma on the morning announcements.
The ability to unapologetically be oneself is a critical characteristic to finding success. Thad has had no difficulty doing so, which is why he is able to inspire and motivate others.
Since Thad will not be cheering competitively, Coach Shura said it has been a pleasure to coach him on the sidelines for his senior year.
"Thad is a great example of somebody who isn't afraid to try something new and working hard to be good at it. Male cheerleaders have a stigma to people who aren't involved with the sport but that shouldn't keep people from doing what they want to do. Thad's enthusiasm for cheerleading and his school is awesome, and I hope that it encourages others to do something new even if it isn't cheerleading," she remarked.
This story was originally published on The BluePrint on October 19, 2023.