[dropcap]C[/dropcap]olleges love a good underdog — a story of someone starting from the bottom, taking the unlucky cards they were dealt, then rising to the occasion and becoming the model student. So, every year, when thousands of college application portals open nationwide, it is common for applying seniors to utilize their deepest traumas to paint themselves as just that — the underdog.
The college application process, already a stressful endeavor for MVHS seniors, has become an unspoken stage for students to reveal their innermost traumas in essays. This trend has been driven by the nature of the Common App essay prompts, which urge students to "recount a time when you faced a challenge, setback, or failure" or to "reflect on a time when you questioned or challenged a belief or idea," encouraging personal stories of confronting adversity. The Harvard Business Review echoes this sentiment, stating, "It's okay to be vulnerable and honest; in fact, it's critical you do so."
The goal of having students share these personal stories is to allow institutions to get a glimpse into how students embody determination, resilience and personal growth — qualities that are valued in a challenging academic environment. As one college consultant puts it, "Colleges are not looking for perfect people. They are looking for real humans."
However, this well-intentioned approach to essays may incentivize some students to "trauma-dump" in their writing, something that College and Career Counselor Rogelio Calderon says is "common" with many students. This openness to vulnerability, to sharing one's innermost traumas, can bear negative psychological consequences for students. The underlying implication is that a student's worth is intimately tied to their suffering, that their admission hinges on telling a story of transforming pain into inspiring resilience. This mindset from students not only forces students to relive their traumas through writing, which, for some, can cause flashbacks and panic attacks, but also pushes students into a toxic positivity narrative, forcing them to adopt a facade of triumph, even if their traumas are an ongoing battle. For disadvantaged students in competitive environments like MVHS, this can foster a false notion that those who fail to succeed just aren't working hard enough.
Story continues below advertisement
For those without such extreme trauma, these essays often romanticize the idea of going through those harrowing experiences, deeming students to be less valuable or interesting if they don't experience a level of pain worthy to be considered a resilient or persevering human. This mindset is especially prevalent in the MVHS community, as the majority of the student body lives with a certain level of privilege. The median household income of Cupertino is almost $130,000 more than that of the national average of $74,580. While that doesn't detract from the circumstances MVHS students face, this privilege does often allow for a more comfortable, stable home life — the kind that many believe are not worthy of a college admissions essay, despite holding the majority of their formative experiences. Instead, students often glorify the much harsher realities of the world, qualifying the resulting trauma as good college essay material. Similarly, students may exploit common experiences and find ways to link them to trauma, treating it as a tool to get into college.
It is important to acknowledge that adversity does ultimately impact your character. The way that one responds to challenging situations can often be an indicator of perseverance. However, when MVHS students confront such adversity in their essays, they push the notion that a student's character, at its core, consists purely of their trauma. A college essay is meant to help better understand the student as a human, breathing life into the quantitative statistics such as GPA. So, as MVHS students prioritize stories of perseverance or tragedy, they in turn disregard the positive in the life of students: the passions they have or the good they have achieved, both of which can achieve valuable stories of resilience.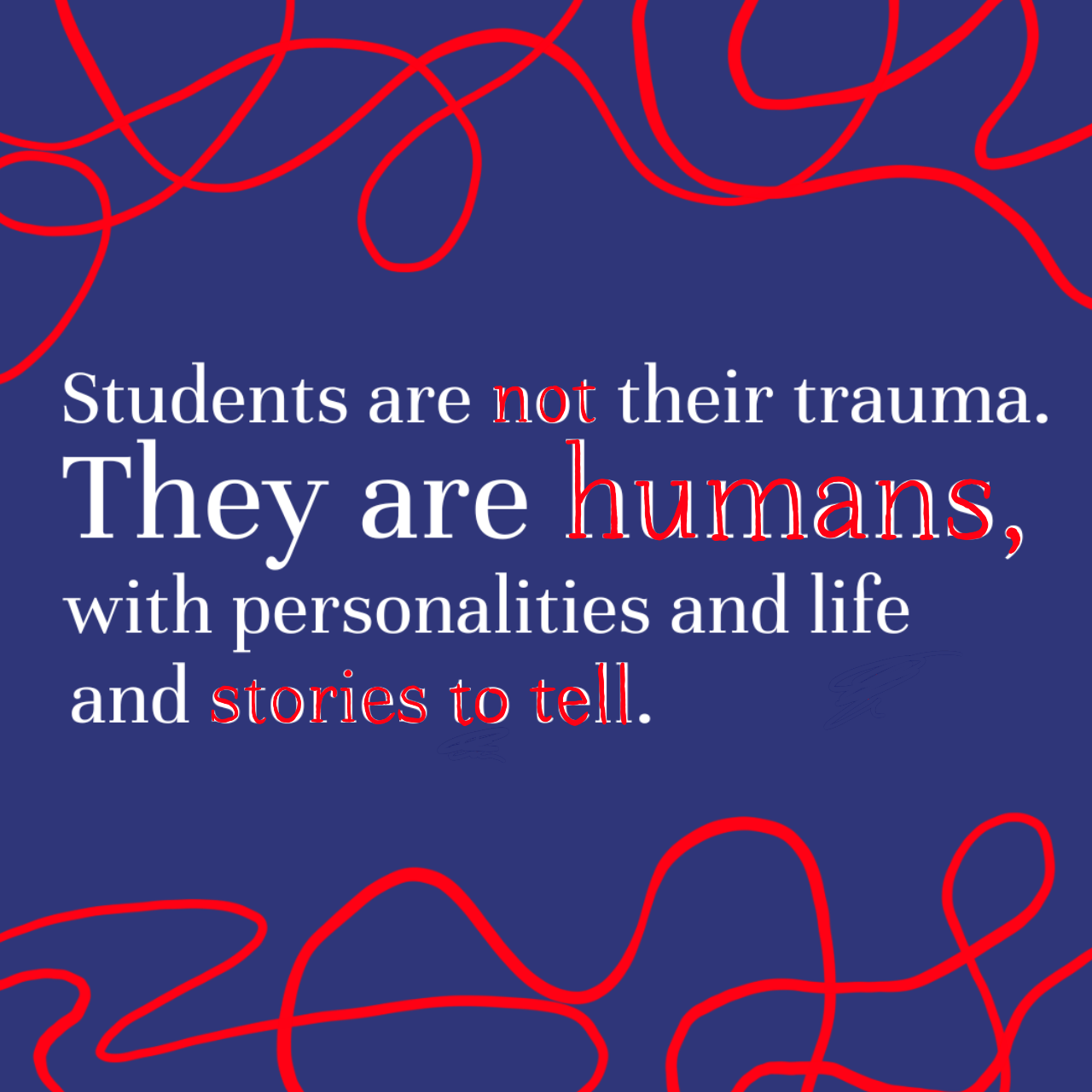 At the end of the day, education about the college admissions process can help students shift away from trauma essays, as many MVHS students can find other ways to share their personal experiences in writing. Calderon says that at MVHS, writing the trauma essay is often caused by a lack of understanding of what colleges look for.
"I think typically, the topics around trauma come around when there's a college essay that asks the student to write either something personal or to describe something that they've overcome," Calderon said. "Students don't understand what that necessarily means. The student may off-the-bat feel that a topic around trauma is necessary or that it is what [colleges are] asking for."
Bringing up the issue of trauma essays in discussions with peers and counselors can help students find alternative essay topics, changing what students believe to be an effective essay. Alternative views, such as those prompted by the Rhodes Scholarship which revised their prompts to focus on broader themes of students' role in the world, can be a stepping stone for MVHS students to shift away from framing trauma as the defining feature of their lives.
Students are not their trauma. They are humans, with personalities and life and stories to tell. Ultimately, we need student essays that value that authenticity and our freedom of expression rather than conforming to a falsely expected narrative.
This story was originally published on El Estoque on October 19, 2023.