Stick in hand, cold air prickling his face, junior Arys Peradi passes the puck to his teammate in hopes of scoring a goal. This will be Peradi's first season playing with Austin Ice Bats and he is determined to impress.
"Arys has always had an incredible self-starting and hard work ethic," Arys' father, Eric Peradi said. "He puts in the extra time and is always trying to be the best at whatever he is doing, sports, school, etcetera. As a father and coach, those are the types of individuals and leaders that you hope your son or daughter will become, and Arys has always been that son and player."
Multiple coaches from across the country have expressed interest in Arys as an athlete. For the past two years, Arys has lived with host families in Dallas, and in Connecticut to play with an elite hockey academy, this year returning back to Austin to play for the Austin Ice Bats.
"Austin Ice Bats are completely different," Arys said. "They have a very nice facility I play at and I love all my teammates and the coach. These coaches practice with us, they kind of feel more like teammates than coaches, which I like way more."
Story continues below advertisement
Arys' introduction to hockey was through his father, a former D1 hockey athlete, and he found his passion for the sport while playing alongside his brothers.
"I've never skied before, but I heard it's a very similar feeling to skiing, with how free and balanced you feel on the ice," Arys said. "When I am skating I feel free and open and I'm able to clear my mind. When I'm playing the game and I'm active, my brain is all over the place but you gotta be so dialed in on hockey that you're not thinking about much else. When I'm sitting on the bench I'm singing songs in my head and thinking of all sorts of stuff."
With the Ice Bats I am excited to see him grow as a player and develop his skills to be able to achieve his dream of playing Division 1.
— Eric Peradi, Bowie Parent
Junior level hockey ranges from 16 to 21 year olds and is an organized league that provides a pathway to collegiate or professional hockey. After moving back from Connecticut, the Austin Ice Bats coach reached out to Arys to come and skate with the team members. Shortly after, Arys signed to play with the team full time.
"I first saw Arys play at the Corpus Christi IceRays North American Hockey League (NAHL) Pre-Draft camp in Austin earlier this summer," Austin Ice Bats coach Kirk Golden said. "Arys' speed, skill, and toughness stood out to me. He has continued to improve in the short time we've had as a team this year. It is great to have the local talent return to Austin to play Junior A hockey."
Forechecking is a tactic that adds pressure to the opposing team in order to gain control of the puck, while the job of a forward and winger is to support the center and score goals. Arys is persistent and dedicated to improving his technique in multiple fields and positions.
"When I'm on the ice and my adrenaline's going I don't really feel as much pain when they shoot the puck," Arys said. "An important job of a forward or winger is to block that shot so doesn't have any chance of going in. I'm very good defensively at blocking shots and clearing the puck out and then I have always been a good hitter and forechecker. I've wanted to improve my stick-handling with the puck and improve my skating skills."
Living in the south, being a hockey player wasn't always the norm, and opportunities were hard to come by.
"Being a hockey player in Central Texas is not always easy with football and other sports getting all the attention," Eric said. "I am so proud of young men like Arys and the kids in our organization that dedicate their time and energy to a sport I love so much and has brought me so many opportunities in my life. Being able to give back and seeing my own son do the same makes me the proudest dad I know."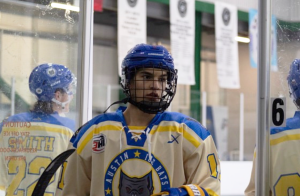 Despite the challenges of living in an area where hockey is considered a minor sport, Arys continues to push himself in order to pursue his dreams.
"I think back to my younger self watching my first National Hockey League (NHL) games and college games and just thinking how I really want to be there and do that," Arys said. "I've definitely had moments where I just want to quit. But then I remember that the good of hockey definitely outweighs all the bad. So when I get sad I kind of just wait it out and go through it, and then eventually I start to love it again."
The Austin Ice Bats began practice in early September. According to Golden, the team is extremely diverse, with teammates from seven different states, and others born in four different countries
"My favorite memory on the team so far is playing soccer with the boys and just hanging out with everyone," teammate Alex Swanson said. "It's great being surrounded by people whose goal is to make you a better person and hockey player."
Adjusting to new coaches and teammates is no new experience for Arys. According to Eric, Arys's dedication to hockey and friendly attitude are his most admirable qualities.
"With the Ice Bats I am excited to see him grow as a player and develop his skills to be able to move on to the next level and achieve his dream of playing D1 hockey," Eric said. "Having him come home and play in Austin after being gone for two years is amazing and will really show the local kids that the Ice Bats are an opportunity for them in their future."
The Austin Ice Bats game schedule has been posted for the upcoming months. Arys plans on using this competitive experience to prepare for collegiate hockey, with eyes set on the national level.
"It's always been my dream to play in the National Hockey League for the pro teams," Arys said. "But right now I want to set the goal of playing Division One hockey at any college I've just been asked to play there."
Not only is Arys looking forward to achieving his goals on the ice, he is excited to be involved in the classic high school experience.
"I feel like this year is going to be different," Arys said. "I've never been to school-like events. I've never been to a school football game, assembly, dance, or anything. This year I'm at home, and we play fewer games this year than I did last year. I'm going to have more free time to be able to experience high school and I think it will be really fun to go to homecoming and football games, and be a kid but also be able to play hockey."
This story was originally published on The Dispatch on October 23, 2023.