Twenty-five feet up the rocky wall, the glint of a metal ring beckons. Threading his rope through this next steel clip is imperative: it's the only way he can stay on the wall and reach the top.
He strains upward, tangling his left foot in his harness's braided nylon rope. His outstretched fist slips on the slick metal. His footing crumbles away, and the cord wrapped around his left leg tugs him downward headfirst.
He streaks towards the floor at 36 feet per second.
Five feet from possible paralysis, his partner yanks the rope taut.
Benaiah Treviño jerks back to reality.
Story continues below advertisement
---
Sophomore Benaiah Treviño has dedicated his high school life to climbing.
On Tuesdays, Thursdays and Fridays, Treviño drives to Texas Rock Gym. He practices there for three hours each day—often far longer in the weeks leading up to a competition.
"It's a commitment," Treviño said. "If you want to do competition climbing, you have to rule out a lot of other things."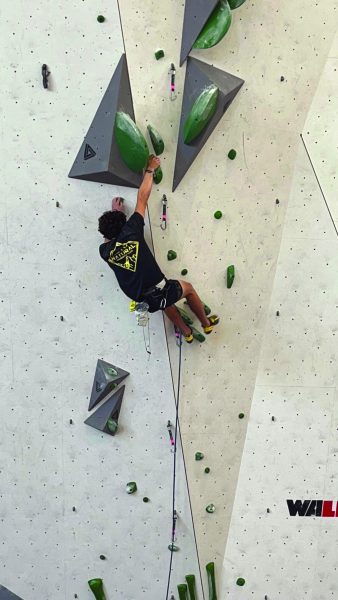 Between nine plus hours a week of training and work at Sam Sann Warriors, which trains young athletes for American Ninja Warrior, Treviño often finds it hard to manage his school life and extracurriculars.
"I find myself struggling to balance stuff," Treviño said. "[Climbing] actually forced me to drop some of my harder pre-AP [and] AP classes."
Still, Treviño remains dedicated to the sport he discovered in seventh grade when he needed something new as the pandemic started and baseball ended.
"If you're training as much as I am, you have to love the sport," Treviño said. "Just have fun with it."
Even though rock climbing is an individual sport, Treviño highlights the community created by his team, which he travels with to competitions around Texas and the Hill Country.
"[The team] just helps you improve," Treviño said. "[They] give you insight to certain things you may not have thought of. It's like going to school with other people helping you out."
Treviño's coach is his biggest inspiration. Treviño credits him with much of his success. His coach pushes him to his limits without "strict" methods used by other gyms, such as "dietary restrictions."
"[He] focuses on our individual weaknesses and strengths, [but he] keep[s] the love of the sport and makes you want to pursue it in the future," Treviño said.
Treviño relies on his parents for support as well. They fund and encourage Treviño in his preparation for his V9+ competitions in Region 51, the youth climbing league that encompasses most of Texas.
"Definitely one [sacrifice they make] is financial," Treviño said. "Rock climbing is more expensive than other sports because of gear and constantly having to rebuy shoes."
Still, Treviño doesn't believe rock climbing has a prohibitive cost, especially with shoe resale that occurs frequently at Momentum Indoor Climbing.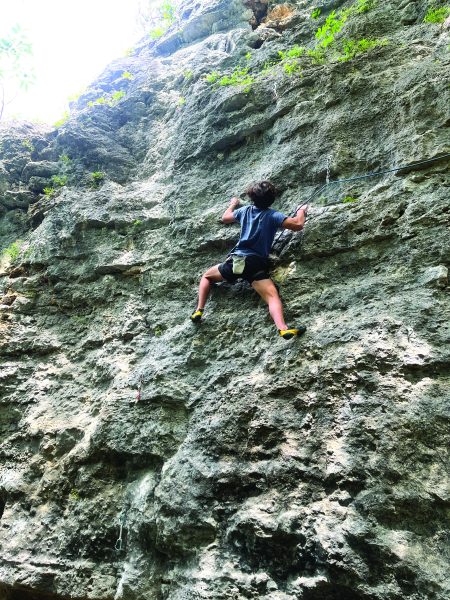 In fact, he recommends that everyone try it at least once, especially those who are afraid of heights.
"You'll find that a lot of people that start out climbing conquer their fear of heights," Treviño said. "You don't have to be not afraid of heights at all to start rock climbing."
While Treviño trains top-rope and lead climbing at Texas Rock Gym for a Nov. 19 competition, across town, juniors Daniel Curl and Justin Chin focus on intermediate level bouldering, a form of rock climbing with no ropes and lower heights, at Momentum Silver Street.
The pair discovered bouldering this past summer, and like Treviño, were immediately hooked on the meditative self-improvement it offers.
"All you can think about is the next move to get yourself closer to the top," Curl said.
Chin agrees that climbing allows him to push away other distractions in his brain.
"All sports are mental but especially rock climbing," Chin said. "You really have to focus while you're on that climb and persevere."
Chin also considers it is far easier for beginners to stay encouraged due to the rating systems.
"[In] climbing, it's actually really easy to see your accomplishments," Chin said. "Once you start, you're going to see V Beginner to V0, and V0 to V1."
Still, the mental aspect of climbing Chin and Curl both love is often their biggest obstacle.
"Where to put your hand or foot and how to position your body," Curl said, can lead to you getting "stuck."
Chin will try one move for upwards of ten minutes to "send" the climb and finish.
"You get frustrated and continue to do [climbs] over and over again … repeating and wasting your energy," Chin said.
That's when they turn to each other for help.
"We definitely have disagreed on a move and definitely gotten frustrated with each other," Curl said. "But in order to make progress on the climb, we are forced to figure it out together."
Chin compares his climbing friend to a gym partner.
"[Daniel's] going to be by your side when you're struggling and give you tips," Chin said. "You're going to give him tips and you just improve off each other."
Chin and Curl believe bouldering offers an aspect of life everyone should learn: patience.
"Climbing teaches you a pretty valuable lesson of backing up [and] looking at the climb," Chin said. "Ask a friend … and look at it from a second perspective."
So when Chin and Curl leave Momentum together after a workout, they haven't just strengthened their muscles.
"[Climbing] has helped Justin and I build a stronger and healthier relationship as best friends," Curl said.
Chin emphasizes the communal aspect of climbing as being invaluable to his solving of boulder problems, which often involve more brainstorming than raw strength.
"The climbing community is one of the most positive communities I've been part of," Chin said. "There's going to be so many people better than you that you can learn from and [who can] give you advice."
This story was originally published on Three Penny Press on November 1, 2023.