From a Wildkat to a Javelina, Westerner and Coyote, 2018 graduate Darius Mickens is ready to make some magic.  Mickens was recently drafted by Osceola Magic to the NBA G-leagues which is the developmental league for the NBA. After setting numerous records at Willis High School and going on to play at Texas A&M Kingsville, Western Texas Junior College and Cal State University San Bernardino, Mickens is now off on his next big journey.
"The draft process was a little crazy," Mickens said. "I went to a few overseas camps this summer and had great showings but still nothing major from any NBA or G league teams. Then around September, I went to a couple workouts, one being with the RGV Vipers and then the Austin Toros. I did so well at the Austin workout that they put my name in the G league draft. It was just a matter of talking to my agent and finding out where we might end up."
Mickens' former coach Michael Storms is very proud that his four years of coaching Mickens has greatly impacted him and put him on the path that he's currently following.
"I was fortunate enough to meet Darius during his eighth grade year at Brabham and then coached him for four years on the Wildkat varsity basketball team," Storms said. "He played distinctly different roles each year, and it was a pleasure to coach him. Every player only dreams of this, and his dreams are becoming a reality."
Story continues below advertisement
Mickens couldn't have gotten to where he is now without the support of his mother. He gives her credit for all the motivation and inspiration she has shared with him over the years that has kept him going.
"My mom is a huge credit to my success," Mickens said. "The way she instilled being myself and working hard from an early age has carried me a long way. She's always made sure I was working hard and being the best I can at everything. That drive to be the best at everything has pushed me to do the same on my own now."
Four years on a varsity basketball team greatly changed Mickens's mindset and ultimately his career path. Despite starting out on a team of majority upperclassmen as a freshman, Mickens still found a way to excel.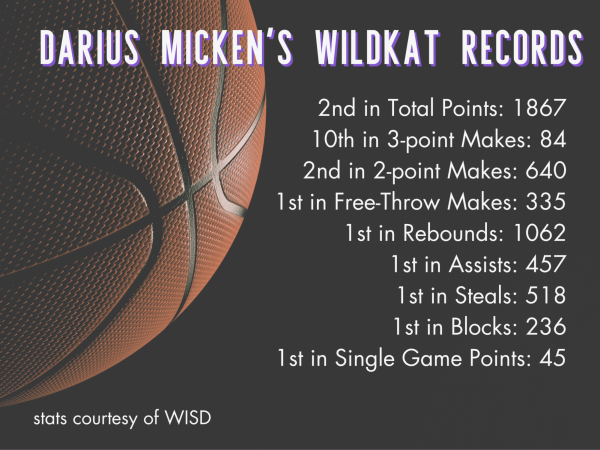 "My freshman year, Coach Storms put me on varsity and told me to be confident about who I am, because being a great player and a good person is what got me the opportunity to play varsity at an early age," Mickens said. "As you keep moving up levels, confidence in who you are and what you can do is very key. If you don't believe in yourself, then who will?"
All of Mickens' hard work, dedication and determination over the past few years is what has gotten him to where he is now, practically living out the dream of many high school athletes.
"My advice to all the high school athletes is to run your own race. My story is a great example," Mickens said. "Coming from a small town, not being known, and being counted out by others in regard to how good I am and going division 2; people wouldn't think I had a chance. But if you really love something and want to do it at the highest level, you'll get there eventually. It's all about the love of the game."
This story was originally published on The Voice of the Wildkats on November 12, 2023.