Senior Talan Nelson, typically seen in his maroon and white overalls, has earned a permanent front row spot at all the Wahawk athletic events. As a student section leader, Nelson brings energy to the crowd and gets the students in the stands on their feet. Nelson missed only one football game, and was seen at nearly every volleyball match this season. Recently Nelson has been seen with more than just school spirit. In the past few months, a camera has hung from his neck alongside his overalls.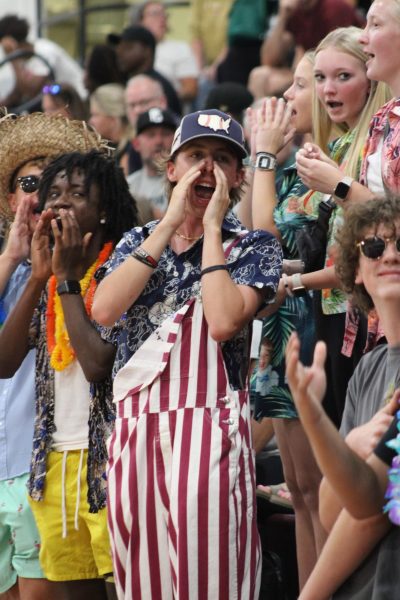 Prior to being an official student section leader, Nelson was one of the only students in attendance at many of the girls basketball games for the 2022-23 season. Even with two DI commits on the team, the girls struggled to receive support from their peers, but Nelson never failed to show up for them.
For the 2023 school year, on top of his role as a student section leader, Nelson was given the responsibility of running the Wahawk Nation social media accounts, a privilege that is passed down to a new senior each year. Wahawk Nation is designed to share upcoming events at West High as well as report on the scores of games. Nelson saw an opportunity to create more platforms for Wahawk Nation and made a TikTok account on top of the Twitter (X) and Instagram accounts.
Starting with building the TikTok account, Nelson interviewed students in the stands during football and volleyball games, quizzing them on their knowledge of the sport, their own classmates and other fun facts. "I saw other student section TikTok pages and thought we could make one for West," Nelson said.
Story continues below advertisement
Though he keeps his overalls on, Nelson has picked up a hobby in photography and videography that has moved him from the stands and into the action. "I have always had a creative side to me but never knew what I could put it too, I started to research a camera and finally got one and ran with it," Nelson said.
As he talks about how this new hobby began, Nelson shares that his father, Jim Nelson, was the root of the passion. "I started when I asked my dad if I could help take pictures at the Dunkerton vs Clarksville football game," he says. Jim Nelson is a reporter for the Waterloo-Cedar Falls Courier and has helped Talan Nelson get connected with opportunities such as these.
After taking pictures at multiple nearby area schools, Talan began to take pictures of his peers at West High events. During the West v Davenport North homecoming football game,  Talan made his first appearance on the field at Memorial Stadium.
Once he picked up a camera, Talan's perspective of the game changed. As his focus shifts from cheering to photography, he becomes more quiet in the stands. "It certainly saves my voice a little because I am not yelling at any underclassmen, but when I am on the field it is such a cool experience and I can actually focus on the game," he said.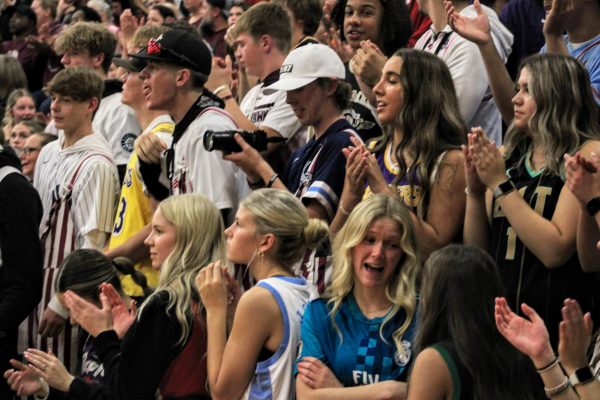 Outside of West High events, Talan has been given the opportunity to photograph more than his peers. With the help of his father, Talan has been able to take pictures and videos for University of Iowa Football, Iowa High School State Volleyball, Cedar Falls High School Volleyball, UNI Rugby, UNI Football and Columbus Catholic High School Football.
"I give all thanks to my dad for giving me the opportunity to come with him and take pictures for the Courier. It has been a great introduction to what will be my future. I could not be happier to have such a cool dad," Talan said.
When reflecting on his son's new talent, Jim Nelson shares how his interest in photography has bonded them as a family. "I definitely feel closer to him. It has been fun to see his excitement over finished projects," Jim said.
He says how he has enjoyed watching his son follow in his footsteps.
As his passion for photography grows, Talan shares that this has opened a new door for him. With the new experiences he has had, Talan shares that he plans to study Journalism and Broadcast Communication at the University of Iowa next fall.
"It is my hope the videos and photos he takes for me at the Courier provide him a baseline of what was really good and what could use work as he progresses in college and fine tunes his craft," Jim said.
While he is still a student at West High, Talan makes sure the Wahawk Nation TikTok is not lacking in the content it started with, while he is simultaneously taking pictures. "I still run the account for most part, I only really take pictures at the away games, or when the game is not close," Talan said.
When he is in the action he receives help from senior Hannah Connor and junior Ariana Bajramovic.
Bajramovic shares that her part in Wahawk Nation takes place when Talan is on the field or unable to go to a game. "I usually just record parts of the activity so he can use the footage for his TikToks," she said.
As her part in the videos is behind the scenes, Bajramovic says that her favorite part is being able to see the raw takes be turned into the edited videos on the account. "Talan has great ideas for keeping the account light-hearted and fun while maintaining viewer interest," Bajramovic said.
"
Don't pass up any opportunities that are presented to you. No event is too small. No topic is unworthy of a video or photo. Value advice, but also stay true to yourself and your vision. There is no experience you won't learn something, and along those lines I learn new techniques all the time despite a 30-plus year career.
— Jim Nelson
Senior Hannah Connor, a friend of Talan's, shares how she has seen him grow as a person and content creator. "Talan's goals and priorities have grown and definitely changed throughout the years. From his YouTube channel to his TikToks, he has taken his social media accounts and photography more seriously. He has taken steps to improve his photography/videography and has become more professional over the months," she said.
While he can still be found in the stands, Talan has found a new comfort behind his camera. With his talent growing, Talan created an Instagram account to share his photos and videos with the community. See more of his work on his account, @nelleythroughthelens. 
This story was originally published on The Wahawk Insider on November 13, 2023.