Mike Parnell, Utica College men's lacrosse coach, dies at 45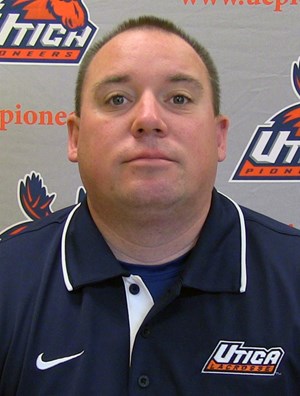 Utica College men's lacrosse coach and 2002 graduate of Utica College Mike Parnell died on Thursday, Dec. 2 at the age of 45 due to complications from COVID-19. 
The college community was notified of coach Parnell's death in a campus-wide email just before 9 p.m. on Thursday night.
Parnell was a member of the Utica College community for quite some time. Aside from graduating in 2002, he served as assistant coach for the men's lacrosse program from 2001-2003, before becoming only the second head coach in program history, serving the last 14 seasons as the head coach of the men's team.
Before settling down at Utica College, Parnell previously spent time coaching at Jefferson Community College, Colgate University, Brown University and the Chicago Machine of the MLL (Major League Lacrosse).
During his time as coach of the Pioneers, Parnell compiled an overall record of 98-126 in over 16 seasons. Parnell also helped guide the Pioneers to 48 All-Conference selections and several players into the record books during his tenure.
In a campus-wide email, President Laura Casamento announced Parnell's passing and took time to reflect on his legacy at Utica College.
"Mike was a treasured friend, colleague and mentor," Casamento said. "He had the deepest love and respect for Utica College, its mission and most of all, its people."
Utica College Athletic Director Dave Fontaine is another member of the Utica College community that mourns the loss of coach Parnell.
"This is a very sad day for Utica College and our athletic department," Fontaine said. "Words can not express how much Mike will be missed.  His passing has left a huge void that can only be filled by the memories we created with him."
Fontaine also added that throughout his many conversations with Parnell over the years, there was one thing that was always clear.
"Mike loved Utica lacrosse and he loved the players he had the opportunity to coach, both past and present," Fontaine said. "We will miss our friend and colleague. Our thoughts and prayers are with his wife, family and close friends."
Parnell, who was a founding member of the lacrosse program at Utica College, will be remembered for not only his coaching, but for the everlasting impact he made. 
"On and off the field, he coached with incredible energy and passion, which earned him the praise of generations of our student-athletes," Casamento said. "As we all try to process this terrible and sudden loss, please know that the Counseling Center is available to offer necessary assistance. Mike's wife, family, and friends are close in our hearts and prayers."
This story was originally published on The Tangerine on December 2, 2021.