Mule Rider Community Supports World Record Attempt
50 mule riders gathered in the parking lot of the old fraternity complex at 6:30 a.m. on Oct. 23 to attempt to set a world record during the University of Central Missouri's homecoming parade. UCM celebrated its 150th anniversary by attempting to set a world record for the most ridden mules in a parade — not the typical homecoming celebration for a university.
Tiffany Cochran, senior director of events and alumni engagement, was on the committee that brainstormed events to celebrate the anniversary, and in fall 2020, she had the idea of trying to break a world record involving mules.
"We really wanted to come up with something that appealed to many different demographics — to students, to faculty and staff, to alumni," Cochran said.
The first time the university applied to break the world record, they were denied.
"I think a big part of it was that we were trying to set a record that didn't exist," Jackie Jackson, the associate vice president for alumni engagement, said.
Because UCM was preparing to do something that had never been done before, they had to go through a process and submit documentation of everything they would do to set the record before Guinness would give them their certification. The second time UCM applied, they applied to set the world record for the largest number of ridden mules in a parade, rather than break a record that didn't exist. In February 2021, the university heard from Guinness World Records that they were welcome to attempt to set the world record.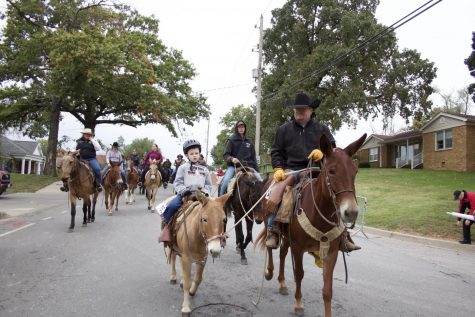 However, finding mules and riders proved to be difficult. Since mules cannot reproduce, they are more rare than horses. Around late August, Cochran said she was losing sleep because she was unable to find mule riders. Many people they reached out to were mule drivers, who own multiple mules, but there were not enough people to ride each mule individually. Another struggle was that because mules are the combination of a horse and a donkey, a lot of mule owners did not have Coggins reports, or proof of lineage, on hand. Additionally, mules are specifically the offspring of a female horse and a male donkey. If the riders had a hinny — the offspring of a male horse and a female donkey — then the animal was technically not a mule and could not participate in the world record attempt.
Many of the mule riders who showed up for the parade had learned about the event from Facebook, but several of them were also contacted by their friends.
"The farming community and the agriculture community is a big family," director of University Farms Travis Hume said. "They were picking the phone up and calling anybody they knew that owned a mule and giving them my number. They were invested in helping us, and then their friend was invested in helping them."
"
We're going to meet a lot of friends here today, I suspect. Mule riders are a pretty close bunch, and if they're not friends, they're going to be friends.
— Dennis Clarke
Dennis Clarke, who registered the morning of the parade at the old fraternity complex parking lot, said he and his wife came because they like mules and wanted to be a part of the parade.
"We're going to meet a lot of friends here today, I suspect," Clarke said. "Mule riders are a pretty close bunch, and if they're not friends, they're going to be friends."
Though some of the mule riders were alumni or had a connection to the university prior to the homecoming parade, many of them were alike in their reason for joining the parade — they wanted to ride their mules.
Patti Dollarhide, a native of Kansas, stopped by the parade on her way home from Shawnee National Forest.
"We're just here to have some fun with some fellow mule riders and to support this," Dollarhide said. "We love it that the mule is their mascot."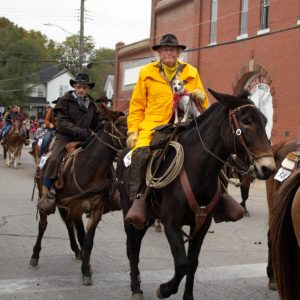 The age of riders ranged from six to 77. They were from different parts of the nation and from different backgrounds in life. Some earned a living by training people to ride mules, while others hadn't had a mule until a few years ago.
Another rider, Melissa Patterson, only came because after her truck broke down. Well-known rider Jesse Aldrich offered her a lift and a mule to ride.
Aldrich attested to the accepting nature of the mule community, saying that no matter how you're dressed, mule people will treat you well. He came to the parade because his friends called him and informed him about the event.
One friend who called Aldrich, Rianna Deselich, came to the parade to show off her mule.
"People think they have a reputation of being stubborn, but it's not really stubbornness, it's intelligence … if they don't think it's safe, then they're not going to let you do it," Deselich said. "That's where the stubbornness comes in."
The weekend before the parade, Deselich and her mule were competing in endurance riding, which was a two-day competition where she rode her mule for five to six hours per day while navigating obstacles, and her mule was the only mule in attendance. The rest of the competition was horses.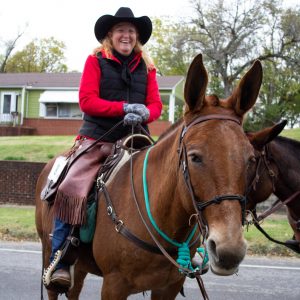 KC Kid, another mule rider, regularly takes his mule out into the wilderness, like Yellowstone and Cloud Peak wilderness in the Big Horn mountains of Wyoming.
"Once a year, we pick a spot," KC Kid said. "We go in, and we disappear. We bring everything needed —  food, tents, everything. We pack … in oversized saddle bags."
Rider Mattie Springer has also traveled around the country on her mule, Banjo.
"I just saddled at 11,300 feet one day and rode up at the top of a mountain," Springer said. "You know there's a God when you stand in the clouds like that, and she's took me places like that, that I would've never went."
While UCM waits to hear if they've set the record, muleriders continue with their lives — training others how to ride, or participating in events, competing on endurance or driving or travelling across the country.
Updated December 9 at 5:00 p.m. :
On the morning of December 8 2021, UCM News Bureau sent out an email confirming that UCM had achieved the world record for the largest ridden parade of mules.
Jackson said that besides people asking what the previous record was, the most asked question was why is UCM attempting a world record?
"We can give a lot of answers, a lot of reasons why, but I think the main answer is why not? If this record was to be held by anyone in the world it should be the University of Central Missouri mules and jennies," Jackson said.
This story was originally published on Muleskinner on December 3, 2021.