Photo courtesy Krisha Bhaktha
Local attendees reflect over dangerous festival
Astroworld crowd surge claims 10 lives, leaves several injured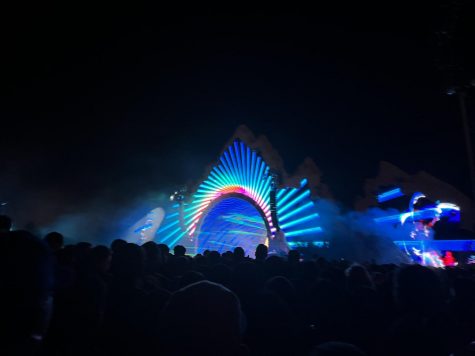 What was meant to be a night of delight and joy with a lineup of artists including SZA, Lil Baby and Drake turned deadly as Astroworld  gasped for air and fought against the pressure of thousands of bodies.
Some were able to move towards the back. Others were not as fortunate. Concertgoers chanted and pleaded for the show to stop as many collapsed and struggled for air.
The show continued.
The latest victim is a 9-year-old boy from Dallas, bringing the death count to 10 people.
"People were forcing their way upwards [towards the stage] before the show started," 16-year-old online school student Krisha Bhaktha said. "When everyone was jumping, the crowd was shifting back and forth. I didn't know anything was going on. I saw medics and I saw many people trying to get out. I was getting pushed so much to the right that I almost fell."
Astroworld is a music festival founded by Houston native rapper Travis Scott. This year marks the third year since the conception of Astroworld in 2018, the same year the studio album with the same name was released. According to a press release, the theme for the 2021 Astroworld concert was to "open your eyes to a whole new universe." The festival is meant to bring back the "spirit and nostalgia" of the now closed Six Flags AstroWorld Scott visited as a child.
As the day unraveled, Coppell High School junior Sree Purimetla could sense the lack of security as vaccination cards were merely glanced at and bags brought into the stadium were not thoroughly examined.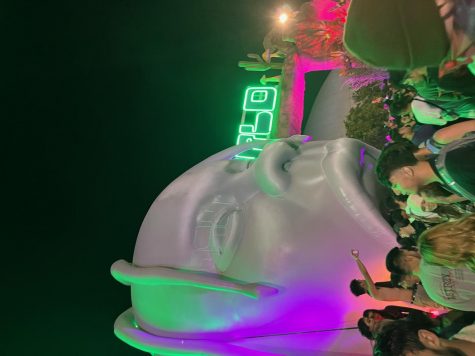 "There was a person while I was walking in who didn't have his vaccination card and was using his friend's," Bhaktha said. "He had asked [my friend and I] if we wanted to have a digital or physical copy of a [vaccination card]. It wasn't safe."
Theme park attractions such as a fun house and a swing ride were nestled on the far left of the field , with a smaller stage positioned on the left and the main stage in the center. Scattered throughout the park were food vendors and restrooms.
"The concert itself was noticeably oversold," CHS junior Sree Purimetla said. "[The] lines for everything were super long and the two arenas by themselves were super full."
As the sky began to darken, crowds gathered in front of the main stage, anticipating Scott's 9 p.m. performance.
"There were two walkways that separated VIP and the right and left section of [general admission]," CHS senior Daniela Chavarria said. "Having one entrance and one exit had everyone pushing one another from one direction. I couldn't raise my arms and I had to lean on people at one point. I saw three people pass out."
Crowded conditions at concerts are not uncommon. Incidents such as the Neutro Shorty concert stampede is a prime example of how dangerous a large uncontrolled crowd can be.
"
I couldn't raise my arms and I had to lean on people at one point. I saw three people pass out.
— Daniela Chavarria
Due to the size of the venue, Purimetla and Bhaktha were unaware of the severity of injuries until the morning after.
"My heart dropped," Chavarria said. "I could not believe I was there during that, knowing I could have been one of those people. I was alone the whole time. I lost [sight] of my friends in the very beginning, and I couldn't believe it happened. I felt sick and nauseous about the fact that I was there."
On Nov. 9, Chavarria attended the Tame Impala concert at the American Airlines Center.
"I was scared to go," Chavarria said. "There were parts of me where I was freaking out a little because people were so close. I went to the merchandise lane at the end of the concert and people were leaving and squishing to [leave], and I was freaking out. I was going to get pit [tickets] for Tame Impala but thankfully I didn't because on the way there I was having a panic attack."
Online videos are circulating with members of the Astroworld crowd screaming for help. However, many in attendance could not hear these cries.
"I did not hear chants [of people yelling to stop the concert]," Purimetla said. "Because of how many people there were, it got drowned out."
Scott ended the night 30 minutes early and jogged off stage.
"One of those who died was a 9-year-old," Bhaktha said. "Other people were my age, ordinary people having fun going to a concert to have fun. That could've been me if I had stayed where I was."
CHS student resource officer Byron Mitchell has experience with handling large crowds as he directs students during events such as pep rallies where thousands of students crowd Buddy Echols Field.
"Practice awareness," Mitchell said. "Know where your exit points are and stay with your friends. Make sure to have your phone on you. If you're packed in like sardines and your movement is restricted, protect your head. Avoid falling on the ground. Most of the time you won't have the choice but to follow the flow. If you do get knocked to the ground, get into the fetal position. Tuck in and don't leave your hands out as someone could stomp on them and break your fingers. The main thing is to protect your head. Try to be as calm as possible, but get out [of the crowd]."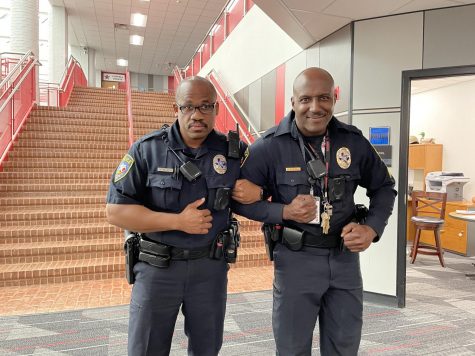 This story was originally published on Coppell Student Media on December 9, 2021.