Big dreams, small business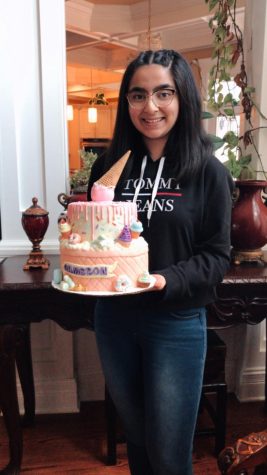 The Happy Baker
Husna Zakria, sophomore, and her small business, The Happy Baker, is the perfect mix of joy and  hard work. With just over two years since she started it, The Happy Baker is a small business that sells hand-baked desserts for different occasions to a variety of people.
From birthdays to weddings, Zakria's cakes are the cherry on top of any special day. However, these desserts are the product of many hours of work put in by a high school student in numerous AP classes.
"I feel like over time I learned that time management [is] crucial when you have your own business and [have to deal] with school, which is exactly what I kind of struggled with when I first started the business," Zakria said. "Once I kind of created a step by step plan for how I'm going to go about each day and just manage my weeks and manage my time, I think it [became] easier for me."
While one struggle for Zakria was balancing baking and school in the beginning, the pandemic posed other challenges, she said.
"I started [my business on] April 4 of 2020, so during quarantine. My hobby kind of [became] my business," Zakria said. "Because it was in the middle of quarantine and everybody was secluded, I was using that time to work on recipe development."
Zakria says that that time was useful, as she worked towards making all her recipes from scratch right out of her kitchen.
"I usually just bake in my kitchen. I have to take everybody out of the kitchen and it's just my time," Zakria said. "Buying supplies is my guilty pleasure. I binge on baking supplies, so I have every tool you can think of. I have cake stands and stand mixers, which was actually an investment that I got after [I started the business]."
In addition to the supplies she uses, Zakria also formulates her own flavors that customers can choose from.
"I have a menu of different flavors that people can choose from. I originally started making simple cakes, and then it kind of stemmed from that. My main thing is decorated cakes, like birthday cakes, anniversaries, or parties. I [also] started making individual things, like hot chocolate bombs," Zakria said. "It recently became trendy, a year or two ago, so I started making those things like cookies, cupcakes, literally everything. I have a menu that [customers] can choose from and then, based on what theme they're looking for, different sizes, things like that."
Zakria says she wants her business to be unique, similar to her story that led her to create The Happy Baker.
"I always had a passion for baking. When I was little, I had the idea that if I love baking so much, I might as well do it for friends and family; it started off small. I started giving things to my friends at school or baking things [for] a get-together with my family or something like that. I noticed that people really liked [the desserts]," Zakria said. " I was like, 'Maybe I can do this as a business,' so I started searching up small business ideas. I think it started going from there, and then I started my Instagram business. I think that is really what got me into this whole idea of having your own business."
Zakria said that "having baking as a constant in my life" was what inspired her business' name.
"I usually think of baking as therapeutic and enjoyable for me. I was like, 'What if that is my business name? I really like the simplicity of it,'" Zakria said. "I also really like how the motto kind of embodies that, 'Baking is my therapy.'"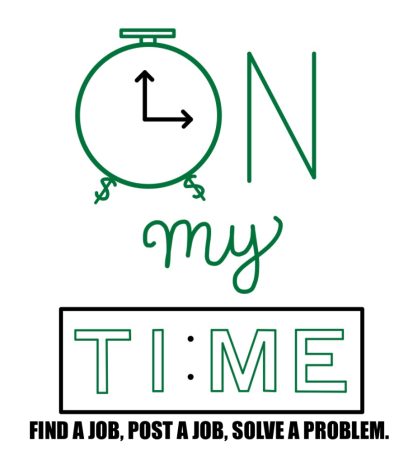 On her time 
Starting a business independently can be seen as stressful and daunting for students like Kayla Krininger, senior. In order to grant students an opportunity to create their own business, the school offers the INcubator class, which gives aspiring entrepreneurs hands-on experience without the pressure of doing all the work individually.
The INcubator class puts students in groups in which they must design a business idea and propose it to a group of investors. Students are walked through the process of  "developing your small business and creating it," Krininger said.
"My business is a website for teens to find jobs and things like that, [and] it's called On My Time. [The class is] just working out the logistics of it."
The class puts students in a group in order to distribute the workload, while still allowing for time to educate students on the ins and outs of the business world, according to Krininger.
INcubator has multiple units that educate students on different angles of the business world. The first semester focuses on creating a business, and the second semester focuses on how to improve it, Krininger said.
"[On My Time] is kind of still in the rough stages, so it's more of a prototype, but we're hoping to get it to be an actual business in the future," Krininger said.
While the businesses are still in the prototype stage, the class had an opportunity for a formal pitch to investors in January.
"Certain business people came to the school and they listened to us basically give an overview of our businesses and what we plan to do with it," Krininger said. "That was very nerve wracking, but it was cool to see people who have actually done this in real life."
Krininger says that the class has been a good learning experience that helped her get an idea for what her future career could look like.
"[I learned] how much goes into making a business because I think going into it I wasn't really sure," Krininger said. "Now I'm realizing how much you have to think about going into [business], and [INcubator is] kind of a nice practice for when you go into the real world and do stuff later on; it's nice to get that experience."
Krininger says that she hopes to continue working with her group on On My Time after she graduates high school, and eventually develop it into a working app that "encompasses all the work we did," Krininger said.
"I know that there is going to be a class called Accelerator Ed, which is the next phase after INcubator," Krininger said. "My group members who are juniors and sophomores are planning on taking it, so I still want to help them while I'm in college if I can. I want to keep going because I think it has a lot of potential, […] and I am proud of what the class helped me create."
This story was originally published on Bear Facts on May 20, 2022.