What is love?
Learn from seven unique stories featuring staff and students
When you first hear the word love, what comes to mind? Maybe it's the person who gives you butterflies or the person who raised you. Perhaps it's that friend you play Mario Kart with all night, talking and giggling. Maybe it's your grandparents, happily married for what seems like forever. Whatever you think of, it's welcome this Valentine's Day. In celebration of this unbridled love, we asked eight of our students and staff to share their love stories.
A mother's love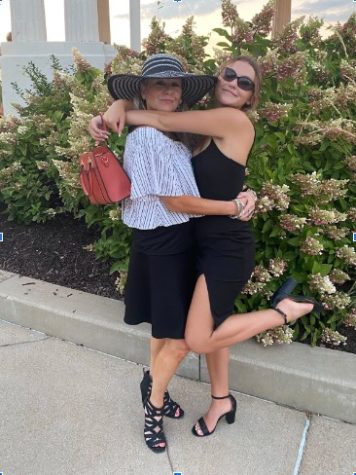 Junior Katherine Goodwin lost her dad in a battle with cancer when she was just seven years old. Since then, her mom, Kelly Goodwin, has raised Katherine independently.
"After [my] dad passed away, it was a big learning curve for the both of us. For me, it was learning how to grow up without a dad, and for her, it was learning how to raise me on her own. For a while, my mom and I didn't see eye to eye. Our relationship recently has gotten a lot better, and we have been having more productive conversations. A lot of that is because of therapy, learning how to communicate with each other," Katherine said.
Growing up with a single parent, Katherine experienced a different family dynamic from what most of her peers experienced.
"When I was younger, it was hard seeing kids with two parents do things [that] our family of two didn't do, like sitting at the dinner table together. But [my mom] always takes interest in me and what I'm doing, [and] a lot of that gets looked over for single mothers," Katherine said. "Being a single parent is especially hard because you don't have someone to bounce ideas off of, [but] she listens to me and goes from there. I'm a lot like my mother: a strong, independent woman and that's how she raised me. I love my mommy. She's my queen."
An unexpected match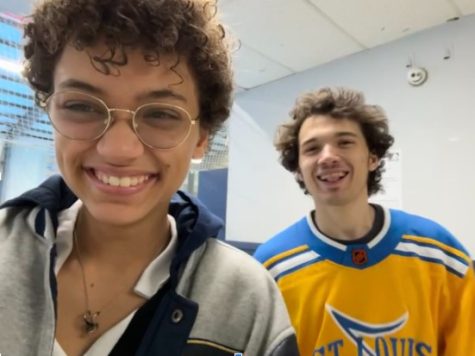 Despite first meeting in seventh grade, junior Leah Leifer and their boyfriend, junior Will Anderson, have only been dating since October. Before meeting Anderson, they also identified and presented themself as a lesbian.
"My friend knew Will, so I ended up hanging out with him. We got really close, and I asked him out," Leifer said. "He's not the person a lot of people expected me to be with, in part because of us being an interracial couple, but mostly because I used to be a lesbian. I used to think I was never meant to be in a happy relationship with a man, and then he came along and completely changed my perception."
Throughout their relationship, Anderson has provided emotional support to Liefer as they have struggled with mental health issues, low blood pressure, and multiple ear surgeries.
"He is always worried whether or not I am going to faint, so it is nice to know he is there for me. Beyond that, we just connect. He doesn't always try to solve my problems and just listens to them. We just sit around and watch 'Breaking Bad,' which I love because, in the past, most of my relationships have required me to put extra effort into doing activities together. It's nice; we just find comfort in each other's company," Liefer said.
Homerun!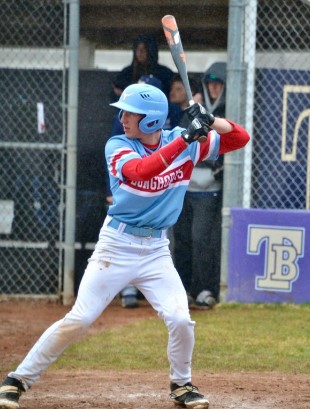 With an athletic commitment to playing baseball at Johns Hopkins University, senior Grant Meert dedicates at least 10 hours to his sport each week.
"I started playing baseball when I was five, with motivation from my dad. He had wanted to pursue it when he was younger, but his parents didn't allow it because he had to help out on our farm. From a young age, I was always inspired to pursue the sport. My love for baseball grew gradually, and starting early high school, I made the sport my priority," Meert said.
The baseball coach at Johns Hopkins recruited Meert after participating in the university's Babb Baseball Camp.
"Even though I love baseball, sometimes it is frustrating to keep a clear head and stay focused on the game, but remembering my passion for baseball helps keep me motivated. The team camaraderie also helps; it's inspiring to see my teammates working together for a common goal," Meert said.
Promises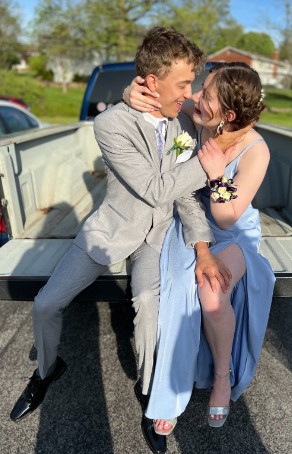 Seniors Olivia Davis and Zach Schade first met during a free period in eighth grade and have been dating for three and a half years.
"When we tell people we are a couple, people often assume we spend every waking moment together. But we are both very busy with extracurriculars, academics and school in general. We've found that a relationship is more about making time for each other despite it all, and for us, that means getting fro-yo together," Schade said.
Schade bought Davis a promise ring for their third anniversary last September.
"I had been thinking about it for a while, and I wanted to get her something really special. I talked with my family, and they informed me that these things were really expensive. I ended up talking to her friends, who were really into jewelry, and after I found the perfect ring, I just had to buy it. I remember we were having dinner that day, and I just gave it to her very casually. She was very happy; her face lit up, and she gave me a big hug. It was just really touching," Schade said.
Latin lover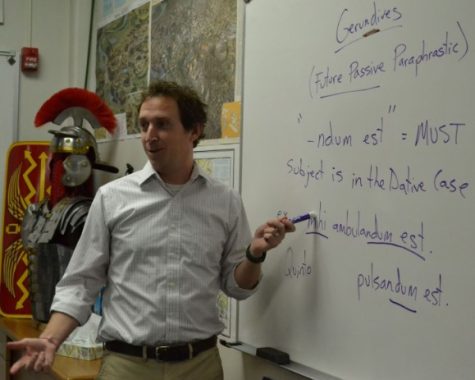 After earning a bachelor's degree in the classics and education from Washington University in St. Louis, Tom Herpel decided to pursue a career in teaching Latin. Now, it has been 15 years since Herpel first became a Latin teacher.
"I first fell in love with Latin when I took a Mythology class during college. My favorite part about the language was that it was incredibly flexible; there was no word order. But it was also very mathematical in its approach; there are certain rules and specific processes you have to follow," Herpel said.
While Parkway is no longer supporting the Latin program at West Middle, the language continues to be popular at West High, with around 103 students in the program.
"It's been the joy of my life to be able to teach students and see them grow through the years. But, for those not in the program, there is this misconception that Latin is a dead language; [that] there's no use for it. This [can't be] further from the truth. That's why I prefer to call it a retired language," Herpel said. "So much of Latin has seeped into English. Latin has influenced our terminology in medicine, literature, and so much more. One of my goals as a teacher is to develop students' passions by showing them how interdisciplinary Latin and its uses are."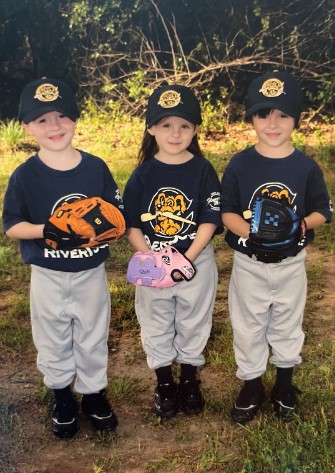 Triple threat
Triplets and seniors Kennedy, Drew and Cole Whitaker moved to St. Louis, Mo., from Georgia in the seventh grade.
"It was really hard because we were sad to leave our friends and didn't know anyone here. We had each other, though, which made things easier and definitely strengthened our bond," Kennedy said. "We've always been really close, but especially when we were young, we were inseparable. I remember my mom wanted me to do ballet, but I refused since I was so close to my brothers. Instead, I played T-ball with them."
While Kennedy and Cole still go to West, Drew transferred to De Smet Jesuit High School during his sophomore year to focus on playing lacrosse.
"We still have a close relationship but don't spend as much time together anymore because of school and different friend groups. Regardless, we are always there for each other, [whether] it's for something as simple as homework or emotional support. It helps that we are the same age; we just get each other. They have my back, and I have theirs," Kennedy said.
Teacher of the day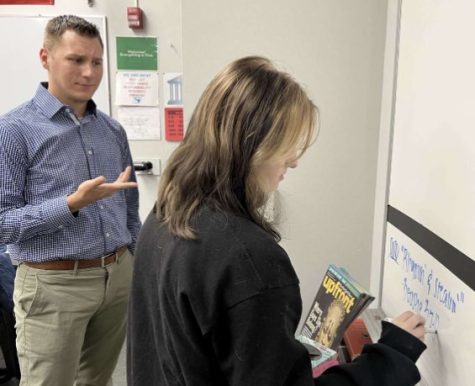 Last school year, junior Mikalah Owens started a tradition with English teacher Kaleb Schumer where they'd choose a song of the day to debut to the class. Through this tradition, Owens and Schumer developed a strong relationship.
"He's the biggest father figure in my life right now. We're really good friends, and I go to him for anything," Owens said. "If things are going on in my life, Schumer is always there for me. If something happens, he always calms me down. If I'm having anxiety or panic attacks, he's always there. He's always been a shoulder to cry on."
Owens appreciates their relationship and how easy it is to share things.
"He's a middle-aged white guy who enjoys punk music, and that's what I need in my life," Owens said. "He's just like my personal cheerleader."
This story was originally published on Pathfinder on February 14, 2023.