Racist slur-filled video leads to P-CEP student walkout
A Plymouth-Canton Educational Park (P-CEP) student sent a video using slurs and threats against African-Americans, which was later shared on social media.
A protest against racism in reaction to a social media video shot off school grounds by a P-CEP student using racial slurs and threatening to "shoot" or "lynch" African-Americans saw a large number of P-CEP students participate in a walkout on Friday, April 15.
The walkout began during the sixth hour class period at 2:00 p.m.
Teachers were advised not to attempt to stop students from participating in the walkout, and P-CCS security worked with Canton police to direct students to the gathering site and ensure that the event was conducted safely.
Students gathered on the path between Salem and Canton High School, chanting phrases such as "Enough is enough" and "Black lives matter" while the event organizers stood with other African-American students on a hill adjacent to Salem High School, overlooking the crowd gathered below.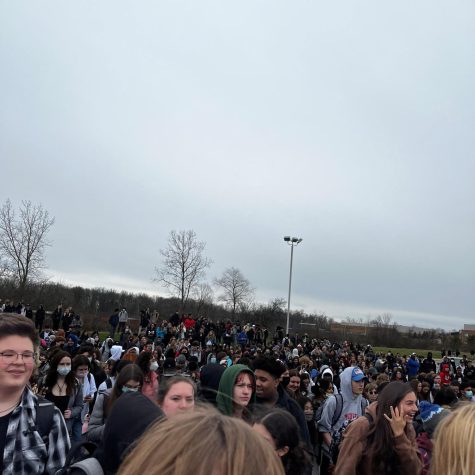 The organizers, Salem junior Jacob Jackson, president of the Black Student Union, and Canton senior Precious Floraday attempted to address the crowd with a microphone, but the large volume of students in attendance caused difficulty in hearing the speeches.
The crowd moved down the path to a police car parked near the Salem parking lot, where event organizers were permitted to use the built in microphone system to address the crowd.
From there, the crowd moved to the Salem parking lot where students and organizers alike spoke to local Detroit news channels.
According to Floraday, the racist video released on social media by a P-CEP student is what moved them to organize the event.
"We were inspired to have our voices heard. We're not just sitting quietly like we're weak," said Floraday. "The things that were said [in the video] pushed us to do better and fight harder for our community."
The self-shot video first surfaced back in March, but was only recently reshared on social media.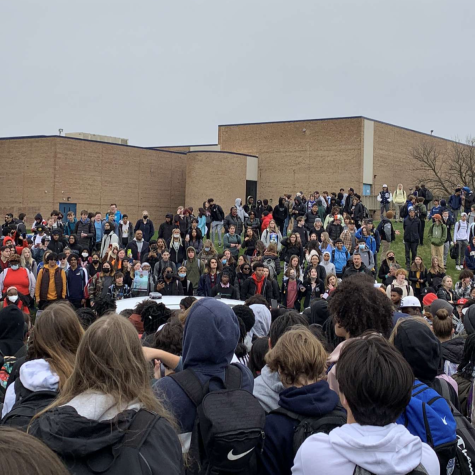 During the Tuesday, April 12, 2022 Plymouth-Canton Community Schools (P-CCS) board meeting, Superintendent Monica Merritt reassured students that "There is not an active threat at our school at this moment."
Merritt issued a communication addressed to students and parents on Monday, April 11 to address the racist video.
In the email, the district recommended seeking guidance by reporting racist and discriminatory incidents to staff whenever incidents occur, and reminded the community that the Hate and Bias Reporting Form provides students with an outlet to help report said incidents.
"These acts of hatred and bigotry are hurtful, triggering and demeaning, and are destructive to the inclusive environments that we strive to achieve for our students and staff on a daily basis," Merritt wrote.
Merritt went on to express the importance of speaking up when discriminatory behavior is observed.
"We will not, under any circumstances, ignore these matters and will continue to work to eliminate these harmful and destructive behaviors and beliefs. We cannot address matters that are not brought to our attention," continued Merritt. "Please continue to encourage your students to talk to and share matters with a trusted adult."
The letter went on to mention future plans to assist victims of racism and discrimination, to be revealed on a later date.
According to Salem Assistant Principal Angel Lett, the P-CEP staff is working to continue to improve on being receptive to hearing concerns and issues brought to their attention.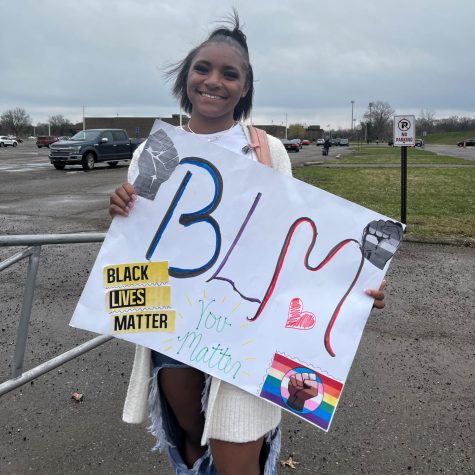 "Student voice is very important, and I want students to know that we're always open to creating avenues to hear that voice," said Lett.
The walkout was intended to serve as a visible reminder that the issue of racism is far from over.
"When we take MLK day off [of school], it's for a reason. Slavery and Black history isn't just about Black [people] being whooped [and enslaved], it's about everything," said Floraday. "It's about our history, it's about our culture, and it's about the issues we continue to face to this day."
This story was originally published on The Perspective on April 15, 2022.