Senior girl scout seeks to redefine neurodivergence in Gold Award project
Vaishali Sukumar hopes to educate the public on the struggles of neurodivergent students
By Carol Xu, Amador Valley High School
December 1, 2022
In freshman year, Vaishali Sukumar ('23) broke her foot. In the few months she used crutches, she struggled to navigate through campus. She tripped on uneven sidewalks, her crutches were frequently knocked over, and she couldn't get through the often crowded hallways. 
"It got me thinking about people with disabilities who have to use mobility aids every day, like wheelchairs, so I started my research on accessibility in schools and other public areas," said Sukumar. 
Sukumar's temporary, personal problem led her to launch Redefining Inclusivity, her Girl Scout Gold Award project to reduce stigma around normalizing disability and neurodivergence, and highlight the voices and struggles of those with neurodivergent conditions. 
"All my life, I've learned about this from teachers or parents of students with (neurodivergent issues), and I always felt like there was a disconnect because no one tells an experience better than the experiencer themselves," said Sukumar. 
For her project, Sukumar decided to focus on working with schools and young kids to educate the general public about understanding and respecting neurodivergence. 
"From a young age I've always loved working with kids. I've worked with kids all my life pretty much, and definitely have come across students with autism, so it just became a part of my weekly life, and then I just decided to expand on that for this project," she said. 
Sukumar believes the most harmful and inaccurate prejudice against students with disabilities or neurodivergent conditions is that they're not capable. She points out that the glamorization of neurodivergence in film and media undermines the normalization of these issues. 
"It has to be normalized. People see it as a superpower, like it's so different, like it's easier to get around, like you have more sympathy, more help in school with 504 plans, that you have more support, when really that's not the case," said Sukumar.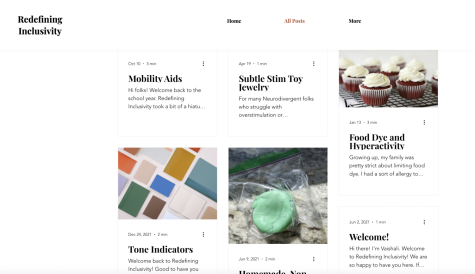 She manages the Redefining Inclusivity website and blog, and uses Instagram to condense information from blog posts to make them more accessible for a greater audience. When Sukumar comes across an interesting topic, she conducts further research on it, and creates either a blog or Instagram post. 
"Sometimes it could take a couple of days when I'm really focused and really interested in the topic, and other times it can take weeks just to talk to someone to actually get information that's real and not just someone who's talking on behalf of someone with disabilities or autism," said Sukumar. 
The most memorable topic Sukumar remembers writing about is tone indicators. She admits that she also found reading tone through text difficult. 
"It's so amazing to me how (tone indicators) can make conversing with people online so much easier. Tone tags made it really interesting to find out whether people were joking or being sarcastic or serious," said Sukumar. "Turning that into a blog post for people to access and make it more normalized and streamlined on social media was really nice to see." 
As part of her project, Sukumar helped found Amador Valley's chapter of the Friends of Children with Special Needs (FSFN) buddy club as a way to connect neurodivergent and neurotypical students in the community. 
"I hope that continues. I hope it gets bigger and better, and since I'm graduating this year I can't really do much about it, but I'm just hoping that people are just able to learn and open their minds," she said. 
In producing Redefining Inclusivity, Sukumar works with two students with autism on her team to make sure she's delivering accurate information from trustworthy sources and being respectful about autism topics. 
"I definitely got a lot more insight into the difficulties people go through in terms of going through everyday life, in terms of not being talked down to, and just being taken seriously," said Sukumar. 
For Hadeel Boufarhat ('23), a blog staff writer (He/They) who has ADHD, autism, and chronic pain, he sees Redefining Inclusivity as a way to educate the general public and share their experiences as a neurodivergent student.
"I want to learn and talk about the intersectionality between those identities. I'm here to write and hopefully make things easier for other neurodivergent kids like me," said Boufarhat.
Above all, Sukumar hopes to encourage others to listen to and support the experiences of those with neurodivergent conditions. She describes her journey in running Redefining Inclusivity as "eye-opening." 
"I've learned that the best source is not people who are around people with neurodivergent conditions, but people with (those conditions) themselves," said Sukumar. "That's the best way to learn, the best way to get involved, and the best way to go about doing this the right way rather than what you think is the right way."
This story was originally published on Amador ValleyToday on November 30, 2022.