Lunar New Year welcomes in Year of the Rabbit
Local Asian American community celebrates Lunar New Year through family, food and tradition
"I miss my parents so much."
Eight years ago, Tung Nguyen, a waiter at local restaurant Gogo Pho and student at San Jose State University, left his family in Vietnam to study electrical engineering in the United States. Though he has not seen his parents since then, Nguyen continues to connect with his home through the traditions of a holiday all about family: Lunar New Year. 
Celebrated on Sunday in China, Vietnam, South Korea, Singapore and other East and Southeast Asian countries, Lunar New Year marked one of the most vibrant times of the year.
This Lunar New Year brings in the Chinese zodiac's Year of the Rabbit, symbolizing a year of hope, peace and prosperity. Occurring only once every 60 years, it is also the Year of the Black Rabbit or the Water Rabbit, which is thought to bring further fortune. In Vietnam, this new year is the Year of the Cat, believed to have arisen due to linguistic differences.
Unlike new year celebrations in other regions., which occur based on the Gregorian calendar, Lunar New Year starts with the first new moon in the lunar calendar. Traditionally, festivities last for several days, with traditions ranging from giving Chinese "hong bao," lucky red envelopes filled with money, to eating Korean "tteokguk," a rice cake soup symbolizing purity, or wearing Vietnamese "áo dài," long tunics worn on special occasions. In households around the world, joy-filled laughter, animated conversations and the snapping of firecrackers sound off.
Widely considered to be the most important holiday in China, New Year's Day is called "chun jie," which means "Spring Festival." Celebrations begin on "chu xi," New Year's Eve, when families typically eat a lavish dinner together with foods including dumplings, noodles, steamed buns and fish, a homophone of the Mandarin word meaning "surplus." Dessert usually consists of "nian gao," a sweet rice cake.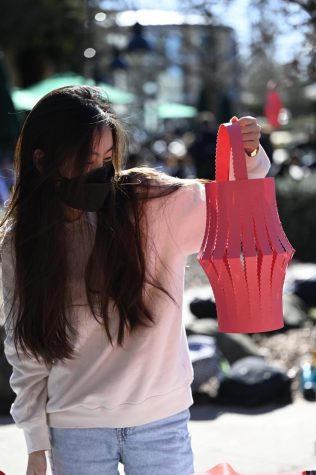 "A lot of our [Lunar New Year] celebration is around food," Emma Biswas (12), who identifies as half-Chinese and half-Indian, said. "We'll have a meal and get a bunch of different dishes from different restaurants, and we'll just talk. We don't usually have family dinners, so it's one of the few times that we have the entire family sit together to celebrate, and it definitely brings us closer together."
In addition to traditional food, red appears everywhere — on clothes, gifts and decorations. According to ancient Chinese legend, the color wards off demons, symbolizing good luck and prosperity. Households decorate their homes by putting up "chun lian," red-colored strips with Chinese characters on them, in their thresholds and hanging red lanterns. Adults hand out "hong bao" containing money as tokens of good luck to the children in their families.
In Vietnamese households, kumquat trees and peach blossoms typically decorate homes during Lunar New Year, referred to as "Tết." Relatives reunite to spend time together, younger family members receive lucky money from their elders and everyone enjoys traditional foods such as "bánh chưng," bamboo-wrapped rice cakes with pork and mung beans.
"On Lunar New Year, we always get together with family members," Nguyen said. "There are always a lot of people, especially when I was in Vietnam. The older generations give lucky money to the younger generations. We celebrate happiness and success together and hope to have good luck for earning more money in the new year."
Besides spending time with his grandparents and other relatives living in the U.S., Nguyen honors the start of the new year through special customs at Gogo Pho.
"[Gogo Pho] closed early on Lunar New Year, but we still open earlier in the day because we want good luck for the rest of the year," Nguyen said. "We also have new year decorations. For color, we use red and yellow for good luck and [avoid] black and white."
Korean New Year, "Seollal," stresses the importance of harmony and respect among family members. Families play games like Yut Nori, a board game where players toss sticks in the air and advance based on how the sticks land. Another tradition, "sebae," involves younger relatives bowing to members of the elder generation and receiving envelopes with cash in return. Unlike those used in Chinese and Vietnamese celebrations, these envelopes are typically white or patterned. 
"The meaning behind sebae is to show respect to your relatives and wish them well for the new year," Sahngwie Yim (10) said. "To me, Lunar New Year represents togetherness and good luck. It's a holiday that my family celebrates every year with special traditions."
The coming days are a time for family and celebration across Asian communities, regardless of nationality. Upper school instrumental teacher Jaco Wong, who is ethnically Chinese and grew up in Hong Kong, celebrated Lunar New Year with a family dinner and cooked traditional foods. This was also the first year he celebrated with his fiancée's family, who visited from Taiwan. 
"In my view, every culture has a reason to have a day to bring all the family together and just eat good food," Wong said. "I think that's it for Chinese New Year. When I was young, I would see certain relatives that I only see once a year. [It's] the time of the year [when] tradition brings people together."
This story was originally published on Harker Aquila on January 27, 2023.