According to the Guinness Book of World Records' online website, Angel Alvarez Cornejo holds the title for the largest collection of keychains after accumulating 62,257 items.
That feat was set in June 2016.
While no one has come close to surpassing that record, the trend of collecting such charms has picked up this school year at Sunny Hills, where students tend to display their own collection as decorative attachments to their backpacks. 
Watching the annual "Back to School hauls" on TikTok, junior Ashley Hong noticed more people decorating their backpacks with unique keychains — bringing back the nostalgia of accessorizing bags with hand sanitizer.
Story continues below advertisement
"I remembered decorating with sanitizer when I was in middle school," Hong said, "So I kind of wanted to recreate that with the cute keychain I have."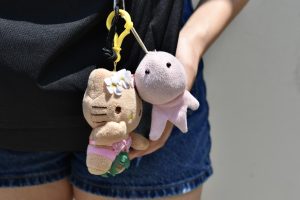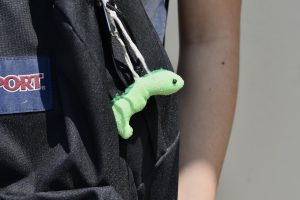 Others, like junior Emma Jang, just wanted her backpack to stand out after noticing that her black backpack looked identical to her friends
"Since a lot of people on campus have a bag that looks like mine, I wanted to do something so I could tell which one was mine," Jang said.
Sophomore Savannah Rantzow has 6 beach bracelets, which she started to buy starting in June 2022 during her visits to multiple beaches, including ones in San Diego and Huntington.
Another charm that Rantzow attaches on her backpack is a 2-inch vial, which has her name and gold flakes, from Knott's Berry Farm that her best friend got for her at the beginning of their friendship.
"It means a lot because she got it for me at the beginning of our friendship at the beginning of the year," Rantzow said.
Advanced Placement Psychology teacher David Fenstermaker said that backpack accessories play a role in displaying students' identity.
"Keychains show other people who you are, what you are like and what you value," he said. "It is also a discrete way to show what you like without broadcasting it for every single person."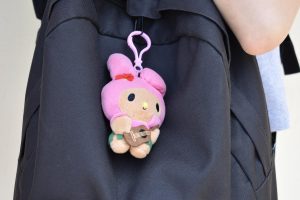 For junior Jayden Lee, his small Pokémon Bulbasaur keychain reminds him of his childhood.
"Pokémon was a big part of my childhood," said Lee, who bought his $10 accessory at Target in November of last year to help him distinguish his backpack from others who have the same brand. "Since I bought a Bulbasaur Airpods case previously, I wanted to buy something similar to it."
Since August 2022, freshman Kayla Thienprasiddhi carries a miniature frog plushie that her sister bought from Parks Junior High School with her hard-earned Positive Behavioral Interventions & Supports [PBIS] points.
"I have [the keychain] on because it is really cute, and it is one of the only things [my sister] has gotten for me," said Thienprasiddhi, whose sister bought the frog not only to use up her PBIS earnings, but because of its cute look. "I didn't have anything on my school backpack and I already had other [keychains] on my volleyball bag, so it matched my school bag [best]."
Besides Target, other places for these purchases are online shopping sites like Amazon or Etsy. The price ranges from anywhere from $1.95 to more than $450, if it's from a luxury brand.
In addition to stores like Target that sell keychains manufactured by certain companies, websites like Ribbon and Bows Oh My! encourage decorating backpacks with homemade keychains.
"Go back to school in style and start this glitterific trend," Ribbon and Bows Oh My!'s website said. "Backpack tags or backpack keychains are the most adorable way to customize your bag!"
Math teacher Darius Durham said some of his students' keychains this year have caught his eye. Teaching Algebra 1, Algebra Foundations 2 and Pre-Calculus, Durham said he observed that upperclassmen seem to have the most accessories and unique backpacks and anticipates that this trend will persist.
"I saw a 'Cars' [keychain] that was bright red and yellow with Lightning McQueen on it," said Durham, who noticed the keychain on his student two months ago because it was the only backpack with an accessory on it. "The color, brightness and design stuck out to me."
He figured most of the students were just being creative and showing off their interests.
"I have asked a couple of students about them, and they said it was mainly just expressing themselves," he said.
Not all students are willing to invest in this trend, let alone start a collection to set a new world record.
"Speaking from experience, keychains I've received from friends have always cracked or fallen off my bag," sophomore Ezrela Chang said. "Rather than being anxious about it, for convenience, I've decided not to decorate my bag even though I find it cute."
This story was originally published on The Accolade on May 18, 2023.