Longtime PALS adviser Richard Cowles remembers when Pink Week was a young Mac tradition and would bring in around $200. More than a decade later, he says, the expectation is that Pink Week will bring in 10 times that amount for the Breast Cancer Resource Center of Texas. 2023 was not exception to that recent trend. This year's total of $2,721 as of Saturday, is closer to $3,000.
While Pink Week raised money for a good cause, Cowles is also quick to observe that it has a noble secondary purpose: to stage activities that are fun and bring the campus together.
"[The activities] provide an excuse for us to do things in common–wearing pink and enjoying the lunchtime carnival," Cowles said. "They highlight our similarities."
Cowles became the PALS sponsor in 2011, and on its metamorphosis over the years, noted "People are more generous when they realize their donations are having a direct impact."
Story continues below advertisement
Cowles has a veritable wealth of experience with having a direct impact–his father endured prostate cancer and his mother, a (likely hormonal) cancerous tumor in her lung. Thus, when it comes to fundraising for the Breast Cancer Resource Center, he's all aflutter.
"For cancer survivors, it's rough," Cowles said. "It's a great benefit to have such a groundswell of support behind you, so Austin's very fortunate to have such a powerful non-profit devoted to them."
On the myriad merits of Pink Week as an exercise in civic duty.
"The PALS spend 9 a.m. to noon or five to seven decorating, so for those who can make it, it's a great opportunity to spend time with their community."
It's also a great subject for our weekly Top 10 photo essay, so without any further adieu, here it is.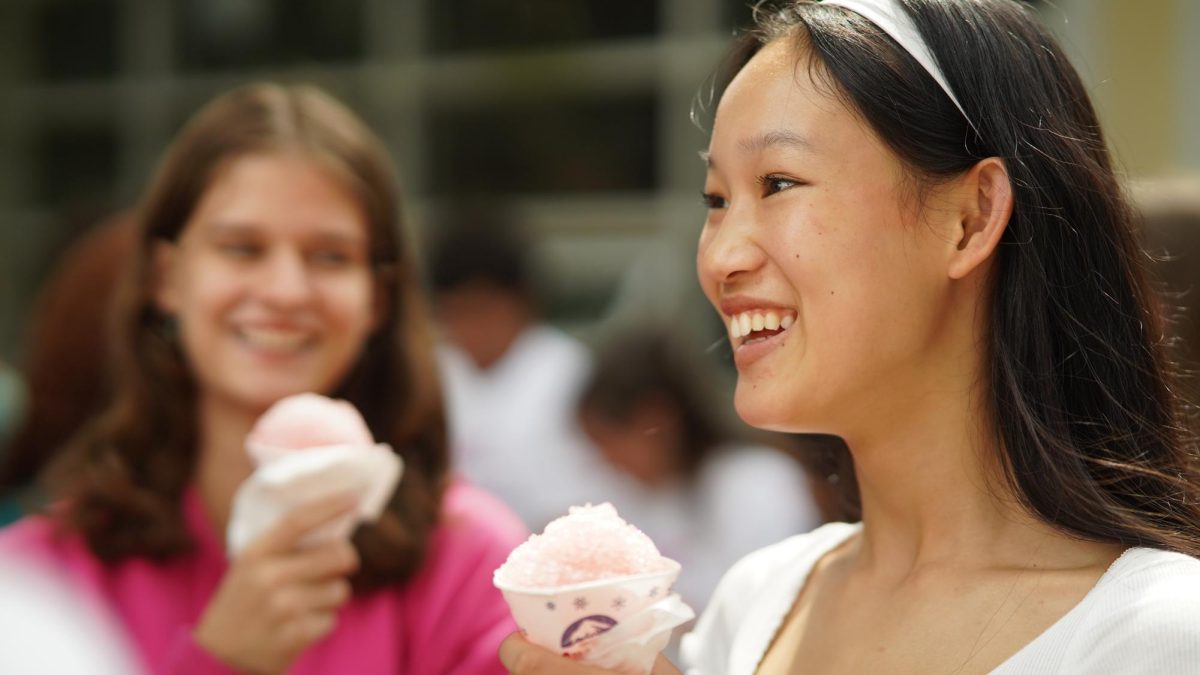 BLISSFULLY BUBBLEGUM: Junior Emy Chen grins into her Pepto-Bismol snowcone on Monday in the courtyard across from the cafeteria for Pink Week. While Chen is not a PALS student, she appreciates the contributions of the program to the McCallum community.
"Some of my friends are really suited to be PALS," Chen said. "They're so kind and good with kids, specifically Esme Barraz [one of Chen's basketball teammates]. She's so sweet and I know she'll be good when PALS goes to speak at elementary schools."
Photo and caption by Beatrix Lozach.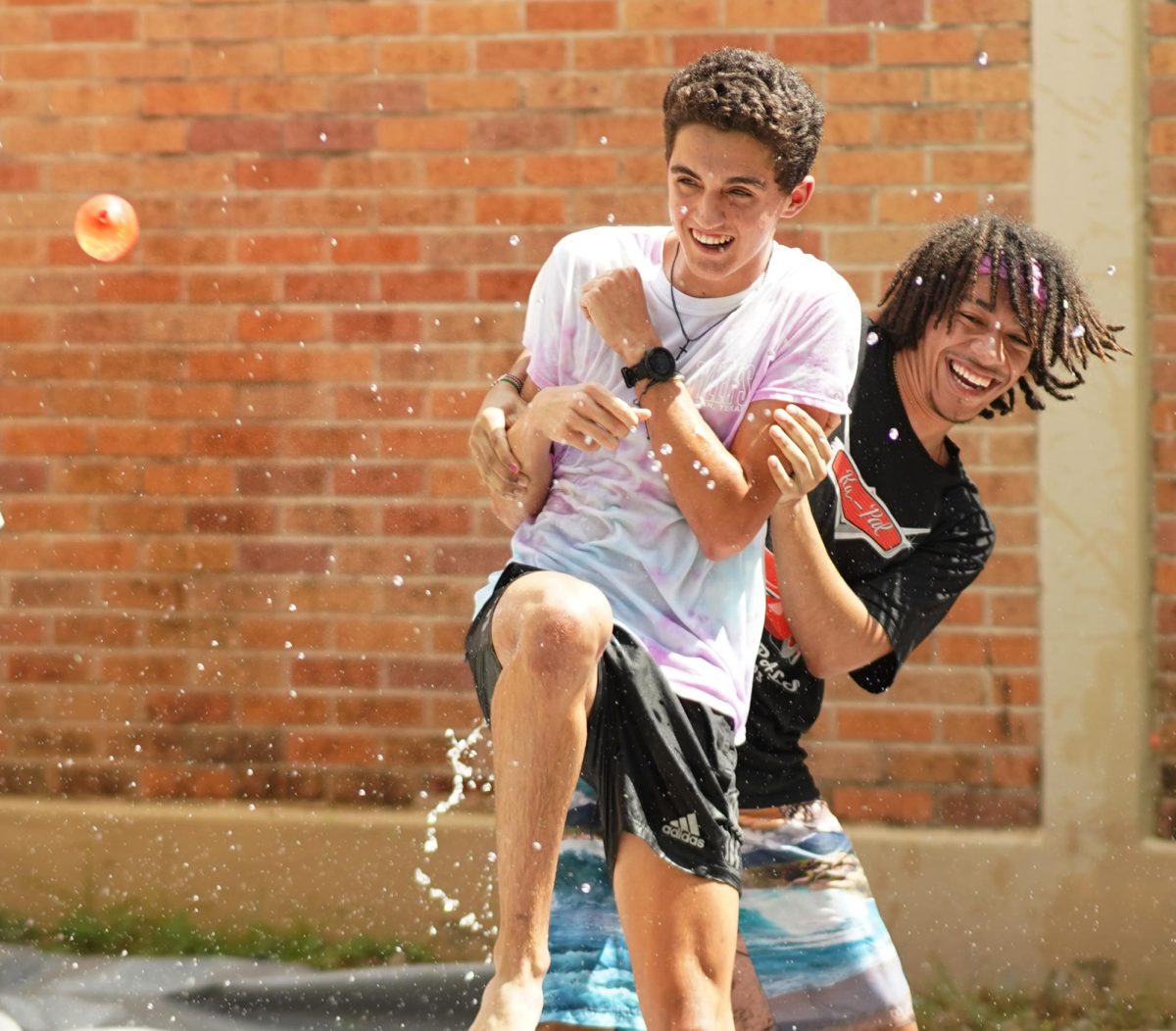 WATER BALLOONS AND SMILES: Senior Peer Assistance and Leadership program member Jude Masoni holds up his fellow PAL, senior David Herring, as a human shield to protect himself from the path of an incoming water balloon. Students paid $1 to throw a balloon at the PALS on Tuesday as part of the shooting PAL-ery, one of the Pink Week fundraisers intended to raise money for the Breast Cancer Resource Center of Central Texas, an Austin-based non-profit that provides personalized support to those affected by breast cancer.  Year after year the PALS put on Pink Week in order to raise funds and awareness for the fight against breast cancer. The PALS put on a variety of different events the whole week at lunch in hopes of both bringing in profits and bringing an exciting week of fun to the McCallum community.
Herring was made a target of the water balloon by his cross-country teammates.
"I enjoyed seeing my teammates coming out to donate as I was telling them about it the week prior," Herring said. "I was also just having fun on that nice day with my fellow PALS. Some of them that did the PAL-lery that day, like Jude, I've known since elementary school."
Caption by Chloe Lewcock with reporting by JoJo Barnard. Photo by Beatrix Lozach.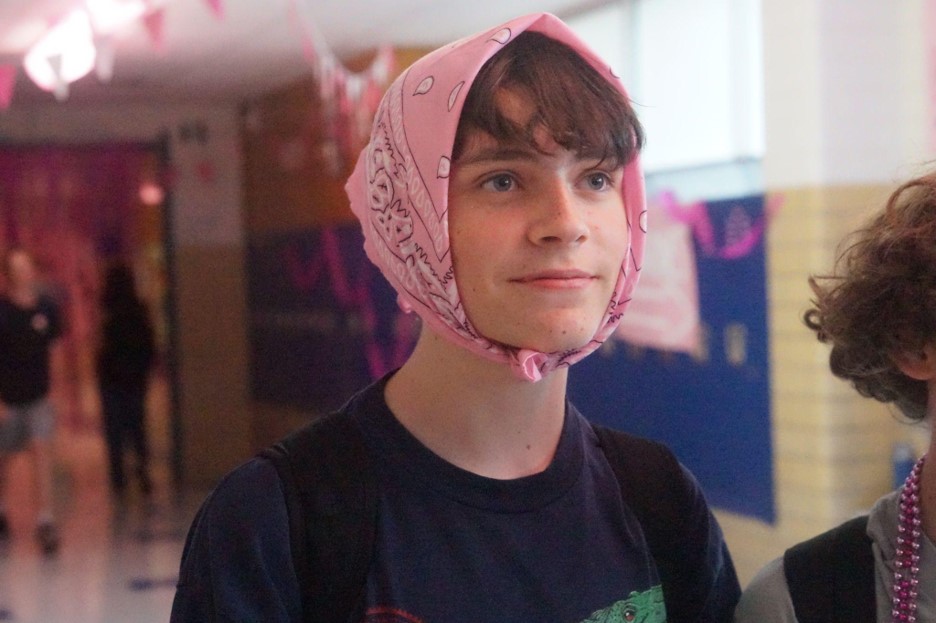 A GLIMMER OF EXCITEMENT: Charlie Hilldale gets ready to enjoy the Pink Week activities outside. He enjoyed Pink Week activities with his friends, and it was important for him that the school was bringing awareness for this type of thing.
"I have a younger sister, and if she got breast cancer I'd want her condition to be well-researched," Hilldale said. "Pink Week does a good job of raising money and awareness for a real cause."
Photo and caption by Carlo Hinsdale.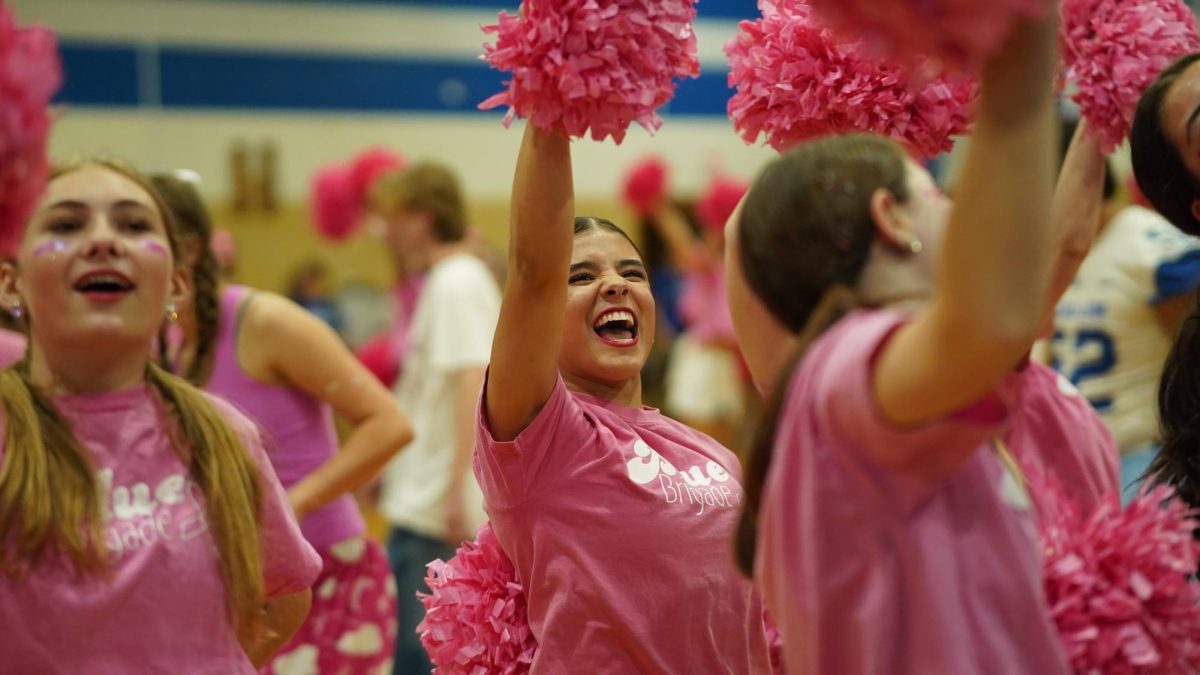 PINK AND PROUD: Sophomore Chloe Seckar-Martinez performs the school fight song with fellow Blue Brigade members at the Pink Week pep rally last Friday. The pep rally differed from others in that it was there to spread breast cancer awareness.
"It's so special being able to dance for such an amazing cause," Seckar-Martinez said. "Even though we don't necessarily dance to raise money, we are still able to come together as a team and stand up against breast cancer."
Being Pink Week, the pep rally also came with additional festivities that were specific to the week.
"I love everything that comes with Pink Week such as pie-ing the teachers in the face, as well as the decorations and activities at lunch," Seckar-Martinez said. "I also enjoyed our dance, which sent out a message about being a survivor, which was very special for Pink Week."
Not only did the pep rally support a good cause, but it also allowed groups such as Mac Band and Blue Brigade to show off what they have been working on.
"I look forward to pep rallies every week we have one," Seckar-Martinez said. "I just love putting on a big performance and being able to show the people at McCallum the hard work that we do in Blue Brigade."
Caption by JoJo Barnard. Photo by Julia Copas.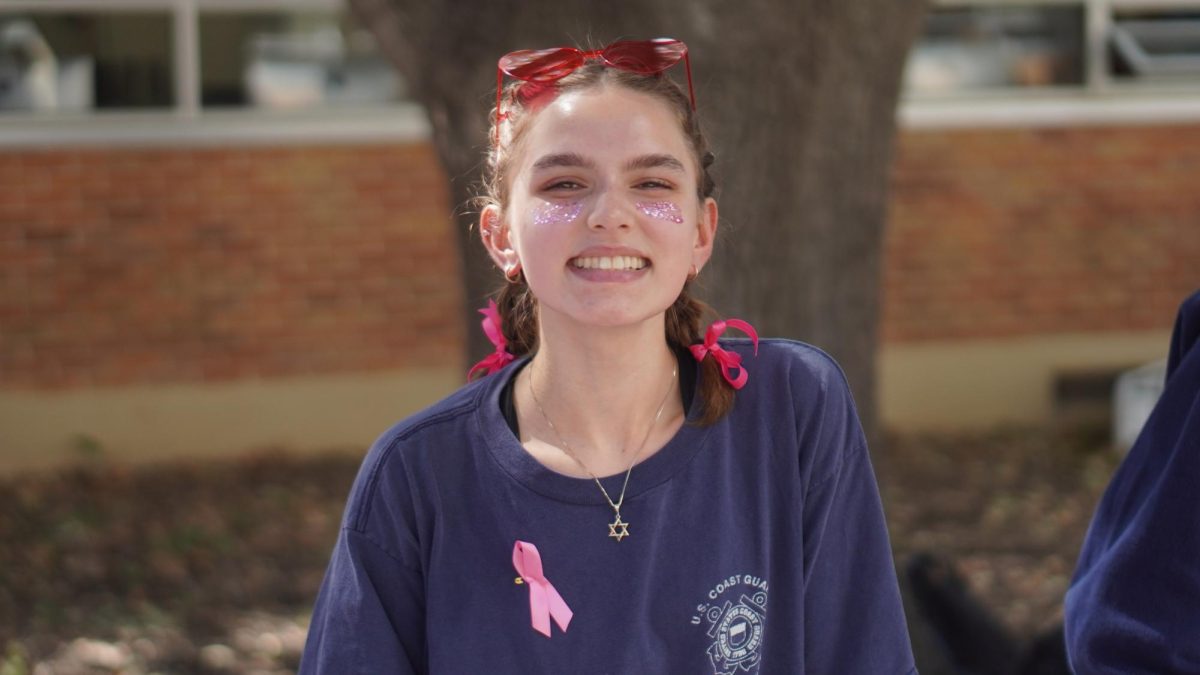 TREATS AND TRINKETS: Junior Bea Safer smiled while manning the treats and trinkets station on Wednesday's Pink Day during lunch. Safer sold bags of candy, sunglasses and more. She was proud of how successful the PALS program was with Pink Week this year.
"I know so far, we've raised over $2,000," Saffer said on Thursday, "and that will all go to the Breast Cancer Resource Center!"
Photo and caption by Olivia Dungan.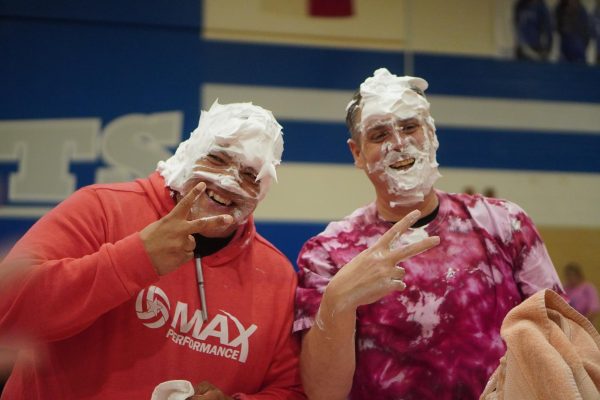 PIE IN THE FACE: For Larry Featherstone, every year's Pink Week comes with another chance to uphold a tradition. This year marked the sixth time the assistant principal has gotten pied by the PALS at the annual Pink Week pep rally. The event made him anxious at first,
"I think the first time it happened I didn't know what to expect," Featherstone said. "I didn't know it was shaving cream–I thought it was actual pie. Shaving cream took a little bit of the anxiety off and just the fear of the unknown the first time it happened."
As he continues to participate though, it's gotten easier. He no longer worries about the actual event, instead the clean-up afterward.
"I had more anxiety about the cleanup afterward than the actual pieing," Featherstone said. "Just making sure I can get all of the crevices; get all that shaving cream off."
This year, the assistant principal had to wait to get pied, letting the other teachers take their turns before he stepped up to the plate. Unaware that he was going later, Featherstone initially thought the PALS had decided not to let him participate.
"I was there and everybody got pied and I thought 'you guys forgot about me!'" Featherstone said.
Instead, he and Principal And Baxa got a pie to the face as a duo, taking the stage after everyone else.
Featherstone enjoys the event every year, as it gives him a chance to once again be a part of the high-school experience.
"It's like being Peter Pan; I don't know if i'm dating myself but i never get old–i'm always a teenager," Featherstone said.
He wouldn't trade it for the world, and suggests every teacher try and take part at least once, even if they're nervous.
"The analogy I use would be when you're jumping into a pool and you don't know if the water is too cold," Featherstone said. "Just jump in. You'll find out it's not as bad as you thought it was gonna be."
Caption by Helen Martin. Photo by Julia Copas.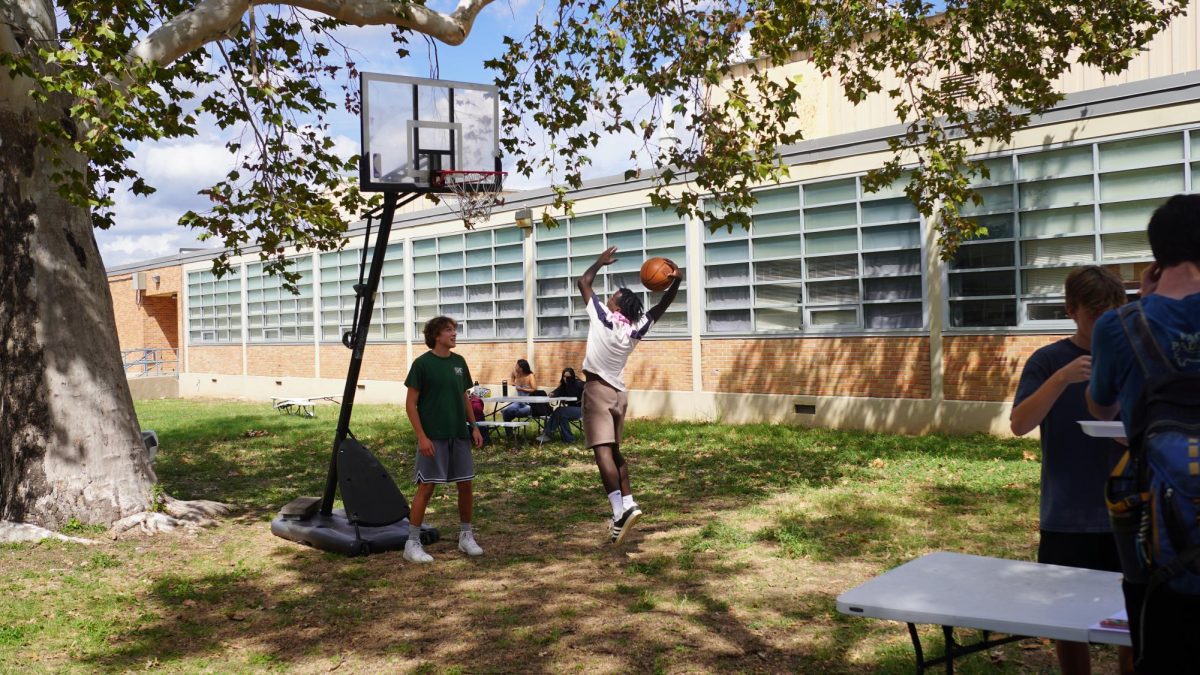 PINK THROUGH AND THROUGH: For the third day of the Pink Week celebrations to raise money for Breast Cancer Resource Center of Texas, the PALS brought out all the stops. They debuted a mobile pink-themed "photo booth" as well as well as set up a basketball booth and brought back the push-up contest, which has long been in the Pink Week playbook. The drive continued to bring in donations for breast cancer services while offering fun things to do.
PAL Bea Saffer told MacJ that today's activities offered the perfect mix of fun and funds.
"Getting to sell trinkets, pink heart glasses, bags of candy, and tons of other stuff was my favorite part of today." Saffer said on Wednesday.
"I'm looking forward to (and slightly afraid of) the shooting PAL-ery on Thursday, but it's for a good cause."
For Saffer, being a PAL allows her to meet new people, as well as get involved with charities that mean a lot to her.
"Getting to other PALS has been such a great experience," Saffer said. "Being a PAL allows me to work with kids from all types of backgrounds and get involved with school activities and charities, like Pink Week!"
On Wednesday, the PALS brought in $331, which pushed the grand total near $1.500 after the first three days. All activities occurred at lunch in the courtyard opposite the cafeteria. Heavy ran on Thursday morning raised concerns that the activities might need to move indoors, but the rain stopped and the Thursday schedule of Pink Week activities took place without interruption as scheduled.
Caption by Chloe Lewcock. Photo by Julia Copas.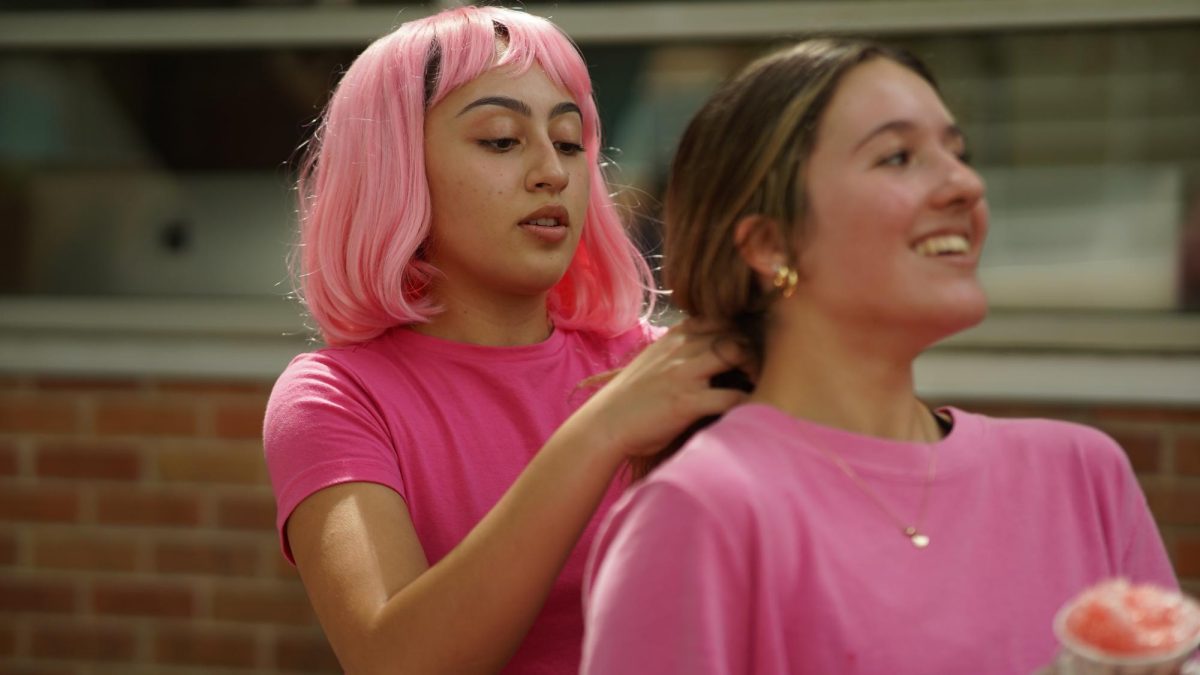 BELLE OF THE PASTELS: Senior Ana Mejia braids junior Kai Talebi's hair, blushing all aglow with joy at supporting survivors of breast cancer for Monday's Pink Week fundraiser. Mejia is proud to be a part of the program.
"I'm extremely grateful to be involved in such an incredible program," Mejia said. "I'm always looking for ways to volunteer and PALS provides this space for me."
Photo and caption by Beatrix Lozach.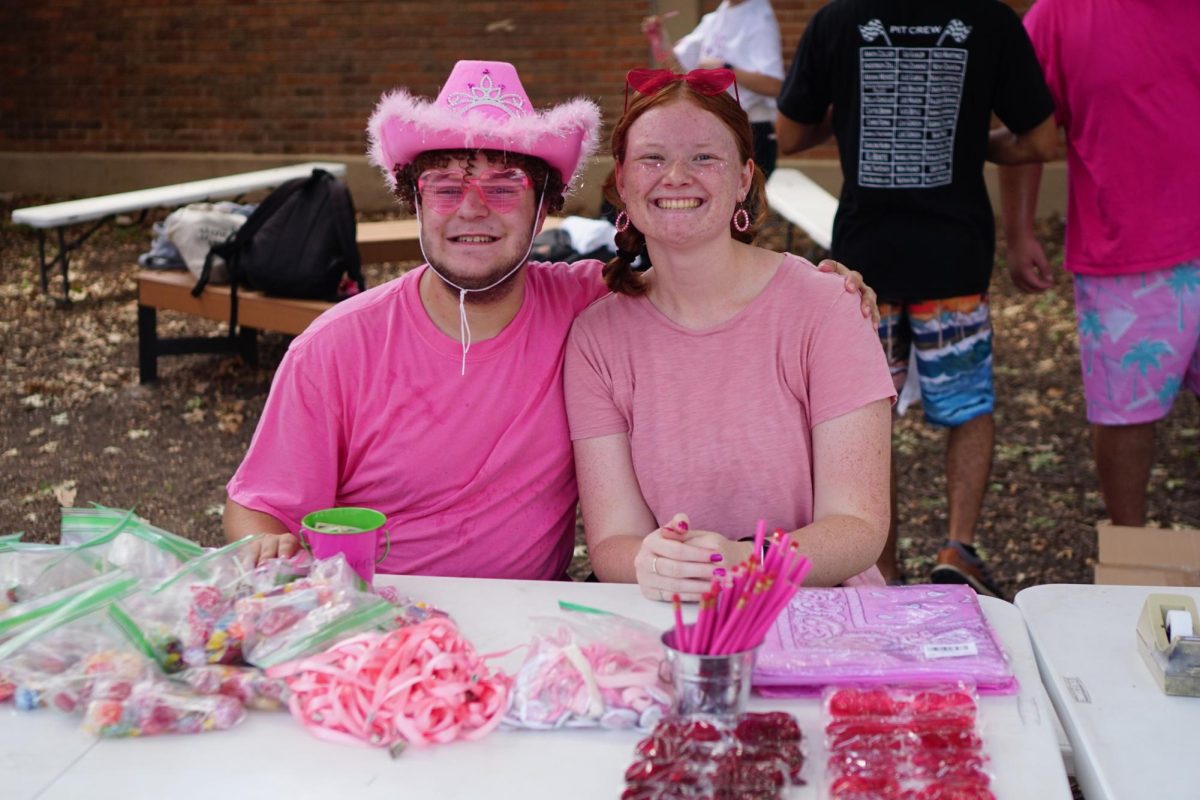 SMILES FOR MILES:In the second day of Pink Week seniors Chris Ferina, and Maggie Coulbourn pose for the camera just minutes before going to the tarp to join the PAL-ery. The two were in charge of running the Pink Week store selling goodies from pencils, to sunglasses and even candy. The entirety of their profits were donated to breast cancer research.
Coulbourn also participated in the water balloon PAL-ery as a way to both be a part of the money raising efforts as well as a way to escape the Texas heat.
"I didn't mind the water," Coulbourn said. "It was really hot out there."
Coulbourn said that getting to be a PAL provides her an opportunity to get closer to her school community, as well as make a difference by getting involved with different charities and groups.
"It's a really wonderful program, and group of people," Coulbourn said. "I appreciate how it's such a unique group, we have a lot of different perspectives and it makes class discussions really interesting."
Caption by Chloe Lewcock and Sutton Banning. Photo by Sutton Banning.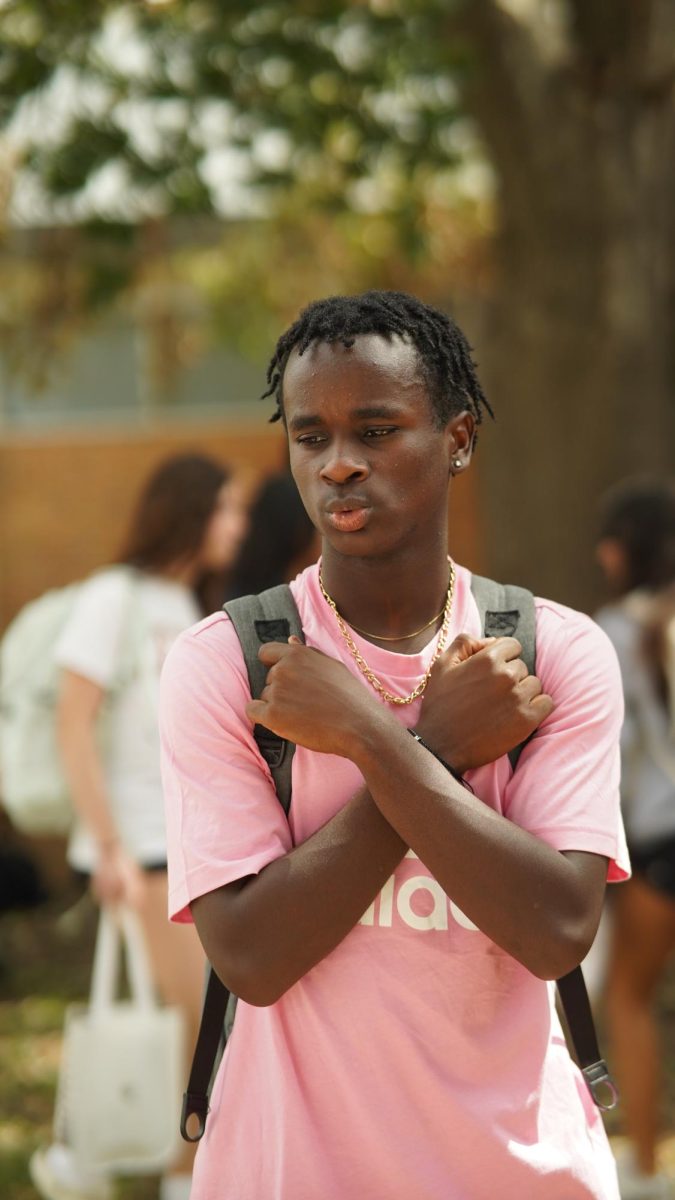 A CROSS TO BEAR: Junior Felix Kahlor folds his arms over his chest in a moment of contemplation during the inaugural day of 2023's Pink Week. Kahlor is a first year PALS student, and has a personal connection to raising awareness for breast cancer.
"My aunt, who I was really close with, passed away from breast cancer three years ago," Kahlor said. "We used to spend Christmases at her house."
When asked if he had anything he wished he could share with his aunt, he said simply, "I miss you."
Caption and photo Beatrix Lozach.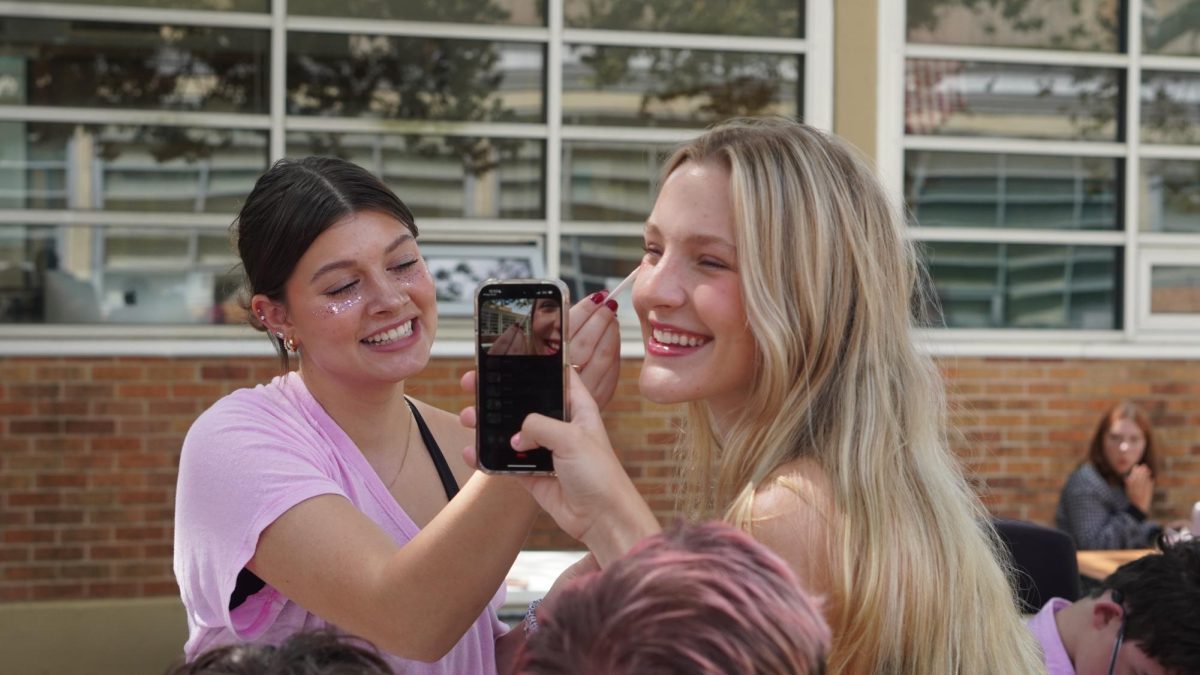 ALL THAT GLITTERS ISN'T GOLD: Junior PAL Ella Flemming applies glitter to Logan Daves's face during Pink Week salon on Tuesday. Pink Week is McCallum's fundraiser for breast cancer research. Flemming said that all the proceeds from Pink Week go toward breast cancer awareness and toward services provided by the Breast Cancer Resource Center of Texas.
"The fundraiser is fun for everyone participating," Fleming said. "We have raised more money than ever."
PALS sponsor Richard Cowles said that as of Saturday, the PALS had raised a Pink Week total of $2,721.
Photo and caption by Olin Michalovic.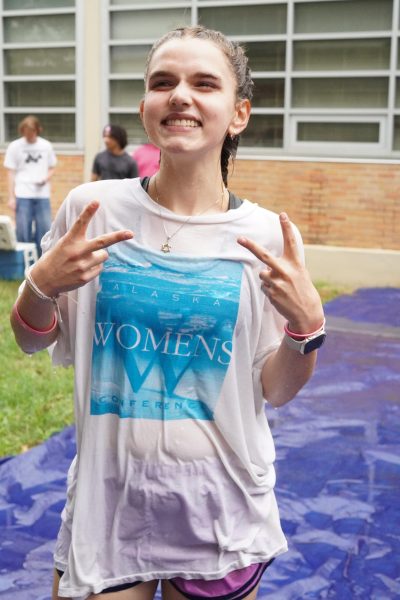 PEACE OUT PINK WEEK:
For Bea Saffer's first pink week as a PAL, she didn't take it lightly. After advertising to her friends that she would be participating in the annual PAL-ery, she got soaked with balloons a record number of times, rounding out to seven in the end.
As both a PAL and drum major for Mac Band, Saffer used the opportunity to bring in more donations
"I had been advertising pink week activities to the band all week, and my band majors," Saffer said. "I had received promises of ice buckets from my friends for months before Pink Week, but I didn't expect half of them to actually show up."
Saffer said her first week met up to the expectations and that despite the never ending water balloons.
"It was a bit intimidating," Saffer said. "But it's okay because it was all for a good cause!"
Caption by Chloe Lewcock. Photo by Dave Winter.
This story was originally published on The Shield Online on October 10, 2023.